Freedom Of Speech, Blasphemy, And International Relations
Sacrificing our principles in the face of mob violence is never a good idea.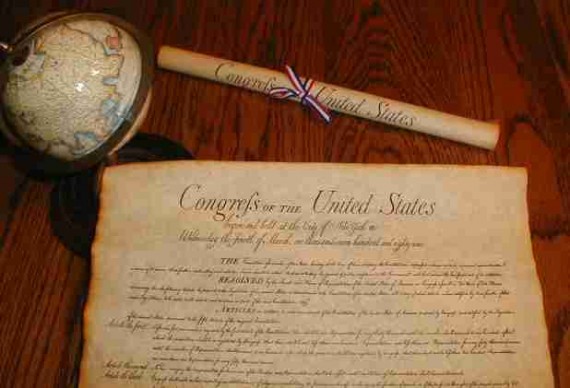 Inevitably, the protests that swept the Muslim world over an obscure YouTube video that purported to be a "trailer" for a "film" called Innocence Of The Muslims has set off a number of debates regarding the acceptable limits of freedom of expression. Additionally, the question of how the United States should respond when people in other countries react negatively when something that offends people in a culture that has no respect from free expression is produced by an American citizen, especially in today's world where a YouTube video can go viral in a matter of hours. As I've noted in the posts I've written on this subject — here, here, here, and here — I think it's highly inappropriate for the United States Government to be endorsing the idea that someone's outrage over the free speech of another person is somehow justified.  The most important reason for that is because there's absolutely no evidence that such admissions actually do any good and, as Eugene Volokh pointed out, plenty of reason to think that it actually causes real harm.
The President's position, while unfortunate, at least retains the good sense of not abandoning the entire idea of free speech in the name of  not offending people who decide it's acceptable to riot over a YouTube video they've never seen. Some commentators, however, have  jumped past that point, and one of them, University of Chicago Law Professor Eric Posner, has essentially advocated that we reconsider our own commitment to the values enshrined in the First Amendment in order to avoid offending people half a world away:
The universal response in the United States to the uproar over the anti-Muslim video is that the Muslim world will just have to get used to freedom of expression. President Obama said so himself in a speech at the United Nations today, which included both a strong defense of the First Amendment and ("in the alternative," as lawyers say) and a plea that the United States is helpless anyway when it comes to controlling information. In a world linked by YouTube, Twitter, and Facebook, countless videos attacking people's religions, produced by provocateurs, rabble-rousers, and lunatics, will spread to every corner of the world, as fast as the Internet can blast them, and beyond the power of governments to stop them. Muslims need to grow a thick skin, the thinking goes, as believers in the West have done over the centuries. Perhaps they will even learn what it means to live in a free society, and adopt something like the First Amendment in their own countries.

But there is another possible response. This is that Americans need to learn that the rest of the world—and not just Muslims—see no sense in the First Amendment. Even other Western nations take a more circumspect position on freedom of expression than we do, realizing that often free speech must yield to other values and the need for order. Our own history suggests that they might have a point.
Posner goes on to point out, correctly, that American history with regard to the First Amendment was very different up until roughly the time of the Warren Court when the great First Amendment cases were decided. Before that time, restrictions on even explicitly political speech was rather common. One of the most egregious examples came early in the Republic when, in response to the controversy brewing because of his responses to the French Revolution and the brewing war in Europe, John Adams pushed through Congress the Alien and Sedition Acts, which, among other things,  made it illegal to publish "false, scandalous, and malicious writing" against the government and government officials. The laws inspired the Virginia and Kentucky Resolutions, which many consider the beginning of the movement that put an end to the Federalist Party and put Thomas Jefferson in the White House. Many critics of Adams were imprisoned under the law merely for criticizing the President but, because the law was promptly repealed when Thomas Jefferson took office, the laws Constitutionality was never seriously tested. During the Civil War, opponents of the war were regularly rounded up by Federal authorities as were critics of the drafts. World War One brought the passage of the Espionage Act and the prosecution of Eugene v. Debs and others for speaking out against the draft. The Supreme Court upheld these prosecutions in a case that resulted in Oliver Wendell Holmes Jr.'s famous, and incorrect, statement about shouting fire in a crowded theater. As recently as the 1940s, the Supreme Court had decided that it was perfectly acceptable for schools to force children to pledge allegiance to the flag even if it violated their religious beliefs. It wasn't until the Warren Court era that the true meaning of "Congress shall make no law…." came to be something that lawyers and judges actually cared about.
So, yes, Posner is correct that our current understanding of the First Amendment and the scope of Freedom of Expression is heavily influenced by the legal developments that occurred starting about 60 years ago, but that doesn't really prove anything. Is he saying that he wants to return to the days of the Alien and Sedition Acts, that the people who protested the draft in the 1960s should have been put in jail, or that children should be forced to worship a peace of cloth whether they want to or not? Or is it just that he thinks that we need to restrict the freedom of American citizens because it offends people who, quite honestly, have values more appropriate to the 11th Century than the 21st?
Posner goes on to lament the fact that we have a First Amendment at all in situations like this:
What is peculiar it that while reasonable people can disagree about whether a government should be able to curtail speech in order to safeguard its relations with foreign countries, the Google compromise is not one that the U.S. government could have directed. That's because the First Amendment protects verbal attacks on groups as well as speech that causes violence (except direct incitement: the old cry of "Fire!" in a crowded theater). And so combining the liberal view that government should not interfere with political discourse, and the conservative view that government should not interfere with commerce, we end up with the bizarre principle that U.S. foreign policy interests cannot justify any restrictions on speech whatsoever. Instead, only the profit-maximizing interests of a private American corporation can. Try explaining that to the protesters in Cairo or Islamabad.
Actually, no, Professor, reasonable people cannot disagree about the government's power to curtail speech because we already have a Constitutional provision that answers that question with a clear and emphatic no. Far be it from me to question the judgment of a Professor at a top level Law School, but what part of "Congress shall make no law….." does he not understand?
I can accept, even if I cannot possibly understand, the fact that Muslims are apparently so deeply offended by any depiction of the person they consider a prophet (long dead now for over 1,000 years) that they are willing to riot violently and, as happened just a week ago in Pakistan, kill people over it. What I cannot understand is why we have to give that irrational, emotional, response legitimacy. Blasphemy has not been a crime in this country for centuries, and there is no good reason that it should be. Indeed, as Hussein Ibish notes, blasphemy is an indispensable human right:
Blasphemy is an indispensable human right. Without the right to engage in blasphemy, there can be no freedom of inquiry, expression, conscience or religion.

(…)

Who, after all, will be authorized to define "blasphemy"? Does anything that offends any religious sensibilities qualify as "blasphemy"? Will a critical mass of objections be seen as legitimate grounds for silencing critics of religious doctrine, scholarly inquiry into their origins, skeptical analysis of superstition and faith, iconoclasm, or mockery of religious claims, symbols, assertions, and shibboleths?

(…)

If freedom of religion, conscience and speech are to mean anything, religious doctrines, symbols and assertions must be open to inquiry, criticism and, indeed, ridicule. Otherwise, the human thought process will be shut down by force of law in order to protect the sensibilities of the superstitious, and free inquiry into the most central issues facing humanity since the birth of the species will be effectively foreclosed.

These calls reflect a paranoid worldview that is widespread among Muslims that their religion is under some kind of global assault. If so—because Islam is spreading faster than almost any other religion, with the possible exception of Mormonism—it's an odd kind of siege. In reality, Islam is thriving in its countries of origin and spreading quickly into the West.

What this idea really bespeaks is a terror that most faiths contain at their core: that serious, skeptical, dispassionate evaluations of their specific claims will reveal them to be indefensible, hollow and easily debunked. Embracing modernity requires tolerating such fears without demanding the enforcement of religious orthodoxy, even of an ecumenical variety, through the power of the state.
Indeed, there is plenty of history in the Western world of the horrors inflicted upon people deemed to have committed blasphemy against Christianity. Thanks in no small part to the Protestant Reformation, the Enlightenment,  the settlement of the New World, and the American idea of the separation of church and state, we were able to move past that era. What is the logic in a position like Posner's that essentially argues for a view of the First Amendment that would make "insulting" a religion, however one might define that, something that the state could suppress in the name of national security? Sacrificing our principles in the name of safety doesn't really strikes me as something that's going to accomplish anything worthwhile.
Notwithstanding its historically recent development, Freedom of Speech is one of our country's most important principles. It is, indeed, the thing that makes our political system possible to begin with, and it is has led to a tremendous amount of expression in the area of politics, arts, letters, and entertainment that have added immeasurably to the legacy of our nation and the knowledge of humanity. The idea that anyone, least of all a law professor, would be willing to toss all of that aside in the face of mob violence is really just sad.
Timothy Sandefur notes this quote from one of America's founders, George Mason:
"No free government, or the blessings of liberty, can be preserved to any people, but by a firm adherence to justice, moderation, temperance, frugality, and virtue, and by frequent recurrence to fundamental principles."
Sacrificing our fundamental principles for the illusion of safety and the false promise of friendship would be a tragedy.