Hilary Rosen, Foster Freiss, And The Permanent Campaign Silly Season
Thanks to a media that focuses obsessively on irrelevancies, we now have a permanent political silly season.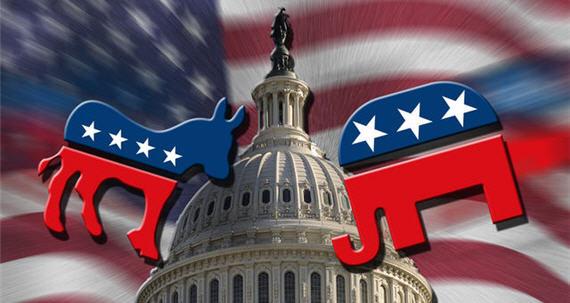 Steven Taylor's post this morning about an admittedly stupid off-the-cuff remark made by former Rick Santorum  supporter Foster Freiss reminds me of an observation that MSNBC's First Read noted yesterday after the political media had spent all day Thursday on the Hilary Rosen comments about Ann Romney:
If this first week of the general election has taught us anything, this is going to be a long next six months. It started with the Obama White House and campaign ham mering away at the "Buffett Rule," which was more of an effort to embarrass Mitt Romney (and his low effective tax rate) than a realistic policy proposal. And then on Wednesday and Thursday, the Romney campaign seized on comments by Hilary Rosen, a Democratic strategist with thin ties to the White House, who said that Ann Romney has never worked a day in her life. It was a manufactured controversy — fueled by Twitter and social media — because no serious political actor in this presidential contest is criticizing stay-at-home moms or the value of the work they do.

(…)

Of course, manufactured controversies are nothing new in American politics. There was Nixon's famous "Checkers" speech. Even four years ago, political observers were obsessing over Michelle Obama's patriotism and John McCain's seven homes. What is new, however, is how much faster and professionalized — due to Twitter and the drive to make something go viral — these manufactured controversies have become. Indeed, we've now seen three of them in the past 30 days: Etch A Sketch, hot mic, and Hilary Rosen. Now all three were related to a bigger issue or narrative (doubts about Romney's true beliefs and ideology, conservative suspicions about Obama's intentions, and a real gender gap in American politics). But, unfortunately, we talk about the manufactured controversy and not the real story here (that a general-election candidate always moves back to the center, that a president's second term with no more elections on the horizon does give him more flexibility to do certain things, and that women do have real anxieties about the balance between working and raising a family). The fact is, these next few months before the conventions are probably going to be filled with these manufactured "shiny metal object" controversies because of what we noted — just how professionalized both political parties are at creating them. And some in the media are easily susceptible to helping these manufactured controversies go viral because they are seen as simply "more interesting" than the serious "eat your vegetables"-like issues that divide the two parties.
This led Brendan Nyhan to make this comment about the dangers of the manner in which the media lets itself get drawn into what are, in the end, faux controversies:
As NBC's First Read points out, while "manufactured controversies are nothing new in American politics," what is new "is how much faster and professionalized—due to Twitter and the drive to make something go viral—these manufactured controversies have become." Such controversies can be especially potent as we enter what First Read calls "silly season." When few competing stories exist and political reporters are starved for material, any whiff of scandal or controversy can create a feeding frenzy (PDF). A bored media is dangerous for politicians.
As an example, Nyhan points to the rumor that swept through the political Twitterverse and blogosphere earlier this month that South Carolina Governor Nikki Haley was about to be indicated in a Federal Tax Fraud investigation. As it turned out  the story, which had originated on a South Carolina political blog with a clear anti-Haley agenda, was quickly passed around on Twitter where its credibility was immediately assumed, picked up by the largest newspaper in the state, and eventually the national media. I linked to the story on Twitter, and James Joyner wrote about it here at OTB. As it turned out, though, there was absolutely no merit to the story because Haley herself was not investigation by the FBI or the IRS.
At least in that case, though, the rapidly spreading story could be considered relevant. After all, it's not every day that you see a story about a sitting Governor being investigated by the FBI and the immediate, and logical, assumption would be that there must be something substantial there . That's not even close to true about most of the stuff that makes up the permanent silly season that American politics has turned into.
Take the Hilary Rosen story, for example. As I noted in my original post on that story, her comments were dumb and it's easy to see how it could be seen as offensive by women who had chosen to stay at home for all or part of the time that their children were growing up. Not surprisingly, that led to a wildly partisan exchange in the comment thread that seemed to miss the point that every single Obama campaign operative, along with the First Lady, President and Vice-President, had condemned Rosen's comments. To me, the only potentially interesting part of the entire affair was the extent to which it had quickly galvanized conservatives who had been on the fence about Romney to go on the offensive for him. Certainly, by the time that Rosen had issued her apology later that day, including a bizarre on-camera appearance on CNN where Wolf Biltzer asked her to look into the camera and "speak to Ann Romney," the story should have been over and done with. Of course it wasn't. When Friday morning came, conservatives continued to push the meme of what had developed to a Twitter hashtag called #WarOnMoms, and some on the left continued to defend Rosen. A story that was probably blown out of proportion to begin with has taken on a life of its own thanks solely to the obsessive need of the cable news media to talk about something, anything in order to fill up air time and the eagerness of partisans on both sides to get on the air and score points against the others side. What does it actually accomplish? Nothing.
The same can be said about the Foster Freiss story. as I've noted in the comments to Steven's post, I fail to understand why this is even a story. Foster Freiss is not a campaign surrogate, he's not a Romney adviser. He's a guy in Texas who said something dumb on Lou Dobbs's show on Fox Business Network, a show that averages less than 100,000 viewers a night hosted by a man who long ago lost whatever journalistic credibility he ever had. Why is what he says news, whether it's this stupid attempt at a joke, or his comments back in February about contraception? Many people in the comments to Steven's post are asserting that the fact that Freiss a big donor makes his comments relevant, but that's circular logic. Unless you're going to go through FEC reports and talk to all of the big money donors for all the candidates why are the dumb comments of one man worthy of any attention at all? And if Freiss's dumb comments are worthy of attention, does that also make the things that Bill Maher has said about women relevant since he's donated $1,000,000 to Obama's SuperPAC? The answer, of course, is that neither donor's comments are particularly relevant. But they make for good media coverage and a juicy headline (which is probably what motivated ABC News to post about the Fries interview to begin with). It tells us nothing about the candidates, though, and it provides the voters with absolutely no useful information.
We saw the same thing last month with the whole Etch A Sketch meme, which turned out to have very little impact outside of the political media itself. As I noted at the time, the press does the public a disservice when it focuses on irrelevancies like these. Does it really matter to the Republic that a Romney campaign aide made a comment involving an old children's game, or that a Washington lobbyist with no connection to any political campaign made a dumb comment on Anderson Cooper's show, or that some old guy from Texas has a tendency to say dumb things? The only thing that the media accomplishes when they focus on stories like this is that it lets them fill up air time with mindless commentary. But let's not fool ourselves into thinking that just because something gets a lot of coverage on CNN, MSNBC, and Fox that this means that it is worthy of that attention, or that our so-called "professional journalists" are doing anything other than phoning it in these days.