Is The GOP Suckering Fiscal Conservatives All Over Again?
Do fiscal conservatives realize they're being sold a bill of goods?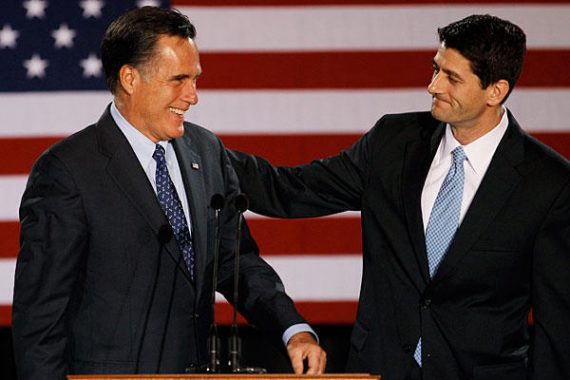 The Atlantic's Conor Friedersdorf hits upon a theme that I've brought up several times during the course of the Presidential campaign, the fact that the Republican Party is, once again, suckering fiscal conservatives into supporting a ticket that isn't very conservative fiscally:
It remains the case that the Romney-Ryan ticket, as fleshed out in recent days, is running on the following:

Zero cuts to the military budget. "If I'm president and Paul Ryan's vice president we will not cut our military budget," Mitt Romney said. He's also talked repeatedly about increasing defense spending.
Zero tax increases on investment, savings, or the middle class, and a broad income-tax rate cut.
Zero cuts to Medicare for the entirety of two terms in office.
War with Iran if it keeps pursuing a nuclear program.

What about those policy promises suggests to deficit hawks that Mitt Romney and Paul Ryan will shrink the deficit? Meanwhile, the GOP ticket promises to eliminate tax deductions but won't specify which ones. Naturally, the deductions that cost the most are correspondingly popular with voters. How is it that deficit hawks fail to appreciate the fact that the most likely parts of the Romney-Ryan agenda to pass are the tax cuts, increases in military spending, and the restoration of $700 billion plus to Medicare, while the least likely to pass are the elimination of tax deductions?

Then there's Ryan's long term vision. Says Kevin Drum, if we presume no substantial cuts to defense spending, by 2050 it would entail "a cut of 80 percent or so" that affects almost everything save Social Security and Medicare. "It affects prisons, food assistance, education, the FBI, assistance to the needy, courts, child nutrition, drug-abuse counseling, FEMA, rape prevention, autism programs, housing, border control, student loans, roads and bridges, Head Start, college scholarships, unemployment insurance, and job training," he writes. Does that seem even remotely realistic politically, even to the few people who think that it would be desirable?

As best as I can tell, a lot of deficit hawks are refraining from demanding a realistic path to a balanced budget because they assume Romney-Ryan will be better than Obama, and figure that more specificity is only going to hurt their ability to win the upcoming election. Isn't that tantamount to putting the same blind faith in the GOP that its partisans identified as a root cause of the Bush-era spending spree, and which they promised to never indulge again?
Conor is absolutely correct, of course. Republicans have been hitting President Obama fairly hard for years now over his fiscal profligacy, and his failure to get behind the deficit reduction plan put forward by the very commission that he had formed to, well, come up with a deficit reduction plan. For the most part, those charges are accurate and well-deserved. However, at the same time that they've been hitting the President on these issues, they've been advocating policies that are just as bad and, in some cases worse, from the perspective of a fiscal conservative.
The best example of this, of course, can be seen in the area of defense spending. Before the ink was even dry on last August's debt ceiling deal, Republicans were talking about reversing the defense portion of the cuts and, this year, they've taken action to do just that in the House of Representatives while Republican Senators have also been calling for the cuts to be reversed. Mitt Romney, meanwhile, has called for the cuts to be delayed a year, which is obviously just the first step down the road of eliminating them entirely. Romney has also proposed increasing the defense budget by some two trillion dollars over ten years, including a massive expansion of the United States Navy. On top of all this, a major part of the Romney/Ryan campaign against the President includes criticism of the fact that he would cut Medicare spending, which is something that most people seem to recognize is absolutely necessary, and, as Conor noted, pledging not to cut Medicare while they are in office. How, exactly, is that fiscally conservative?
It's really quite astounding that fiscal conservatives would let themselves be suckered like this again. One would have thought that the eight years of the Bush Administration would have taught them a lesson that you have to do more than just listen to the rhetoric of Republican candidates, you have to actually look at their policies. There are some responsible Republicans out there, Tom Coburn comes to mind, but their numbers are seemingly fewer than they used to be during the Bush years when there was, at the very least, a small contingent of the party speaking out against the profligacy of programs like Medicare, Part D. As for the voters who consider themselves fiscally conservative, I can't say I understand their actions very well at all. For many of them, no doubt, supporting Romney is merely a means to get rid of Obama, who they consider to be worse. As Conor pointed out, though, that just means they're making the same mistake that Republicans did last decade when they blindly trusted to control spending, then failed to punish them when they didn't.
Albert Einstein once said that the definition of insanity was doing the same thing over and over again and expecting a different result. That seems to be what Republican fiscal conservatives are doing right now.