On Coups, Insurrections, and Security Theater
Reflections on the events of 6 January two months later.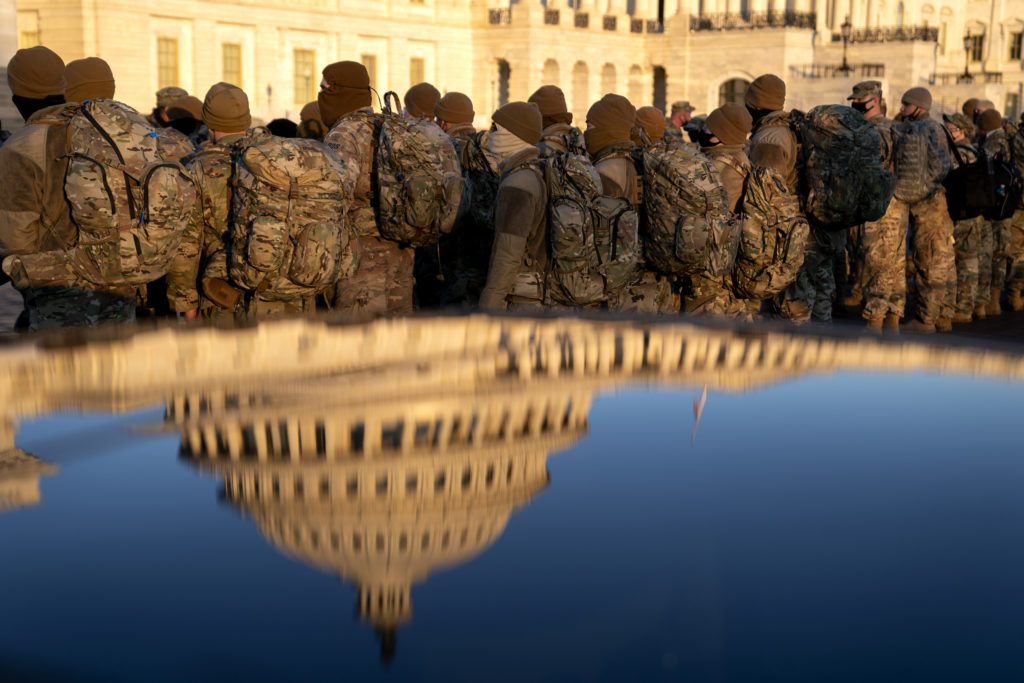 Glenn Greenwald is perhaps the most iconoclastic journalist of his generation. Aside from being a free speech absolutist, he's next to impossible to pigeonhole. He came to prominence attacking the excesses of the George W. Bush administration in fighting the Global War on Terror, both at home and abroad, and then continuing those attacks against the Obama administration. But then, oddly, he became one of the biggest defenders of President Trump, hammering away for years at any insinuation that he was backed by Russia and alienating the people at the magazine he co-founded with his support for Hunter Biden conspiracy theories.
His most recent essay, "As the Insurrection Narrative Crumbles, Democrats Cling to it More Desperately Than Ever," builds on arguments he's been making since the 6 January incident at the U.S. Capitol.
I'm largely in agreement with his main contention, that calling the event a "coup attempt" or an "armed insurrection" is a stretch. But, Greenwald can't resist amping it up to 11.

Perhaps the most significant blow to the maximalist insurrection/coup narrative took place inside the Senate on Thursday. Ever since January 6, those who were not referring to the riot as a "coup attempt" — as though the hundreds of protesters intended to overthrow the most powerful and militarized government in history — were required to refer to it instead as an "armed insurrection."

This formulation was crucial not only for maximizing fear levels about the Democrats' adversaries but also, as I've documented previously, because declaring an "armed insurrection" empowers the state with virtually unlimited powers to act against the citizenry.

[…]

As I detailed several weeks ago, so many of the most harrowing and widespread media claims about the January 6 riot proved to be total fabrications. A pro-Trump mob did not bash Office Brian Sicknick's skull in with a fire extinguisher. No protester brought zip-ties with them as some premeditated plot to kidnap members of Congress (two rioters found them on a table inside). There's no evidence anyone intended to assassinate Mike Pence, Mitt Romney or anyone else.

Yet the maximalist narrative of an attempted coup or armed insurrection is so crucial to Democrats — regardless of whether it is true — that pointing out these facts deeply infuriates them. A television clip of mine from last week went viral among furious liberals calling me a fascism supporter even though it did nothing but point out the indisputable facts that other than Brian Sicknick, whose cause of death remains unknown, the only people who died at the Capitol riot were Trump supporters, and that there are no known cases of the rioters deliberately killing anyone.
Greenwald's assessment of what the publicly-available evidence shows is reasonable. While it's possible that his death was a homicide, Sicknick was not violently murdered by rioters as erroneously reported. The "Zip Tie Guy" did not bring them with him so that he could arrest and possibly kill lawmakers; he saw a bag left behind in haste by Capitol security forces and picked them up to make it harder to arrest those who stormed the building. And, yes, the initial reports of five or six people being killed by the rioters turned out to false. With the exception of Sicknick, everyone who died that day was among those who stormed the Capitol.
But the notion that Democrats and anti-Trump Republicans are intentionally misleading the public on this score in order to impose a permanent crackdown on our freedom is, frankly, absurd. With a handful of exceptions—Alexandria Ocasio Cortez's nonsense about Ted Cruz trying to have her killed that day comes to mind—the simplest explanation is that lawmakers are looking at the events through the lens of the larger attempt by Trump and his allies to steal the election and based on how things looked in the hours and days after the incident.
Further, as I've argued before, the incident was clearly not just one thing. I tend to characterize it as a "riot" and those involved as "rioters" but even that's not quite right. At the low end, a large number of those inside the Capitol that afternoon were what a Facebook wag described as "aggressive tourists." After the initial, violent wave that stormed their way in, there seems to have been a free-for-all in which the doors were simply open for anyone who wanted to walk in.
But "rioters" undersells a smaller group that Greenwald's account conveniently elides: the Proud Boys, Oath Keepers, and other organized groups who planned the attack in the days prior. They weren't incited by Trump's speech or, indeed, motivated by the Big Lie of a stolen election.
More strangely, Greenwald spills hundreds of words making the argument that Democrats are falsely claiming that there is a continued security threat for, well, reasons.
Twice in the last six weeks, warnings were issued about imminent, grave threats to public safety posed by the same type of right-wing extremists who rioted at the Capitol on January 6. And both times, these warnings ushered in severe security measures only to prove utterly baseless.

First we had the hysteria over the violence we were told was likely to occur at numerous state capitols on Inauguration Day. "Law enforcement and state officials are on high alert for potentially violent protests in the lead-up to Inauguration Day, with some state capitols boarded up and others temporarily closed ahead of Wednesday's ceremony," announced CNN. In an even scarier formulation, NPR intoned that "the FBI is warning of protests and potential violence in all 50 state capitals ahead of President-elect Joe Biden's inauguration."

The resulting clampdowns were as extreme as the dire warnings. Washington, D.C. was militarized more than at any point since the 9/11 attack. The military was highly visible on the streets. And, described The Washington Post, "state capitols nationwide locked down, with windows boarded up, National Guard troops deployed and states of emergency preemptively declared as authorities braced for potential violence Sunday mimicking the Jan. 6 attack on the U.S. Capitol by a mob of pro-Trump rioters." All of this, said the paper, "reflected the anxious state of the country ahead of planned demonstrations."

But none of that happened — not even close.
I share Greenwald's general skepticism of security theater but this particular argument baffles me. Mobs of people stormed into the Capitol on 6 January, demonstrating rather conclusively that stolen election lie perpetuated by Trump and his allies had reached a boiling point. There were credible threats of more violence to come and, certainly, it seemed perfectly plausible that 6 January was a dress rehearsal for the 20 January inauguration.
Did the blowback over 6 January act as a wakeup call for Trump supporters, making them realize that violence was a bridge too far? Did the presence of a massive security force surrounding the Capitol and the inauguration site act as a deterrent? Or was there simply a huge collective action problem? Hell if I know. But, surely, the fact that a second violent attack on a peaceful transition of political power didn't manifest in the span of two weeks isn't evidence that we shouldn't have been prepared to stop it.
Completely undeterred by that debacle, Democrats and their media spokespeople returned with a new set of frightening warnings for this week. The date of March 4 has taken on a virtually religious significance for the Q-Anon movement, announced NBC News' Ben Collins, who was heard on NPR on Thursday speaking through actual, literal journalistic tears as he recounted all the times he called Facebook to plead with them to remove dangerous right-wing extremists on their platform (tears commence at roughly 7:00 mark). Valiantly holding back full-on sobbing, Collins explained that he proved to be so right but it pains and sorrows him to admit this. With his self-proclaimed oracle status fully in place, he prophesized that March 4 had taken on special dangers because Q-Anon followers concluded that this is when Trump would be inaugurated.
I'm slightly more sympathetic to Greenwald's argument here. But only slightly. Yes, conspiracy nuts routinely advertise apocalyptic dates and then announce new ones when the apocalypse fails to arrive. And, yes, reacting to all of them with a massive lockdown is a recipe for a permanent police state.
As with Islamist terrorism, we should be cautious about an overreaction to the threat posed by domestic white nationalist terrorists. We can certainly go too far in walling off our public spaces, over-policing, profiling, and monitoring of speech and assembly. But, surely, we shouldn't pretend that there's no threat, either, or treat the failure of "chatter" to manifest in a particular incident as evidence that there will never be an incident.
And, indeed, Greenwald gets there eventually:
The key point to emphasize here is that threats and dangers are not binary: they either exist or they are fully illusory. They reside on a spectrum. To insist that they be discussed rationally, soberly and truthfully is not to deny the existence of the threat itself. One can demand a rational and fact-based understanding of the magnitude of the threat revealed by the January 6 riot without denying that there is any danger at all.

Those who denounced the excesses of McCarthyism were not insisting that there were no Communists in government; those denouncing the excesses of the Clinton administration's attempts to seize more surveillance power after the Oklahoma City courting bombing were not denying that some anti-government militias may do violence again; those who objected to the protracted and unhinged assault on civil liberties by the Bush/Cheney and Obama administrations after 9/11 were not arguing that there were no Muslim extremists intent on committing violence.
On these points, Greenwald and I are in perfect agreement. And it's why, despite disagreeing with him on so many issues and finding him genuinely frustrating at times, I find reading him worthwhile. While I don't share most of his priors, I respect his fierce independence and willingness to go where the evidence takes him, even if it alienates him from his own side.
But, alas, his priors lead him to leaps that I find fantastical:
The argument then, and the argument now, is that the threat was being deliberately inflated and exaggerated, and fears stoked and exploited, both for political gain and to justify the placement of more and more powers in the hands of the state in the name of stopping these threats. That is the core formula of authoritarianism — to place the population in a state of such acute fear that it acquiesces to any assertion of power which security state agencies and politicians demand and which they insist are necessary to keep everyone safe.
My priors lead me to a different conclusion: security theater isn't motivated by a desire for authoritarian control but by a fierce instinct by politicians and bureaucrats alike to cover their asses. The probable overreaction in providing post-6 January security in and around the Capitol is a direct response to the criticism that they underestimated the security threat on that day.
And, as cynical as I am about the fecklessness of politicians, I'm not this cynical:
There is, relatedly, a massive political benefit from convincing the population that the opponents and critics of those in power do not merely hold a different ideology but are coup plotters, insurrectionists, domestic terrorists. That is the same political benefit that accrued from trying to persuade the population that adversaries of the Democratic Party were treasonous Kremlin agents. The more you can demonize your opponents as something monstrous, the more political power you can acquire.
Are some Democrats over-hyping the extent to which their opponents are evil? Sure. But I think most, like myself, are simply appalled at the sheer scope of the problem.
And as Democrats and liberals now gear up to demand a new War on Terror, this one domestic in nature, it should be no surprise that the rhetorical leaders of their effort now are the same lowlife neocon and Rovian slanderers — Bill Kristol, David Frum, Steve Schmidt, Nicolle Wallace, Rick Wilson — who demonized everyone who questioned them as part of the first War on Terror as traitors and terrorist-lovers and subversives. It is not a coincidence that neocons are leading the way now as liberals' favorite propagandists: they are the most skilled and experienced in weaponizing and exaggerating terrorism threats for political gain and authoritarian power.
The more plausible explanation is that the neocons and other Republican national security professionals comprised the core of the Never Trump faction and desperately want to root at what they see is a cancer in their former party and, indeed, their country.
Again: I share Greenwald's fear of overreaction and the threats to our civil liberties that comes with it. For selfish and ideological reasons, I would like the fences around public spaces in our nation's capital to come down and the National Guard troops stationed there to go back to their day jobs. They can't become permanent fixtures "just in case."
But let's also not pretend that the greatest danger to our Republic at the moment is coming from Democrats. It would be a lot harder to demonize Republicans if 74 million of them hadn't voted to re-elect a would-be autocrat and if their elected officials didn't overwhelmingly go along with his attempt to steal the election and then exonerate his incitement of a physical attack on the seat of government.