President Obama Likely To Leave World In As Bad A Shape As He Found It, If Not Worse
President Obama came to office inheriting the legacy of one unnecessary war, and another that had faded from memory. He will leave office with Iraq and Syria in crisis, Europe uneasy, Yemen and Libya unstable breeding grounds for terrorism, and China doing whatever it is they're doing.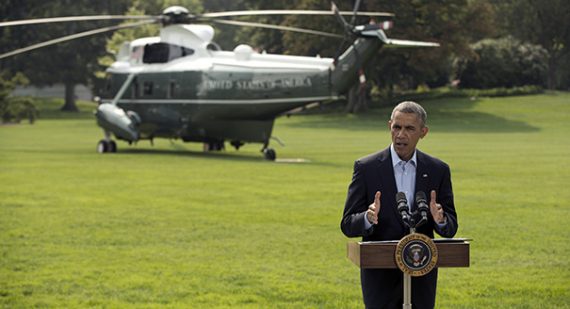 During his run for the White House, President Obama ran as a very strong critic of the foreign policy that had governed the United States since the September 11th attacks some seven years earlier. As a candidate for the Democratic nomination, for example, one of his most effective weapons against Hillary Clinton was her vote in favor of the Iraq War in 2002, a war he had spoken out against even before he was a candidate for the Senate in Illinois. During both the primary campaign and the General Election, he criticized Clinton and Republicans for backing the "wrong war" in Iraq and ignoring the fight against al Qaeda in Afghanistan, promising that were he to become President he would continue and accelerate the process of winding down American involvement in Iraq that the Bush Administration had already started while turning the military's attention to Afghanistan and the fight against international terrorism. It was a message that resonated well with Democratic voters and with general voters and, along with the state of the economy and general public disdain toward Republicans in the wake of the a Bush Administration widely viewed at the time as largely a failure, it was enough to propel him to victory.
At least in the beginning, the President was able to deliver on many of his foreign policy promises. The withdrawal process in Iraq picked up pace under his watch, especially after the Iraqis proved unwilling to enter into a Status of Forces Agreement that would cover any troops that might remain in Iraq after the end of 2011. By the end of December 2011, the last American troops had left Iraq just over eight and a half years after the war had started. In Afghanistan, the President backed a surge operation intended to concentrate the fight against the Taliban and their al Qaeda allies and stepped up counter-terror operations in the area. The biggest success in that area, of course, came in May 2011 with the announcement that a special forces raid on a home in Pakistan had resulted in the death of Osama bin Laden himself. In addition, for a time at least, the fight in Afghanistan itself seemed to be going well, and other efforts to take out al Qaeda affiliates in places such as Yemen were proving successful. Indeed, when the Obama/Biden ticket ran for re-election in 2012, the success against al Qaeda had become a central part of the campaign's message.
Now, as Greg Jaffe notes at The Washington Post, President Obama seems likely to leave behind a foreign policy legacy that is far from what he promised when running for office:
Obama began his second term having brought one war in Iraq to an end and pledging to bring home America's ground troops from a second in Afghanistan. To that end he set hard limits on U.S. deployments and firm time frames for the withdrawal of U.S. forces.

Before deploying forces, Obama would regularly demand that his commanders explain the "theory of the case" behind the moves. The phrase is evocative of the president's legal training and his deep skepticism that U.S. military power can bring lasting change to broken societies. He wanted assurances that the operations would work as intended as well as coherent explanations of how and when they would end.

As he nears the end of his presidency, Obama faces the prospect that he will leave office with ground forces deployed to three combat zones.

Last month, the president said he would keep 5,500 ground troops in Afghanistan to advise struggling Afghan army and to pursue the remnants of al-Qaeda. In Iraq and Syria, the president has incrementally boosted the U.S. force, beginning an initial deployment of several hundred troops to Iraq in 2014, after Iraqi army forces in Mosul were overrun by Islamic State fighters. The president sent 450 more American trainers and advisers after Iraqi forces were routed at Ramadi by a much smaller Islamic State force in the spring.

Those forces were supposed to work with the Iraqi army and local tribal fighters to plan an offensive on Ramadi that has largely stalled. "We have four axes converging on Ramadi, and on any given day, none of them makes any movement at all," said a senior U.S. official involved in the war planning.

Frustrated with the lack of progress, Obama in July made a rare visit to the Pentagon to push Defense Secretary Ashton B. Carter and his top commanders for options to increase the intensity of U.S. military operations without putting U.S. troops in a direct combat role.

More ambitious and costly measures such as no-fly zones or buffer zones that would require tens of thousands of ground troops to effectively protect civilians were rejected. Democratic presidential front-runner Hillary Rodham Clinton has said that she favors a no-fly zone in Syria. Other riskier proposals, such as the introduction of Apache helicopters or combat advisers who would move closer to the front lines and call in airstrikes or bolster the Iraqi attack on Ramadi, weren't explicitly rejected but were deemed unnecessary for now.

The president's final decision balanced his desire for the United States do more with his determination to keep American forces from being pulled too deeply into conflicts in which U.S. effectiveness was limited or where there were no clear military solutions.
Jaffe's observations come at the same time that The New York Times reports that there's already evidence that Administration's new effort to work with so-called "moderate" Syrian rebels, which is a large part of the deployment announced Friday, is already showing signs that it is faltering:
EIN EISSA, Syria — Weeks after the Obama administration canceled a failed Pentagon program to train and arm Syrian rebels to combat the Islamic State, American officials announced a new effort to equip ground forces in Syria to fight the jihadists.

But 10 days of interviews and front-line visits across northern Syria with many of the forces in the alliance, called the Syrian Democratic Forces, made clear that so far it exists in name only, and that the political and logistical challenges it faces are daunting.

One Arab commander, sitting near the earthen wall that separates this deserted town in Syria from the Islamic State's front line, bitterly recalled being chased from his Syrian hometown by the jihadists and said he would do anything to reclaim that territory. But then he detailed a list of things his forces needed: ammunition, radios, heavy weapons and more American airstrikes.

"This is the state of our fighters: trying to fight ISIS with simple means," he said, pointing to a fighter in broken boots, tattered fatigues and a dirty sweatshirt that read "Skateboarding ruined my life."

Beyond the early logistical factors, the new alliance faces what is perhaps a more serious challenge in the long term: Though it is intended to begin clawing back territory from the Islamic State in mostly Arab areas, nearly all of the group's fighting power comes from ethnic Kurdish militias.

That demographic reality is likely to further alarm Turkey, a vital American ally that considers Kurdish autonomy near its southern border a security threat. It also limits the forces' ability to strike the jihadists in predominantly Arab communities — Kurdish fighters have less motivation to fight for those areas, and could deeply anger residents by doing so.

"The backbone of these forces are the Kurdish groups because of their experience fighting ISIS and their numbers," said Redur Xelil, a spokesman for Syria's dominant Kurdish force, the Y.P.G. But he talked about how that could be a limiting factor in fighting for cities like Raqqa, the Islamic State's headquarters in Syria: "We have to be realistic that the Y.P.G. can't go by itself into Raqqa, or people will say, 'What are you doing there?'

(…)

Last week, President Obama announced plans to deploy dozens of Special Operations troops to support the new alliance. And before that, American officials said 50 tons of ammunition had been airdropped for Arab fighters with the new group.

But already, things have not always gone as planned. Since the ammunition airdrop, American officials have privately acknowledged that the Arab units it was intended for did not have the logistical capability to move it. So, again, the Kurds were called to help.

An array of smaller groups have allied with the Kurds, including Arab and Turkmen rebels, Christian militias and Bedouin fighters loyal to a sheikh who considered the Libyan leader Col. Muammar el-Qaddafi a friend.

While these groups hate the Islamic State, most are small, and some have been repeatedly routed by the very jihadists the United States now hopes they will defeat.

While the Kurds have become used to securing territory, with uniformed forces and a clear chain of command, their Arab allies often leave teenagers with Kalashnikovs at checkpoints who stop and release cars at random, scaring drivers.

A commander of one Arab group lamented that while Kurdish commanders could simply order their fighters to move, he could only make suggestions and hope his men complied.

Some of the alliance's forces have cooperated before, but relations are not always smooth. The Kurdish military strength in the area means that Kurds set the agenda, and many clearly look down on their Arab partners.

For their part, Arab rebel fighters say they worry about their partners' close ties to the Kurdistan Workers' Party, or P.K.K., which the United States, Turkey and others list as a terrorist organization. They also distrust the motives of the thousands of Kurdish fighters who have come to Syria from Iraq, Turkey and Iran.

"ISIS brings foreign fighters for an Islamic State, while they bring foreign fighters for a Kurdish project," said one Arab commander with the Raqqa Revolutionaries Brigade who goes by the name Abu Hamza. "But if that is how they think, they'll fail."
What this means, of course, is that President Obama is likely to be forced to revisit his Syria policies several more times before he leaves office, but as each time has shown so far he doesn't seem to have a coherent policy at all and that, in many respects, that policy seems mutually self-contradictory. The more important point, though, is that the fight against ISIS is Syria and Iraq is certain to be a legacy that President Obama leaves behind for whomever his successor ends up being. That was probably going to be the case no matter what Obama did, of course, but the fact that he has approached this issue in such a haphazard and unfocused manner has virtually guaranteed that the ISIS issue, and the broader issue of a Syria that seems ready to break apart the minute Bashar Assad leaves power, will be a major headache for the next President just as Iraq and Afghanistan were headaches for him when he took office in January 2009. More importantly, because of the haphazard escalation policy that he has engaged in with respect to this fight, which I discussed on Friday in the wake of the latest announcement of a policy change, President Obama has arguably significantly limited the options that his successor will have going forward in January 2017. We're at the point now where disengaging may may no longer be a viable option notwithstanding that it is probably the best thing we could do, and where further escalation seems guaranteed no matter what the incoming President may want to do. Of course, the fact that essentially all of the Republican candidates for President, and the person who now seems all but guaranteed to be the Democratic nominee, seem committed to an even more aggressive Syria/Iraq/ISIS policy than this President, the likelihood of escalation is high any case.
Syria isn't the only part of the world where the President will leave what is, at best, a mixed legacy, of course. The decision to join Europe in intervening in the civil war in Libya, which led to the downfall of Muammar Gaddafi forty year long dictatorship has ushered in a period of chaos in the nation that has allowed terrorist groups and other insurgents to take up refuge in various parts of the country, and which once again threatens to create conditions that could lead to a new flood of refugees to rival the Syrian migration already overwhelming Europe. Yemen remains a hotbed of chaos thanks in no small part to the war launched and back by America's allies in Saudi Arabia and the United Arab Emirates, a war the Administration has largely supported. The Taliban have become newly resurgent in Afghanistan to the point where the withdrawal of American forces has, for all purposes, been halted. Outside of the region, eastern Ukraine continues to be a hot spot of fighting between the Kiev government and Russian-backed rebels while NATO allies in Eastern Europe continue to wonder just how much the alliance would have their back if Vladimir Putin decided to try to intimidate them. And, of course, the Chinese continue their efforts to expand their territorial waters in the South China Sea and elsewhere in ways that threaten major international shipping lanes.
There are, of course, some potential positives in the President's foreign policy record. Notwithstanding the criticism it received from the right, the deal between Iran, the United States, Russia, China, Germany, Great Britain, and France regarding Iran's nuclear program has the potential to be a significant step toward cooling tensions with the Islamic Republic. The President's decision to begin dismantling the outdated isolation of Cuba is clearly a good idea, although future progress on that front will require cooperation from Congress. Finally, it does appear that the nation's relationships with European allies that were frayed over the Iraq War have been repaired, although that's likely to be tested if Russia flexes its muscles far beyond Ukraine.
For the most part, though, and while there are still fourteen months left in his Presidency, President Obama appears destined to leave his successor a world that isn't in much better shape than the one he inherited from his predecessor.