Ron Paul's Past Will Catch Up With Him
Ron Paul is rising in Iowa, which means he will soon face the scrutiny he's avoided so far.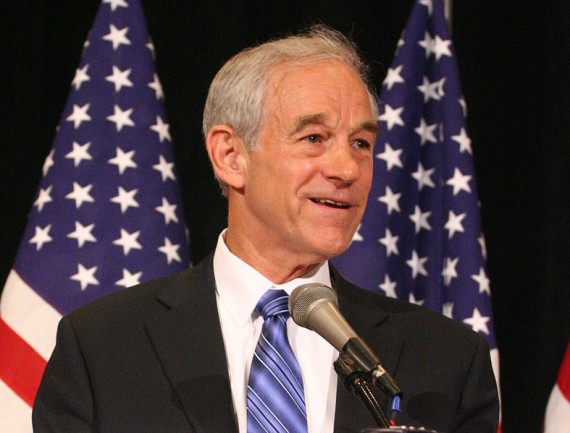 With the latest PPP poll showing Ron Paul in the lead among the Republican candidates in Iowa, a projection which Nate Silver backs up in his latest forecast, Tim Carney asserts that a Paul victory in Iowa will lead the establishment GOP and the media to unleash a whirlwind against him:
There are many reasons he is unacceptable to the Republican elite. Some of these transgressions reflect badly on Paul. Others reflect badly on the party.

In Paul's favor, he holds to the professed principles of his party. He makes Republicans look bad by firmly opposing overspending and the unconstitutional expansion of federal power. He correctly predicted the troubles that would be caused by housing subsidies and the U.S. invasion of Iraq.

Paul is also disliked for his foreign policy. His non-interventionism has provoked clashes with the party elites, but it resonates with a growing number of Republicans who have grown tired of endless war and nation building that doesn't seem to serve American interests. But Paul regularly goes too far for even these voters, criticizing the killing of al Qaeda leaders and at times sounding like he agrees with Iran's grievances against the United States.

But neither his establishment-irritating adherence to principle, nor his hawk-angering foreign policy, will be the focus of the anti-Paul attacks should he carry Iowa. His conservative critics and the mainstream media will imply that he is a racist, a kook, and a conspiracy theorist.
Carney is a Paul fan, so it's understandable that he'd see intra-party opposition to his preferred candidate as some kind of nefarious establishment plot but, as Jonah Goldberg notes, how is what he describes here any different than what the other "Not-Romney's" (Buchanan, Perry, Cain, Gingrich) have gone through over the past five or six months? There's no question that many of Paul's policy positions, while they do attract a vocal and hard-working group of mostly independent voters, are out of step with the Republican Party base in several important respects. That's why you see him doing better in states where independents are allowed to participate in candidate selection, such as Iowa and New Hampshire, than he does in states where primaries are only open to registered Republicans such as Florida. Paul also tends not to poll well in states where Republican voters dominate the state and tend to vote very conservative, such as South Carolina.  That's the reason I agree completely with James Joyner's statement last week that, regardless of what happens in Iowa, Paul is not going to be the Republican nominee. To put it bluntly, he has no path to victory and lacks the resources to compete with the Mitt Romney's of the world in delegate-rich states like Pennsylvania, New York, Ohio, and California, all of whom have closed primaries to begin with. Paul is benefiting right now from the quirky nature of the electorate in Iowa and New Hampshire, but once he gets beyond there he really won't have anywhere to go.
There's also another simple truth about the Iowa Caucuses, and that is that they simply aren't a good indicator of which way the race is going to go, especially on the Republican side of the aisle. Since 1976, only three candidates who won the Iowa Caucuses where there was actually a contest went on to win the nomination —- Ford in 1976, Dole in 1988 , 1996 and George W. Bush in 2000. Of course, only one of those three actually went on to become President, and that was by the narrowest of Electoral Vote margins. So, winning Iowa doesn't necessarily mean anything at all. For Republicans, a better indicator is South Carolina, where the winner has gone on to win the nomination in every contested race since 1980. In that state, Ron Paul is currently in fourth place in the RCP poll average.
In other words, success in Iowa is not at all indicative of the likelihood of success nationwide, so when other Republican seek to down play the importance of Paul's victory, they'll sort of have a point.
Carney is also concerned that Paul's past is going to catch up with him:
Paul's indiscretions — such as abiding 9/11 conspiracy theorists and allowing racist material in a newsletter published under his name — will be blown up to paint a scary caricature. His belief in state's rights and property rights will be distorted into support for Jim Crow and racism.
What Carney dismisses as indiscretions include such things as being a regular guest on the radio show of a man named Alex Jones, who has asserted openly for years that the government is lying to the American people about the September 11th attacks, and suggesting openly that the attack was actually conducted by someone other than al Qaeda even though Osama bin Laden claimed credit for the attacks on more than one tape released during his life time. Jones also dabbles in other conspiracy theories that remind one of the "black helicopter" crowd that gained prominence back in the 1990s. Now, one could say that Paul shouldn't be held responsible for the views of someone whose radio show he appears one, but when you're a sitting United States Congressman and a three time candidate for President, appearing on someone's show does tend to lend them a degree of credibility.The fact that Paul continues to lend credibility to people like this is something that is simply not going to look good if and when the media starts paying attention to it.
The other indiscretions on Carney's mind are, of course, the infamous newsletters, which Steven Taylor has written about extensively here and here. The newsletters story isn't new, of course. It came out during the 2008 campaign and those of us who were writing about the that issue and other problems with the Ron Paul campaign created by his decision to refuse to dissociate himself from extremist elements warned that Paul was not the best messenger for libertarian ideas in the GOP (A small sample of what I was writing at the time can be found here, here, here, here, here, here, here, and here.) Most people don't know anything about this story, though, and Paul's explanations, both in 2008 and now, just don't add up. Saying that you were unaware of what was being published in your own name over a period of several years, when it was clear that the publication in question was a huge sources of income, simply doesn't add up. Just like Newt Gingrich's business dealings after he left office are fair game, so are Ron Paul's associations with people that most Americans would consider to be wildly radical. This is why I would have preferred Gary Johnson to be the standard bearer for libertarian ideas in this race than Ron Paul, who still seems to me to be engaging in a "Last Hurrah" rather than a serious campaign.
So, yes, if Paul wins Iowa, or comes close to doing so, the "establishment" will bring all of this up, because it's relevant. They're also likely to talk about Paul's affinity for the Gold Standard  and his foreign policy views, which may end up being his Achilles Heel before all of this is over. They'll do so because that's how a frontrunner gets treated. It's not a vast conspiracy, it's politics and it's part of the price you pay for running.  Congressman Paul is probably used to it by now, and his supporters need to do so as well before they become caricatures of themselves.