Success In Libya Does Not Justify An Unnecessary, Improper Decision By President Obama
Success in Libya does not make the American mission any less unjustified than it was on the day President Obama announced it.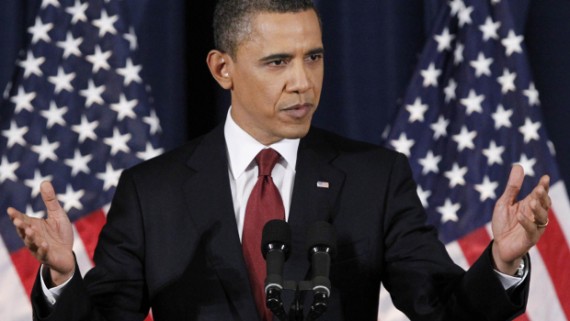 While the battle for Tripoli still rages, it is rather apparent at this point that the final collapse of the regime of Muammar Ghadafi is, if not totally destroyed, on its last legs and that his 42 year old one man dictatorship is at an end. Not surprisingly, that has led many people to the conclusion that President Obama's decision to back the UN/NATO mission in Libya in March was justified because, well, it worked. While President Obama will get, and does deserve, some degree of credit for achieving the goal of overthrowing Gadhafi at a minimal cost to the United States in lives and money, however, none of that success eliminates the serious questions that were raised by the Obama Administration's decision to intervene in Libya, and the manner in which they went about doing so.
Over at The Washington Examiner, for example, Timothy Carney points out that the mere fact of success in the toppling of the Gadhafi regime (which doesn't really address the issue of what comes next, of course) does not make an illegal war suddenly legal,  and Reason's Nick Gillespie agrees and points to this piece by Glenn Greenwald, who unlike some on the left, has been admirably consistent in his opposition to illegal, unprovoked wars:
No decent human being would possibly harbor any sympathy for Gadaffi, just as none harbored any for Saddam.  It's impossible not to be moved by the celebration of Libyans over the demise of (for some at least) their hated dictator, just as was the case for the happiness of Kurds and Shiites over Saddam's.  And I've said many times before, there are undoubtedly many Libya war supporters motivated by the magnanimous (though misguided) desire to use the war to prevent mass killings (just as some Iraq War supporters genuinely wanted to liberate Iraqis).

But the real toll of this war (including the number of civilian deaths that have occurred and will occur) is still almost entirely unknown, and none of the arguments against the war (least of all the legal ones) are remotely resolved by yesterday's events.  Shamelessly exploiting hatred of the latest Evil Villain to irrationally shield all sorts of policies from critical scrutiny — the everything-is-justified-if-we-get-a-Bad-Guy mentality — is one of the most common and destructive staples of American political discourse, and it's no better when done here.
Greenwald is, of course, absolutely correct here. Leaving aside the all-too-real possibility that Libya will descend into civil war and chaos and that we'll be faced with a Somalia-like situation within striking distance of Europe and the shipping lanes of the Mediterranean Sea, one of the truly unfortunate dangers of the "success" in Libya is that it reinvigorates an interventionist argument whose credibility had been, thankfully, called into serious doubt by our decade-long involvement in Iraq and Afghanistan. You can almost hear the arguments now…….. it worked in Libya why not try it here? Of course, as I've noted before, neither the United States nor NATO are going to suddenly go out on "humanitarian" missions when the risks are too high, which is why the people are Syria shouldn't count on anyone coming to their aid any time soon, but all that really does is create an argument that justifies interfering in the internal affairs of other nations as long as they aren't strong enough to actually fight back too hard. It's neither moral, nor is it a proper use of American military force, which should primarily concern itself with the protection of the vital national interests of the United States.
John Cole is more forceful in his evaluation of this seeming victory, and the question of whether or not it should change the opinion of anyone who has opposed this war from the beginning:
Does that change my initial opposition to US involvement? Not one bit. You all can go on and on about good v. bad intervention, about how I am still scarred by Iraq, and whatever. I'm thinking with our economic woes and the history of blowback in the region, it's not all crazy or radical for us to not get involved in things for a while and let things sort themselves out.

Does that change my opinion about the ludicrous notion that providing air cover, using smart bombs and predator drones, providing intelligence and technological assets, as well as a large CIA presence on the ground means we are not, as the administration asserted, engaged in hostilities? No. I still think that is laughable, perhaps one of the dumbest things I have ever heard, and will be used by future administrations for less "noble" pursuits. I can't wait to hear the howls when President Palin insists we are not in hostilities with Iran, just bombing them and providing Israel with munitions, technology, and other assets.

Does it change my belief that Obama's actions sidestepping Congress will be used again in the future? No.

Does it change my belief that intervention was sold with a flood of bullshit, with phrases like "Arab No-Fly Zone" being tossed around? No.

Does it change the fact that the pretext for this was to stop a massacre, but we were clearly gunning for regime change from day one? No.

Does it change my belief that every time we use our military, it will be pointed to as a reason for more and more military involvement in other places? No.

Does it change my belief that there appears to have been approximately ZERO planning for the aftermath? No.

Does it change my opinion that we know literally nothing about the rebels who appear to be winning? No.

Does it change my opinion that a lot of this is not about Gaddafi, but about a steady supply of the light sweet crude that Europe is so dependent on for their ultra-low sulfur diesel fleet? No.
I've made my own opposition to intervention in Libya clear from the start. For one thing, it became eminently clear early on in the mission that the threat of a humanitarian crisis that was used to justify the United Nations Security Council Resolutions that justified the action was more of an excuse than anything else, and that the rebels themselves were likely greatly exaggerating the "abuses" of the Libyan regime in order to gain Western sympathy. More importantly, though, I opposed the action because of the overwhelming reasons to be against it. There was, to put it bluntly, no reason to involve ourselves in yet another military action at a time when our troops are already stretched to the limit thanks to two wars we've been fighting for ten years, one of which doesn't seem to have any geographic limitation at all. There was no reason to spend money we don't have to come to the rescue of allies who aren't willing to make the investments necessary to protect our own interests. Most importantly, there was no reason to get involved in a conflict in which our own national interests were not implicated in any manner whatsoever.
Finally, there are the serious legal and Constitutional questions raised by the President's course of action in Libya. Instead of seeking approval from Congress for the Libya mission, President Obama relied solely on a series of United Nations Security Council Resolutions that authorized force for the sole purpose of protecting civilians. That justification quickly went out the window, though, and it became rather obvious from the start that the United States and NATO were primarily concerned with aiding the rebels, despite their questionable ties, not protecting civilians. While the Administration did notify Congress of the action as required by the War Powers Act, they failed to seek Congressional approval for the same and showed no inclination that they thought they needed to notwithstanding previous statements by the President and the Vice-President to the contrary. When the 60 day WPA time limit approached, they made the absurd argument that the United States was not engaged in "hostilities." Of course, Congress is partly responsible here as well considering that they failed to take any steps to challenge the President's clear violation of the law. Nonetheless, the President fought an illegal war, and the fact that it worked doesn't justify that fact that he acted improperly.
I'll be as happy as anyone else to see Gadhafi gone, but the ends don't justify the means.