The #NeverTrump Movement Is Propelling The Republican Party Toward Civil War
The effort to stop Donald Trump seems likely to set off a civil war inside the Republican Party.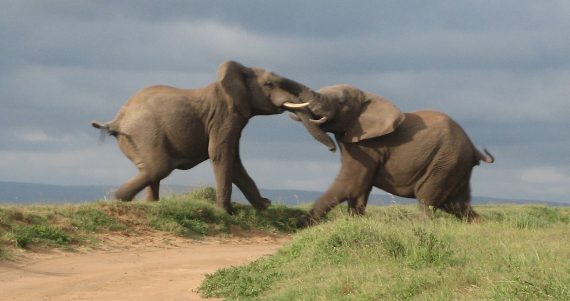 The effort to blunt the momentum of Donald Trump's campaign and perhaps force a contest for the Presidential nomination at the Republican National Convention is not sitting well with much of rank-and-file Republicans:
From Michigan to Louisiana to California on Friday, rank-and-file Republicans expressed mystification, dismissal and contempt regarding the instructions that their party's most high-profile leaders were urgently handing down to them: Reject and defeat Donald J. Trump.

Their angry reactions, in the 24 hours since Mitt Romney and John McCain urged millions of voters to cooperate in a grand strategy to undermine Mr. Trump's candidacy, have captured the seemingly inexorable force of a movement that still puzzles the Republican elite and now threatens to unravel the party they hold dear.

In interviews, even lifelong Republicans who cast a ballot for Mr. Romney four years ago rebelled against his message and plan. "I personally am disgusted by it — I think it's disgraceful," said Lola Butler, 71, a retiree from Mandeville, La., who voted for Mr. Romney in 2012. "You're telling me who to vote for and who not to vote for? Please."

"There's nothing short of Trump shooting my daughter in the street and my grandchildren — there is nothing and nobody that's going to dissuade me from voting for Trump," Ms. Butler said.

A fellow Louisiana Republican, Mindy Nettles, 33, accused the party of "using Romney as a puppet" to protect itself from Mr. Trump because its leaders could not control him. "He has a mind of his own," she said. "He can think."

The furious campaign now underway to stop Mr. Trump and the equally forceful rebellion against it captured the essence of the party's breakdown over the past several weeks: Its most prominent guardians, misunderstanding their own voters, antagonize them as they try to reason with them, driving them even more energetically to Mr. Trump's side.

(…)

Mr. Trump's supporters seem profoundly uninterested at the moment with the image, expectations or traditions of the Republican Party, according to interviews with more than three dozen voters, elected officials and operatives. They are, in many cases, hostile to it.

"I want to see Trump go up there and do damage to the Republican Party," said Jeff Walls, 53, of Flowood, Miss.

From the moment Mr. Romney delivered it in a speech on Thursday from Salt Lake City, his entreaty to voters struck many in the party as high-minded and impractical: He all but begged them to vote for Mr. Trump's rivals, thereby denying Mr. Trump enough delegates to clinch the nomination and force a contested convention this summer. Voters have not taken kindly to the recommendation, describing the request as a patronizing directive from an elite figure who thoroughly misunderstands their feelings of alienation from the political system. (Soon after, Mr. McCain endorsed his remarks.)

Conservative talk radio shows lit up Friday with incensed callers who said they were "livid," "mad" and "on the verge of tears" as they listened to Mr. Romney scoldingly describe what he called Mr. Trump's misogyny, vulgarity and dishonesty, and urged them to abandon him.

"The Trumpists out there," predicted Rush Limbaugh, "are going to feel like the establishment is trying to manipulate them, sucker them, and they're just going to dig in deeper."

They did.

Kathy, from Sun City, Ariz., told Mr. Limbaugh she was "absolutely livid by the Romney speech. He's condescending," she said, adding that he sounded like a "Democrat the whole time." Steve from Temecula, Calif., said he had a message for Mr. Romney: "The Republican electorate is not a bunch of completely ignorant fools."

"We know who Donald Trump is," he added, "and we're going to use Donald Trump to either take over the G.O.P. or blow it up."

As Mr. Romney hopped between television stations on Friday, proclaiming his dismay over Mr. Trump's crudeness, challenging his decency and questioning his integrity, he declared that his overtures were breaking through — though not necessarily to the audience he intended. In an interview conducted inside the headquarters of Bloomberg News in Manhattan, far from the crucial primary voting states that could decide Mr. Trump's fate, he observed that Midtown office workers had offered their gratitude as he rode up to the studio.

"Just coming up the escalator, Mr. Romney said, people said, " 'Thanks for what you did yesterday.' "

But outside of that orbit, the response was less welcoming.

In interviews across the country, Republican voters suggested that Mr. Romney's move was presumptuous and described him as out of touch and ineffectual. "They want to control the election because they don't like Trump," said Joann Hirschmann of Shelby Township, Mich., a supporter of Gov. John Kasich of Ohio. "And I can understand that. But you have to let the people speak."

Frustrated Republicans seized on Mr. Romney's status as a party insider who was insulated from the realities, indignities and rage of average Americans headed to the polls this year. "He's an establishment figure," said Faith Sheptoski-Forbush of Romulus, Mich. "So that's what you get."

She called Mr. Romney's diatribe against Mr. Trump "a desperate attempt" that left her deeply disappointed in him.

"What we need is the voice of the people," Ms. Sheptoski-Forbush said. "The voice of the people want Trump."
That Trump's most ardent supporters would reject the calls of someone like Mitt Romney to unite in an effort to deprive Trump of the majority of delegates he needs to win the nomination outright is not surprising, of course. These people have been with Trump from virtually the beginning of the campaign.They've stuck with him through all of the attacks by other candidates and another Republican officials. They've stuck with him through the controversies that erupted in the wake of his comments about Mexicans, John McCain,Megyn Kelly, Carly Fiorina, Ben Carson, a disabled New York Times reporter, and Muslims. And, they've stuck with him through the recent controversies that have erupted in the wake of the more aggressive tone that Marco Rubio and Ted Cruz have taken over the past two weeks. What these reports demonstrate, though, is that Trump's support isn't just made up of outsiders to the GOP who have only come into the party recently, it's made up of rank-and-file Republicans who have become frustrated with leaders who have consistently failed to deliver on any of the admittedly outlandish promises that they've made over the course of the past several years. Anyone with a modicum of knowledge about how Washington, D.C. works, for example, would know that the promises that the GOP has made to 'repeal and replace' the Affordable Care Act, or to roll back other policies enacted by the Obama Administration were pretty much pie-in-the-sky as long as Republicans didn't control the White House. Republican leaders didn't tell their voters this, of course, because it didn't make for good copy for the fundraising letters that were sent to people who went to Tea Party rallies, listened to talk radio shows such as Limbaugh's, or got their news chiefly from Fox News Channel or conservative web sites.
As a result of this unwillingness to tell their voters the truth, Republican leader have created a situation where they are completely distrusted by their own voters, a fact that explains why names like Mitt Romney, Mitch McConnell, John Boehner, and even in some circles Paul Ryan, are anathema in some conservative circles. This kind of atmosphere is perfect for someone like Donald Trump to exploit because it plays right into his message that everyone else is a horrible negotiator, a horrible executive, and just generally incompetent. Everyone that is except Donald Trump and the as yet still unnamed experts he would supposedly bring into government with him. It also plays perfectly into the public image that Trump has created for himself over the past thirty year or more as the epitome of success, ostentatious wealth, and the American dream. Yes, most of that public image is a lie, but Trump has nonetheless been uniquely successful in using the media to create it and no amount of speeches, least of all speeches by Mitt Romney and people like him, is going to undercut the image sufficiently to blunt a movement that, arguably, is the end game of all the public relations games that Trump has been playing since he first burst on the media scene in the mid-1980s.
That's not to say that all Republicans are on board with Trump, of course, or that the entire party will get in line if he ultimately does win the nomination. The  #NeverTrump movement as it has come to be known is made up of many committed conservative activists who are unlikely to walk back what they've said about Trump and their refusal to support him even if he does become the Republican nominee. The problem that Republicans face, though, is that is clearly a similarly committed group of people supporting Trump who are unlikely to give up on their candidate just because party leadership is trying to force another candidate on them, and in the middle there's another group whose distrust of government in general and their own party's leaders in particular seem just as likely to send him running into Trump's welcoming arms as it is to repel them. This, ultimately, is why the latest effort to stop Trump's momentum is likely to be too little, too late and that the contested convention strategy seems more likely to shatter the GOP in a way that will reverberate far beyond the Presidential election than it is to successfully unite the party behind a non-Trump candidate notwithstanding the fact that Trump is likely to arrive in Cleveland as the candidate with the most support even if his delegate count falls short of the majority needed to win on the first ballot.
What happens after that if GOP leaders decide to go through with their plans? Your guess is as good as mine. Peggy Noonan sees the shattering of the Republican Party, as do others. It is perhaps too early to say that this is what will happen, but we haven't seen a major political party go through an identity crisis like the one that the GOP is now facing since it happened to the Democrats in 1968, and it took them as long as twenty years to get their footing back even as they held on to power in Congress and at the state and local level. Democrats faced a similar crisis of conscience in 1948 over the issue of civil rights, but survived the loss of much of its southern base in the Presidential election that year. Before that, the Republican Party nearly split apart for good during the Election of 1912 as a personal and policy dispute between William Howard Taft and Theodore Roosevelt led to the creation of a "Bull Moose" Party that nearly replaced the GOP as America's second party and at the very least allowed Woodrow Wilson to become only the second Democrat to be elected President since the Civil War. Before that, one has to look to the collapse of the Whig Party, largely over the issue of slavery and its expansion, to find anything comparable. It's far too early to say that this will be the fate of the GOP, but it is at least accurate to say that the implications of the success of Donald Trump and the manner in which the party leadership has responded to it most likely won't be entirely clear for some time to come.