Trump Shrugs Off Reports Of An Approaching Debt Crisis
Trump has reportedly told aides that he doesn't really care about reports of an approaching crisis of the budget deficit and national debt because he'll be out of office before it becomes a problem.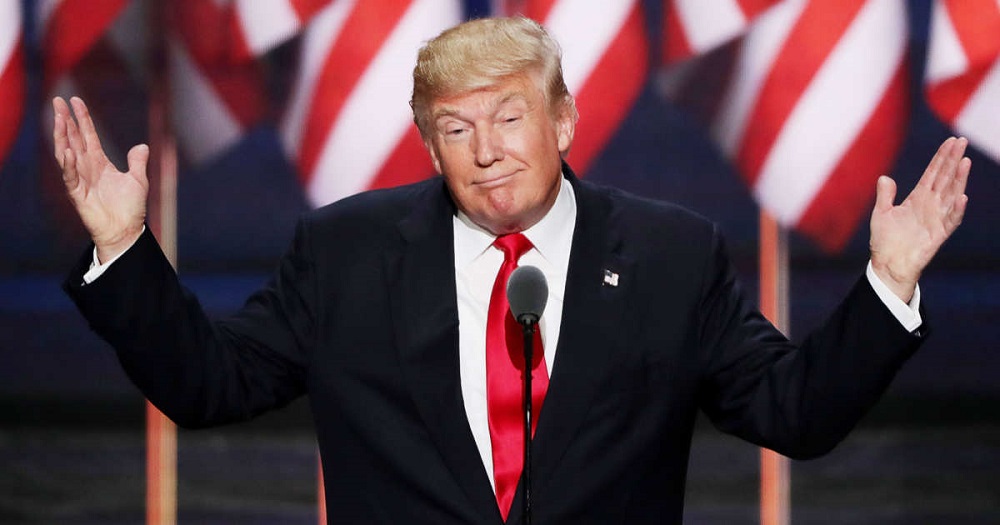 Donald Trump has reportedly told aides that he doesn't care about the national debt because it won't really become a problem until after he leaves office:
Since the 2016 presidential campaign, Donald Trump's aides and advisers have tried to convince him of the importance of tackling the national debt.

Sources close to the president say he has repeatedly shrugged it off, implying that he doesn't have to worry about the money owed to America's creditors—currently about $21 trillion—because he won't be around to shoulder the blame when it becomes even more untenable.

The friction came to a head in early 2017 when senior officials offered Trump charts and graphics laying out the numbers and showing a "hockey stick" spike in the national debt in the not-too-distant future. In response, Trump noted that the data suggested the debt would reach a critical mass only after his possible second term in office.

"Yeah, but I won't be here," the president bluntly said, according to a source who was in the room when Trump made this comment during discussions on the debt.

The episode illustrates the extent of the president's ambivalence toward tackling an issue that has previously animated the Republican Party from the days of Ronald Reagan to the presidency of Barack Obama.

But for those who have worked with Trump, it was par for the course. Several people close to the president, both within and outside his administration, confirmed that the national debt has never bothered him in a truly meaningful way, despite his public lip service. "I never once heard him talk about the debt," one former senior White House official attested.

(…)

[R]ight-leaning reformers shouldn't be holding their breath.

The Washington Post recently reported that Trump had instructed his Cabinet to devise plans to trim their budgets in an effort to reduce the federal deficit. But Trump also set strict limits on what sorts of programs could be cut—and quickly proceeded to propose increased spending in other areas of the federal government.

"He understands the messaging of it," the former senior White House official told The Daily Beast. "But he isn't a doctrinaire conservative who deeply cares about the national debt, especially not on his watch… It's not actually a top priority for him… He understands the political nature of the debt but it's clearly not, frankly, something he sees as crucial to his legacy."

The former Trump official adding, "It's not like it's going to haunt him."
To be fair to the President, he has never been known as a deficit or national debt hawk in the manner that many other Republicans and conservatives have been. It's an issue that he rarely brought up on the campaign trail except as a cudgel to attack his opponents in the race for the Republican nomination or the General Election or the Administration of former President Obama and former President Clinton. Since he has become President, he's done nothing of substance to deal with either rising budget deficits or the broader national debt, nor has he put forward anything resembling a coherent plan to deal with either of these issues. The fact that he would say things like this behind closed doors, while shocking were it coming from another President, is therefore entirely consistent with the generally lackadaisical attitude he's shown toward the issue from the time that he entered politics. Granted, it is an irresponsible position for a sitting President to take but that's something that can be said about so many other things that this President has done and said over the past two years that it hardly comes as a shock anymore.
If the charge of hypocrisy is to be laid anywhere, it ought to be laid at the feet of the rest of the Republican Party, and especially the Republicans on Capitol Hill who have apparently decided that issues such as the budget deficit and national debt. During the Obama years, of course, and especially after the 2010 elections, Republicans liked to put forward the image of toeing the line when it came to what it claimed was out of control spending. This led to several occasions during the years between 2011 and 2017 when there would be confrontations between Congress and the White House, including one in the summer of 2011 over the issue of raising the debt ceiling and another in 2013 that led to a government shutdown that lasted for more than two weeks, although in that case the issue that led to the crisis was a rather foolish effort to "defund" the Affordable Care Act," an effort that ultimately failed. To some extent, these confrontations were successful in bringing spending under control through the adoption of the Budget Control Act, which put caps on discretionary spending and forced Congress to find ways to "pay for" additional spending. To a large degree, those agreements, which were largely bipartisan in nature, went a long way toward bringing the budget deficit, which was exceeding $1 trillion per year in the years after the Great Recession into a far more manageable territory.
All of that seemed to change once Republicans had control of the House, Senate, and White House. For the past two years, we've seen Republicans in Congress look the other way as spending controls that had been in place for six years were essentially voided as spending on all forms of discretionary spending increased well beyond its normal levels and well beyond even what the agencies themselves were requesting. As a result, by the beginning of this year, we were being told that Federal Budget deficits were heading back into the $1 trillion per year range and likely to stay there for quite some time to come. . As The New York Times noted at the time, this effectively means that Republicans have learned to love the deficits and debt they once claimed to abhor. In other words, the Republican Party, which had spent the Obama years railing about spending and deficits, had become the party of deficits and debt. By April, the Congressional Budget Office had officially forecast that we'd be seeing trillion dollars deficits by the end of Fiscal Year 2019 and just a few months later, the national debt crossed a new benchmark and was north of $21 trillion. By the end of the last Fiscal Year, we were well on our way there, with the budget deficit hitting $895 billion for Fiscal Year 2018, likely meaning that will surpass the trillion dollar mark this year.
The behavior of the Republican Congress here isn't without precedent. Republicans controlled at least one house of Congress for all but the last two years of the Presidency of George W. Bush and, while they were in power, they did virtually nothing to bring spending under control. Indeed, they did quite the opposite. Early in the Administration, of course, they passed tax cuts on a largely party-line vote that had a real impact on government revenue in superseding years. While there's nothing wrong per se with tax cuts, there is most assuredly something wrong with cutting tax revenues while failing to cut spending, but the Republicans did worse than that. In addition to passing a tax cut that had a measurable impact on revenue, they also significantly increased spending not only on a military budget needed to pay for simultaneous wars in Afghanistan and Iraq, but also massive increases in non-defense discretionary spending and entitlements, such as the massive expansion of Medicare's prescription drug coverage known as "Part D." Again, even if you can make a case that these individual programs were a good idea from a policy point of view, the idea of massively increasing spending while simultaneously reducing revenue is utter insanity. We should have learned that lesson in the first decade of this century, but here we are repeating it again.
So, yes, the President's apparent lackadaisical attitude toward the deficit and the debt is yet another shocking display of lack leadership, but it comes on top of so many other examples of a lack of leadership on Trump's part that it's hardly a surprise. The fact that Republicans on Capitol Hill to even lift a finger on the issue, though, is nothing but pure hypocrisy. I'll leave it to the reader to decide which is worse.