What Is "Electability" Anyway?
There's a lot of talk right now about "electability." but what the heck does it mean?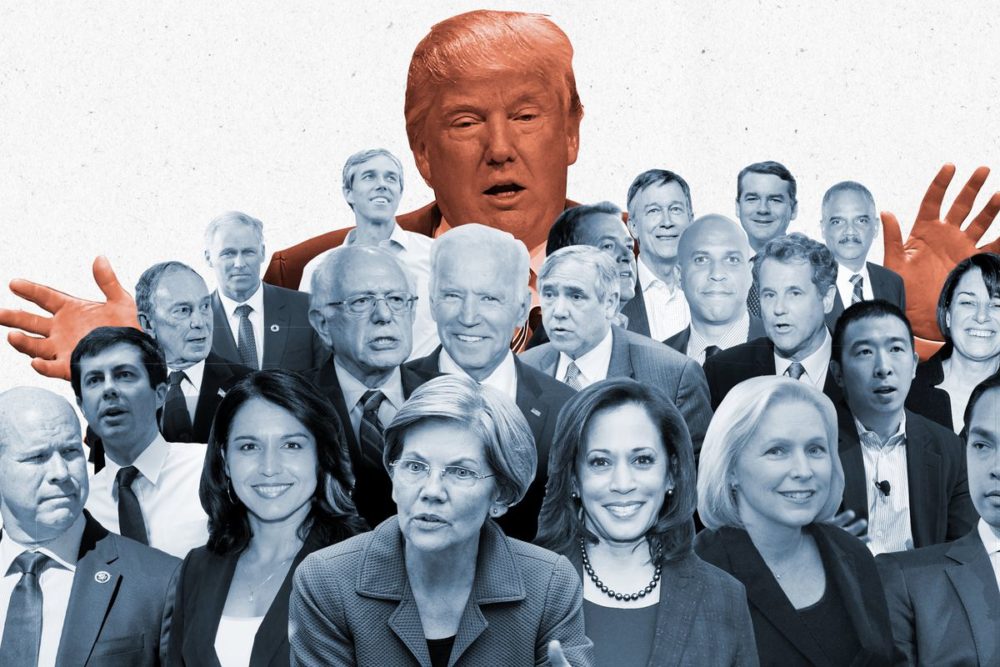 As the Democratic field for the 2020 Presidential nomination takes shape, pundits, candidates, and Democratic voters, many of whom are saying their primary concern is a nominating a candidate who can beat Trump, are talking about the idea of "electability." As The Washington Post's Dan Balz notes, though, it's not entirely clear what that means:
"Electability" is the watchword among many Democrats this spring as they begin to evaluate the ever-growing field of candidates for their party's presidential nomination. The question of who can beat President Trump weighs heavily in voters' assessments. But is that the real measure that produces presidents?

Electability is an elusive concept. It is not one of those that fits into the category of, "I know it when I see it." It is born of individual biases and the conventions of history, often the search for something that seems to replicate something that was successful before. But a look back at presidential campaigns of the past suggests something else has been more powerful in determining who wins the White House.

Four years ago at this moment, almost no one, except perhaps the man himself, believed that Donald Trump was electable. He wasn't even a formal candidate, after all. Although he had been on the edge of the political stage, conventional wisdom afforded him little chance of becoming the 45th president. On the electability scale, he was in the low range.

Twelve years ago at this time, Hillary Clinton was judged to be the most-electable Democrat seeking the nomination. A New York senator, former first lady and part of the then-best brand in Democratic politics, she had the attributes that added up to being most electable.


Barack Obama, then a relatively new U.S. senator, was considered much more a long shot. As he said later, he believed he had about a 25 percent chance of winning the nomination — good enough to make the race but certainly no iron lock for someone whose race alone made him a long shot in the eyes of the conventional wisdom committee.


Four decades ago at this moment, Jimmy Carter was a little-known, one-term governor of Georgia, just starting to make his way around the country, carrying his own bag and sleeping in the homes of friendly Democrats. Who thought he was electable in a field of more than a dozen candidates, including several prominent senators with vastly more experience and recognition within their party?

(…)

What these successful candidates had was something other than the aura of electability. They had something that connected with voters more directly, more personally and more deeply. They stirred passions and in some cases anger. They excited. They inspired. They built followings. Obama's "Hope and Change," and Trump's "Make America Great Again," were not based on the theme of electability. Quite the opposite. Obama's pre-campaign book was entitled "The Audacity of Hope" for a reason.

The best candidates tell a story, paint pictures, turn personal biography into something that connects them to the wider electorate. Experience can matter, but it is not enough just to argue personal readiness to serve as president.


Successful candidates match a moment in the history of the country. For Carter, running two years after the resignation of Richard M. Nixon, it was the promise of something fresh, untainted by Washington, a message of integrity, rectitude, even righteousness, after the poison of the Watergate scandal.


Bill Clinton won in 1992 in part because other more prominent Democrats decided not to challenge George H.W. Bush, who was at about 90 percent in the polls in the spring of 1991. Early in the cycle, Clinton was hardly an obvious or likely winner. It was his New Democrat message, combined with the promise of generational change, that overcame his personal vulnerabilities and eventually won over an electorate that was ready to move on after 12 years of Republican presidents
Balz is correct in his review of the history of recent Presidential elections and what they say about the entire concept of "electability." When pundits have pondered this issue in the past, they've typically focused on things such as a candidates resume. This is why many people believed that Richard Nixon was more "electable" than John F. Kennedy, that George H.W. Bush seemed like the more natural candidate for President over Ronald Reagan in 1980, and that Ted Kennedy seemed like he could make history and become the first candidate in the modern era to defeat an incumbent President in a primary battle. In each of these elections and more, though, it turned out that it was the candidate who people thought was not electable that ended up winning the election. Indeed, of all the elections going back to 1968 one could argue that the only time the "electable" candidate won was Richard Nixon in 1968 and 1972 and George H.W. Bush in 1988. Every other time it's seemingly been the upstart or "surprise" candidate who has ended up winning the election.
Quite honestly, after the election of 2016 one would think that the entire concept of "electability" ought to be tossed out the window. Heading into the General Election, there was essentially nobody who believed that Donald Trump could win either the Republican nomination for President or the General Election, especially not in a head-to-head match with a candidate who, at least on paper, seemed as though she was destined to be President. Trump defied all those odds, though, and ended up winning the Republican nomination quite easily and putting together a coalition of states in the Electoral College that few people thought a Republican would be able to put together, especially in the Midwest. that allowed him to eke out a narrow win even though he became one of only five Presidents in American history to win the Electoral College while losing the popular vote, and in Trump's case the popular vote loss wasn't even close.
Additionally, this is a candidate who spent the majority of the campaign attacking  Mexicans, Muslims, disabled people, a Federal District Court Judge who happened to be Mexican-American and a Gold Star Family who happened to be Muslim. In the month before he became President we learned about a tape from Access Hollywood on which he said many demeaning things about his treatment of woman and he was credibly accused by nearly two dozen women of sexual harassment. We also learned after he became President that at this same time he was engaging in a conspiracy with his lawyer Michael Cohen to buy the silence of two women he had affairs with while he was Melania was pregnant with their son. Since becoming President, he has continued those attacks and broadened into others, such as defending white supremacists who marched in Charlottesville and referring to N.F.L. players who were peacefully kneeling to protest racially biased police violence as "sons of bitches." If ever there was a candidate who was the nominee of a major party who one could point to and say 'this candidate is unelectable,' it was Donald Trump. Despite all of that, he won the election.
So does this mean that the entire concept of "electability" needs to be tossed out the window? Perhaps it does.
As we sit here some eighteen months away from the 2020 General Election it's hard to say with any degree of certainty what the deciding issues in the campaign will be going forward. Surely, the state of the economy will be a major factor, and for the moment that is one that leans heavily in favor of the President. The international situation may also play a role but, quite honestly, there isn't much on the horizon that looks like it could become a major issue in the campaign. The wars that the United States is fighting around the world are mostly kept off the front page, and there has not been a substantial international incident so far in Trump's first term that the public is likely to focus when the go to vote. It's possible that the various investigations of the President may yet yield something that will prove problematic for the President but, so far, that has not materialized.
On the other side of the equation, the President's job approval numbers remain historically low, most Americans say they won't vote for him in 2020, and he's already trailing several of his potential Democratic opponents in early polling. Based on these factors, it looks like Trump has an uphill battle ahead of him notwithstanding the fact that the odds favor his being re-elected.
So where does all of this leave the entire concept of "electability?" Perhaps what it tells us is that we shouldn't be too quick to judge a candidate based on their resume, on past history, or on biases about who may or may not "look" the most Presidential either in person or on television. In the end, the most electable candidate is the one who can convince the most voters in the right states to vote for him or her. Predicting who that might be, especially this early in the race, seems like a futile exercise.