California Republicans Once Again Left Wondering What's Next
Once again, Republicans in California find themselves looking up and seeing a lot of desolation. They need to find a way to bounce back.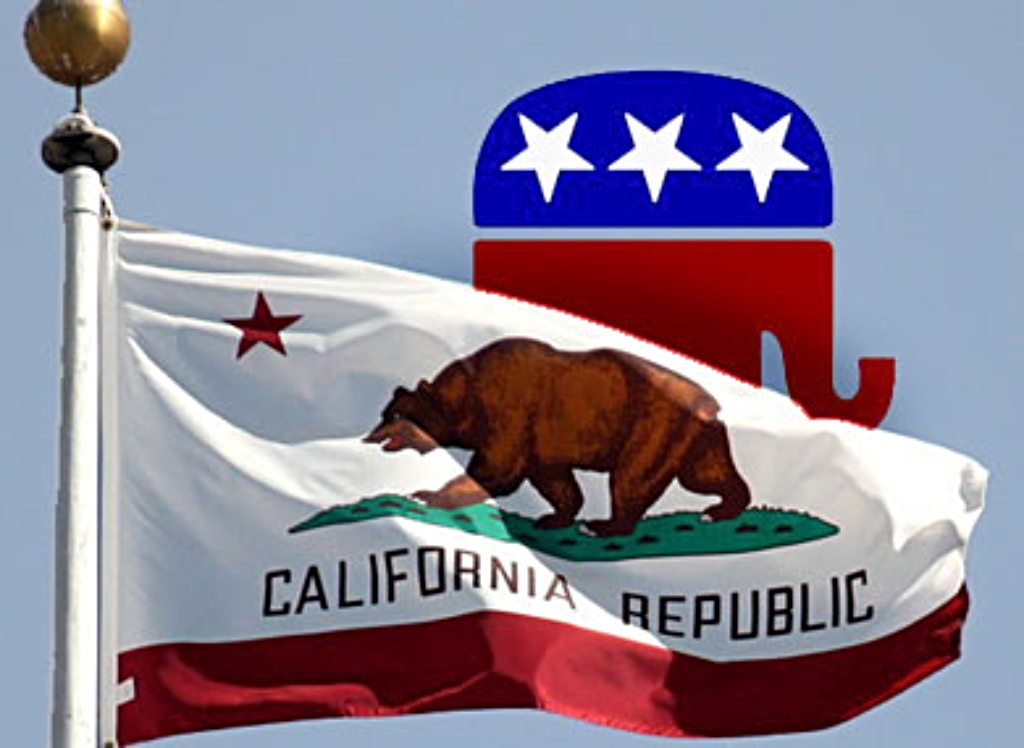 As I noted, yesterday, Orange County, California, once the stronghold of Republicans in California dating back to the beginning of the political careers of both Richard Nixon and Ronald Reagan, turned completely blue in the recent midterms. While many pundits have made note of this, much of the change that this election has revealed in what had once been a Republican stronghold can be traced to the same factors that have caused the entire state of California, once a state that was considered a Republican stronghold, to become increasingly blue. For the longest time, of course, the Golden State had served as part of what many people began referring to in the Reagan years as a "Republican lock" on the Electoral College, but things began changing in 1992 when Bill Clinton became the first Democrat since Lyndon Johnson to win the state in a Presidential election. Shortly after that, the state began to slip away thanks to changes in demographics and the fact that the Republican Party's shift to the far right on issues like immigration has turned off many Latino voters in the state. As a result, the GOP has consistently been bleeding seats at the Congressional level to the point where, starting in January, Republicans will make up just eight of the fifty-three Congressional Districts currently allocated to the Golden State. Additionally, Republicans have consistently lost ground in the state legislature in Sacramento to the point where Democrats now have supermajorities in both chambers of the legislature that would allow them to override any Gubernatorial veto assuming the party stays together. Finally, other than Arnold Schwarzenegger whose election was in many ways a fluke, Republicans have not elected a Governor in California since Pete Wilson was elected in 1990.
All of this has left California Republicans wondering how they can resurrect themselves:
In the wake of a near-political annihilation in California that has left even longtime conservative stronghold Orange County bereft of a single Republican in the House of Representatives, a growing chorus of GOP loyalists here say there's only one hope for reviving the flatlining party: Blow it up and start again from scratch.

That harsh assessment comes as Republicans survey the damage from the devastation of a "blue tsunami" in California which wiped out five GOP-held House seats — with more still threatened — while handing every statewide seat and a supermajority to the Democrats in both houses of the state legislature this wee

The latest blows wiped out two more GOP seats in Southern California: Democrat Katie Porter, an UC Irvine professor, on Thursday was declared the winner over Republican Rep. Mimi Walters in a district which represents the beating political heart of Orange County, and Democrat Gil Cisneros completed the rout Saturday, winning the neighboring open seat formerly held by Republican Ed Royce.

"I believe that the party has to die before it can be rebuilt. And by die — I mean, completely decimated. And I think Tuesday night was a big step," says veteran California GOP political consultant Mike Madrid. "There is no message. There is no messenger. There is no money. And there is no infrastructure."

Republicans like Madrid also mourned another low point this week: the defeat of Southern California Assemblyman Dante Acosta, marking the demise of the last GOP Latino legislator — in a state where Latinos comprise the fastest-growing electorate.

"The California Republican Party isn't salvageable at this time. The Grand Old Party is dead," wrote former state GOP Assembly leader Kristin Olsen, who startled fellow Republicans with a brutally frank op-ed this week saying Republicans must acknowledge their "serious problem" in California, particularly the effects of toxicity of President Trump.

GOP strategist John Weaver, who has worked California races and also has represented the presidential campaign of Ohio governor John Kasich, seconded Olsen's view, tweeting that the effects of the Trump presidency have doomed any chance of resurrection. "In one fell swoop Trump & Republicans who willingly handcuffed themselves to him have turned Orange County into a GOP wasteland," he tweeted this week. "You want to see the future? Look no further than the demographic death spiral in the place once considered a cornerstone of the party."

Madrid argues that many California Republican leaders remain in complete denial of the fact that their continued support of Trump presidency has sealed the fate of the GOP — and last week's midterm elections revealed the true extent of the GOP's rot in California, where the state party has now shrunken to third party status.

"Now, it's just open warfare. The barbarians have broken through the gates. The army is in full retreat," said Madrid, who adds there's no hope left for a party that for years has been on a path toward destruction. "Burn it to the ground. I want to reconstitute."

Republicans looking at the ashes of the midterm results say they must envision what a new party will look like — after the current structure and its leadership has been entirely disassembled.

(…)

[A] growing number of Republicans in the party's #NeverTrump wing — which includes prominent strategists like Rob Stutzman and Luis Alvarado — insist that a new beginning will rely heavily on a full-throated repudiation of Trump's caustic divisiveness. They believe the rebuilding process could require years, if not generations, to rid the state GOP of the taint of a president who is blamed for ramping up anti-immigrant sentiment in a state that is home to more immigrants than any other in the country.
This situation isn't healthy, not just for California Republicans but for Californians as a whole and, ultimately, for the entire country. The viability of a political system such as ours depends on the existence of viable political parties that compete for and, ideally, share power to the point where compromises need to be made in order for things to get done. That's not the situation in Calfornia today. Not only do Democrats control all of the statewide elected offices in state government, they also have supermajorities in the state legislature to the point that the Republicans who do serve there have virtually no voice. This same sort of situations exists in other strongly Democratic states such as Massachusetts and New Jersey, of course, but at least in those states, the Republican Party has been able to put forward candidates for Governor that can win statewide, thus placing at least some check on the power of the legislature. In California, as in several deeply red Republican states, the dominance of one party over the other is so overwhelming that the second party, whether it be Republicans in California or Democrats in Wyoming or Alabama, is largely irrelevant. In many cases, one can point to both structural issues such as gerrymandering and political issues as being the reason for this dominance. Whatever the reason, though, it's not something that's healthy in the long-term and both Republicans and Democrats in California should hope that the GOP finds a way to bounce back from nearly two decades of losing.
In California as well as many other states, it seems fairly clear that there's really only one reason that Republicans did as poorly as they did this year, and it can be found sitting behind the Resolute Desk. Nationally, the President's Job Approval remains at historic lows, something that has been true virtually from the time he entered office and from which he has never recovered. Presently, for example, the RealClearPolitics average puts the President's disapproval at 52.9% and his approval at 43.3% for a deficit of -9.6 points. By contrast, in California, his disapproval/approval deficit stands at roughly -24 points. Given numbers like that, it's no surprise that the Republican Party in California paid the kind of price at the polls that it did. The President's numbers are similarly bad in states like New Jersey and in New England, where Republicans suffered similarly spectacular losses. Looking ahead to potential problems in 2020, the President also has double-digit deficits in states such as Iowa, Minnesota, Wisconsin, Michigan, and Pennsylvania, all of which are home to the white, working-class voters that served as the base that put him over the top in the Electoral College two years ago. (Source)
All of this goes a long way toward saying that the problems that California Republicans find themselves in are not unique to their state. It's similar to problems that Republicans in Arizona, Virginia, New England, Wisconsin, Michigan, Pennsylvania, and elsewhere also need to recognize. Notwithstanding the fact that they managed to pick up Senate seats in states that, by all accounts, they should have been expected to win anyway, the fact of the matter is that the Republican Party suffered big losses on November 6th not just at the Congressional level but among Governors and state legislatures. It's also clear that there's only one reason for these losses, and that's Donald Trump and the fact that the GOP is now, effectively, Donald Trump's Party. While there are many states in the Deep South and elsewhere where this close relationship with Trump isn't going to become a problem, for Republicans in much of the rest of the nation this close association with the President is going to continue dragging the party down. Whether they want to continue letting that happen is a choice that Republicans, both in California and around the country, are going to have to make sooner rather than later.