Clinton Continues To Show That Virginia Probably Isn't A Swing State This Year
Another poll confirms that Virginia is firmly in the pocket of Hillary Clinton.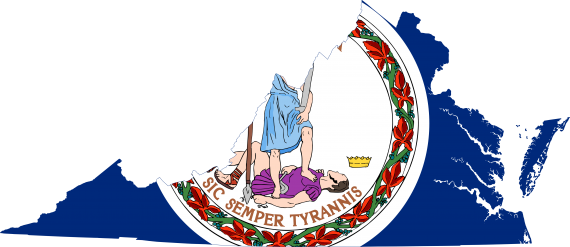 Eight years ago, Virginia turned into a swing state when Barack Obama became the first Democrat to win the state in a Presidential election since Lyndon Johnson's 1964 landslide win, a feat he repeated four years later. In both elections, Virginia was the site of hard fought battles between Republicans and Democrats that went to the Democrat seemingly at the last minute. This time around, with Donald Trump leading the Republican ticket, Clinton seems to be walking away with the state:
Hillary Clinton holds a commanding lead over Donald Trump in Virginia, with disdain for the Republican presidential nominee helping Clinton overcome her own vulnerabilities, a new Washington Post poll finds.

Clinton leads Trump by a 14-point margin — 52 percent to 38 percent — among registered voters in the state and by an eight-point margin among likely voters, 51 percent to 43 percent. Clinton's edge dips to seven points among likely voters when third-party candidates are included.

Aside from the rural southwestern part of the state, Clinton's lead spans all regions, most by a wide margin. She trounces Trump among minority voters, and slashes the advantage Republicans usually count on among whites in Virginia.

The results suggest how difficult it could be for the GOP nominee to win what had been considered a crucial swing state. Virginia had gone red for presidential candidates for decades until Barack Obama broke the streak in 2008 and won it again in 2012. With its changing demographics, especially in the fast-growing suburbs around Washington, the state may not even be competitive for Trump.

That would be bad news for Trump, whose path to the White House would be much more difficult without Virginia and its 13 electoral votes. To compensate, he would have to pick up support from other states, such as Pennsylvania, that have been far less friendly to Republicans.

The poll finds Trump's negative image hampering his ability to unite Republicans and to grow support beyond GOP nominee Mitt Romney's standing in 2012, when he lost to Obama 51 percent to 47 percent in Virginia. Trump has slightly more support than Romney did in solidly Republican rural parts of the state, but the real-estate developer's unpredictable campaign has turned off some reliably Republican voters elsewhere.

Walt Purnell, 71, a retired business executive from Ashburn, had hoped to vote for Jeb Bush — or John Kasich. Or Marco Rubio. Or Chris Christie. But Trump? No way.

"I think he's a failure, I think he's a fraud, I think he's a con artist, I think he's insane," Purnell said.

Clinton's advantage comes despite weaknesses in her personal popularity. Fifty-four percent of registered voters report an unfavorable impression of the former secretary of state while 44 percent view her favorably. Yet Trump is significantly worse off, with twice as many negative ratings as positive ones, 65 percent to 32 percent. A 56 percent majority view Trump in a "strongly unfavorable" light, 13 points higher than for Clinton.

Clinton also may benefit from the popularity of her running mate, Sen. Tim Kaine (Va.), a former governor who maintains a favorable-unfavorable image of 54 percent to 37 percent in the state, similar to his standing during his 2012 Senate race. Trump's running mate, Indiana Gov. Mike Pence, is not nearly as well known, and voters split 37 percent to 34 percent favorable-unfavorable toward him.

The vast majority of voters say the selections of Kaine and Pence as running mates will not influence their vote, but 26 percent say Kaine makes them more likely to back Clinton, compared with 15 percent who say Pence is a motivator to support Trump.
Not surprisingly, Clinton's support cuts across nearly all regions of the state except one, which also happens to be the least populated area of the state, additionally this poll indicates that Trump continues to have problems getting Republicans united behind his candidacy:
Virginia's regional divisions also underscore Trump's challenges. He maintains a 26-point edge in the southwestern part of the state, slightly larger than Romney's 22-point edge and an area where more than six in 10 voters dislike Clinton.

Beyond this reliably Republican region, Clinton has the potential to accumulate a nearly insurmountable vote margin in the inner Washington suburbs, leading by 45 points over Trump, compared with Obama's 26-point edge in 2012. Clinton holds a seven-point edge in the Washington exurbs that include Loudoun and Prince William counties, which split evenly between Obama and Romney. She also appears stronger than Obama in the Tidewater region, which encompasses Norfolk and Virginia Beach, leading Trump by a 2-to-1 margin compared with Obama's low double-digit victory there four years ago. At least two-thirds of voters in both the D.C. suburbs and Tidewater have a strongly unfavorable view of Trump.

Beyond long-term challenges, Virginia Democrats and Republicans are not equally united behind their nominees this year. Clinton garners support from 93 percent of Democrats, while Trump stands at 81 percent of Republicans. Although 86 percent of Democrats who wanted Sen. Bernie Sanders (Vt.) to win the party's primary support Clinton against Trump in a two-way race, Trump stands at 69 percent support among Republicans who wanted a different candidate to win the primary.
These numbers aren't entirely surprising, of course. Earlier this month a CBS News poll showed Clinton with a twelve point lead in the Commonwealth and similar underlying demographics as well. In fact, according to RealClearPolitics, Trump has not led in a single General Election poll in Virginia since pollsters started surveying Virginia more than a year ago, the closest he's gotten is a handful of polls that showed him tied with Clinton or showed the race within the margin of error. Those days appear to be long over, though, as Clinton has consistently solidified her lead here ever since the two candidates sewed up their respective party nominations two months ago. As things stand right now, for example, Clinton has a ten point lead in the poll average in a head-to-head match against Trump and a 10.3 point lead over Trump in a four way race that includes Gary Johnson and Jill Stein. If these numbers hold up, then Virginia will end up being more solidly blue, at least in Presidential races, than it has been in quite some time.
As I've discussed before, if Virginia truly is off the table, and it certainly is beginning to look that way, then Trump's options for getting to 270 Electoral Votes become increasingly difficult. Under previous scenarios, a Republican candidate could win this year if this managed to hold on to all of the states that Mitt Romney won in 2012 and then went on to win Florida, Ohio, and Virginia plus at least one state that had gone for Obama in 2012. With Virginia off the table, the path to 270 becomes much more difficult. Trump's campaign has long talked about a path through the industrial Midwest, but with Clinton presently holding strong leads in Wisconsin, Michigan, and Pennsylvania, and seemingly surging in Ohio and Florida, although that state remains competitive at the moment, that particular path to victory. Additionally, Clinton's strong numbers in Colorado and Nevada appear for the moment to be cutting off any possibility of Trump flipping either of those states at the moment either. Even worse for the GOP, though, is the fact that several reliably red states appear to be in doubt because of the fact that Trump is at the top of the ticket. Clinton holds a modest lead right now in North Carolina, Arizona and Georgia, for example, and appears to be far more competitive than a Democrat would otherwise be at this point in states such as Arizona, Missouri, South Carolina, and Utah. This is potentially a huge problem for Republicans because it means that they are likely going to be faced with the choice of expending resources to defend red states from flipping in the Presidential race and protecting incumbents in down ballot races in states where Clinton is already likely to win. One sign of this case seen in the fact that both the Clinton campaign and the principal SuperPAC supporting her are cutting back on their ad buys in Virginia and Colorado and apparently moving those resources to more competitive states, including the aforementioned red states that they appear to have a chance of flipping. With that kind of bleeding going on in his own ranks, the Presidency appears to be slipping further and further away from Trump even before we enter the all-important period after Labor Day. By the time we get there, Trump could be so far behind that it may not matter what he does.