Donald Trump And The Mainstreaming Of Racism
Donald Trump may or may not be racist himself, but he has most certainly exploited and helped widen racial divisions ever since bursting on the political scene in 2015.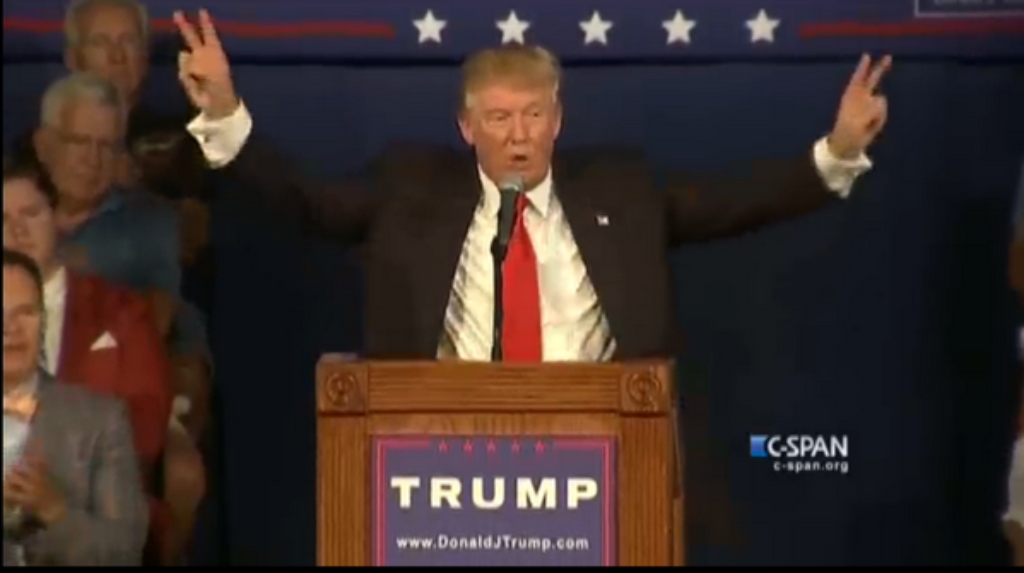 In an Op-Ed in The Washington Post in the wake of Roseanne Barr's racist tweets and the cancellation of her television show, Max Boot argues that Donald Trump has normalized racism:
My immediate reaction, upon seeing the news of Barr's vile comments, was to post on Twitter: "Trump is normalizing racism." Brett Baier and Dana Perino of Fox News were incredulous. "I don't think that President Trump had anything to do with this tweet," Perino said. Baier denied that Trump is "responsible for that tweet." Brit Hume jumped in on Twitter to proclaim that my comment "is an example of the way too many Trump critics think everything is somehow about him."

(…)

What I was suggesting is that racists such as Barr might feel emboldened to publicly vent their hatred because they see the president doing something similar. This should not be such a radical idea for conservatives. They used to believe that a president's conduct mattered, because it set a moral tone for the entire nation.

Here is Bill Bennett writing in 1998: "Civilized society must give public affirmation to principles and standards, categorical norms, notions of right and wrong. Even though public figures often fall short of these standards — and we know and expect some will — it is nevertheless crucial that we pay tribute to them." Bill Clinton's flagrant misconduct with Monica Lewinsky, Bennett opined, "is moral bankruptcy, and it is damaging our country, its standards, and our self-respect."

How much greater must the damage be from a president who pays off a porn star, endorses an accused child molester for the Senate, mocks a disabled reporter, lies an average of 6.5 times a day— and, yes, engages in flagrant racism. It is striking how little conservatives who scolded Clinton have to say about any of this — and especially about Trump's regular attacks on minorities.

Remarkably enough, nearly 80 percent of Republicans claim that Trump isn't biased against black people. (More than 80 percent of Democrats and 52 percent of all Americans say he is.) How can they deny what's in front of their eyes? He has a decades-long history of racist comments and acts, and he rose to political prominence by claiming that the first African American president wasn't born in America. As president, Trump has said there were "very fine people" on both sides at the white-supremacist rally in Charlottesville, defended Confederate monuments, pardoned racist Sheriff Joe Arpaio, described African nations as "shithole" countries, and vilified African American NFL players who were peacefully protesting police brutality by saying they "shouldn't be in the country."

Trump calls certain immigrants "animals" — this has become part of his rally shtick — and complains that people in sanctuary cities are "breeding" like, well, animals. He claims it's only MS-13 gangsters that he is referring to as "animals," as if that somehow makes it okay to employ the kind of dehumanizing language used by ethnic cleansers from Rwanda to Nazi Germany. But he is seeking to make these outlaws, who make up less than 1 percent of all gang members in America, the symbols of undocumented immigrants.
While it's worth noting that Boot is among the most vocal members of the "Never Trump" crowd among conservative pundits, his argument is fairly solid in the extent to which his he makes the case that, in the three years since President Trump entered the 2016 Presidential race we have seen numerous examples, from Charlottesville to the positive comments about Trump from former KKK Grand Dragon David Duke that it took Trump far too long to disavow to Trump's own campaign rallies, the signs that hate and racism have been normalized, at least among the small group of people who are in tune with those beliefs. Additionally, as Boot notes later on his piece, there are at least ten white supremacists running for office this year, all of them as Republicans and all of them claiming to be strong supporters of the President. Additionally, we can point to failed West Virginia Senate candidate Don Blankenship who based much of his campaign in the final weeks before the primary on a tirade on Mitch McConnell's family of "China people." Boot also makes note of Michael Williams, who ran an ultimately failed bid for the GOP nomination for Governor in Georgia and campaigned around the state in what he called a "deportation bus." Finally, as Boot notes, that several civil rights organizations, including the Anti-Defamation League, the Center for the Study of Hate and Extremism and the Southern Poverty Law Center. have reported that the number of reported hate crimes has increased measurably since Trump took the oath of office on January 20, 2017.
While it's not necessarily fair to hold Trump responsible for all of this, it certainly does seem as if his candidacy, election, and Presidency have led to the creation of an environment where racism and open contempt for immigrants, regardless of their legal status, are far more socially acceptable than they used to be, at least among the crowd that is already inclined to support Trump. Rather than discourage these tendencies, Trump has repeatedly encouraged them. From the moment he entered the race for President, for example, Trump has built his entire political reputation and the movement that led to him winning the nomination and, eventually, the General Election on the idea of dividing America, principally on racial and ethnic lines, in a way that hasn't been seen since the days of the George Wallace campaign in 1968 and the Dixiecrats in 1948. This has included attacks on  Mexicans, Muslims, disabled people, a Federal District Court Judge who happened to be Mexican-American and a Gold Star Family who happened to be Muslim. In response to the racist rally in Charlottesville last year, Trump blamed "both sides" for the violence, referred to the participants in the rally as "very fine people," and doubled-down on those comments even in the face of overwhelming criticism. In response to N.F.L. players who were peacefully kneeling to protest racially biased police violence, he responded by calling the largely African-American plays in question "sons of bitches." Both during the campaign and since becoming President, he has used campaign-style speeches to turn his crowds of supporters into raving lunatics by throwing them red meat on the most divisive issues facing the nation. More importantly, he has done so not only knowingly but with a rather obvious sense of glee at the chaos that he is causing. If anything, one could say that this is Trump's governing plan, to get the nation so worked up about divisive issues such as race, patriotism, and protests that nobody is paying attention to his actual political agenda. In other words, even if Trump himself isn't a racist he has created an environment where it is far more socially acceptable to utter racially divisive themes.
This didn't start with Trump, of course. While many had hoped that the Obama era would have gone a long way toward putting America's racial divisions in the past, it often seemed as though the opposite was taking place. It didn't take long for political opposition to Barack Obama, whether as a candidate or as President, to quickly take on a racial tone. From the moment he became a candidate up until the moment he became the first American President to publicly release his birth certificate, for example, he was the subject to persistent claims that he was an illegitimate President, that he wasn't really born in the United States, and that he was a "secret Muslim." The number of racially charged and outright racist things that were said about the President, his wife, and his children, especially on the Internet and social media, was disheartening for anyone who believed that we had crossed a bridge to a better future when the United States elected its first African-American President. Instead of healing wounds, though, Obama's election seemed to have reopened them despite the former President's often admirable efforts to rise above them, something that was demonstrated quite starkly when Dylann Roof walked into a historically African-American church and murdered nine people even after having spent the better part of an hour participating in a Bible study group with them.
To no small degree, of course, the racial biases that were reopened during the Obama Era were due to hyperpartisanship, but it seems as though there was more to it than that. Whatever it was though, this was at the core of the wound that Donald Trump picked at throughout his campaign and that he continues to deepen during his Presidency. It's not healthy for the country, of course, and I'm afraid it's just going to get worse.