In Criticizing Paul Ryan, Sarah Palin And The Tea Party Confirm Their Own Irrelevance
As Sarah Palin and the Tea Party turn on Paul Ryan, they are making apparent their own lack of relevance in the political process.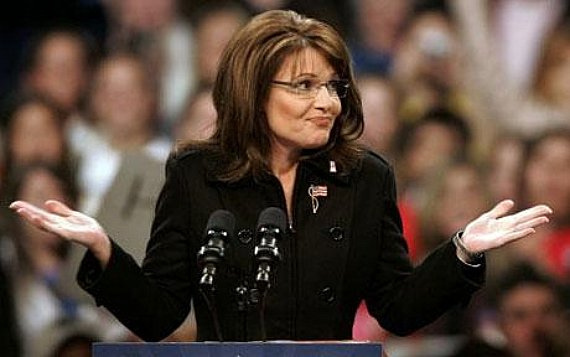 Yesterday, House Budget Committee Chairman Paul Ryan introduced the latest version of his "Path To Prosperity" budget for the Fiscal Year that starts on Octber 1, 2014. It's details are not significantly different from previous versions that he has released in the years since the GOP gained control of the House of Representatives in the 2010 elections and, indeed, in some respects this year's version actually increases spending slightly over previous versions, especially in the defense area. As was the case with past proposals that the Congressman has made, the budget he proposed doesn't resemble whatever budget Congress will actually pass this year, and it likely also differs from the budget that will ultimately pass the House.
None of that, however, has kept Sarah Palin from pontificating about the newest Ryan budget from her Facebook redoubt:
Holy Moly! Are you kidding? You'd think one who is representing the mighty Badgers, who made it to the Final Four based on sacrificial work ethic and discipline that obviously pays off in the end, he who represents the great state of Wisconsin that hosts this underdog celebrated college basketball team, would understand that future success depends on hard work and sacrifices. The latest Ryan (R, Wisconsin) Budget is not an April Fool's joke. But it really IS a joke because it is STILL not seeing the problem; it STILL is not proposing reining in wasteful government overspending TODAY, instead of speculating years out that some future Congress and White House may possibly, hopefully, eh-who-knows, take responsibility for today's budgetary selfishness and shortsightedness to do so. THIS is the definition of insanity. Do we still not understand how dangerous it is to allow government to grow unchecked as we shackle ourselves with massive debt – a good portion of which is held by foreign nations who don't necessarily like us? If we can't balance the budget today, what on earth makes us think it will happen at some future date? The solution is staring us in the face. We need to rein in spending today, and don't tell me there is nothing to cut when we know every omnibus bill is loaded with pork and kickbacks.
Palin's post also links to an article at Brietbart's Big Government that details the complaints of Tea Party activists about the budget proposed by someone who, until fairly recently, was supposedly a Tea Party hero:
Leaders of the Tea Party movement around the country reacted to Ryan's budget with derision, calling it a work of fiction.

Judson Phillips, founder of Tea Party Nation, told Breitbart News "Ryan's budget should be found in the book store in the fiction department.  If there is one thing we know about Washington, increased spending now with the promises of spending cuts on the future means we will get the spending but never the cuts."

Phillips had a message for Ryan.  "Why don't we reverse the order?  Spending cuts now and maybe spending increases in ten years. "

Ben Cunningham, founder of the Nashville Tea Party, told Breitbart News it is fitting that Ryan released his budget on April Fool's Day. "On this day when we celebrate fools, we are once again presented with a budget by Republicans and asked to believe it is something more than a political document," Cunningham said.

"If Republicans are serious about avoiding national bankruptcy they will stop appropriating nonexistent funds for $400,000 camel statues. Until then WE are the fools if we trust but do not verify," Cunningham added.

Mark Kevin Lloyd, a Virginia Tea Party activist, was equally dubious. "I got tired of watching Popeye reruns when I was a kid in the '60s," he told Breitbart News. "Wimpy was always asking for a hamburger today, and offering to pay next Tuesday.  That is exactly what this budget does for us."

"thesad fact is that the promised reductions never come," Lloyd said."Future congresses are not bound by the dreams, schemes, and chicanery of previous congresses.  These people think the American people are stupid, and the fact that we keep letting them get away with it makes me believe they might be right."
Leaving aside criticisms of Ryan's proposal for the moment, and I'm not necessarily entirely pleased with it myself, it's obviously quite easy for Palin and these Tea Party activists to sit on the sidelines and complain that Ryan's budget isn't good enough from a conservative point of view. Unlike Ryan and the other members of House Leadership, they don't have to worry about getting a budget plan approved by the Senate, or about the fact that the other House of Congress is controlled by the opposing party and therefore highly unlikely to even take a vote on the Ryan budget never mind pass it. They won't need to be involved in the process of getting a spending bill passed by midnight September 30th in order to make sure the government continues to function, or sit in on a House-Senate Conference Committee like the one that Congressman Ryan co-chaired with Senate Budget Committee Chairwoman Patty Murray which resulted in the first real budget passed by Congress since the 2010 elections. They don't have to deal with the competing claims of Members of Congress from both parties related to parts of the Federal Budget that matter to their constituents. Basically, they don't have to do any work at all, all they need to do is sit back and pontificate while the donation checks roll in from people who quite honestly ought to know better at this point than to give money to people like this. 

Peter Wehner at Commentary adds this regarding Palin:
Now you may believe, as I do, that Ms. Palin long ago ceased being a serious national voice. But she is representative of something real. She personifies a mindset within conservatism that is almost proudly anti-intellectual, one characterized by resentments, that relies on banalities, and is disconnected from reality. It views politics as a pose and seems to take special delight in targeting perceived heretics within the movement. It's all rather silly.

At the same time, there is something problematic when people on the right, including the GOP vice presidential candidate in 2008, attack those who are actually doing the hard, necessary work of providing a conservative governing alternative to the Obama years. I recognize that posting shallow reactions on Facebook is easier than offering serious analysis or putting together an actual budget.
This anti-intellectualism is nothing new, of course. It's been part of Palin's schtick since the day John McCain introduced her to the nation on that August day in 2008 and it's something that the Tea Party, it's spokespersons, and its advocates in Congress have hit upon continuously for the past five years or so.  Up until now, mainstream conservatives and the GOP establishment essentially let them get away with it, in no small part because they helped advance the fortunes of the Republican Party. In the wake of the 2012 election and the government shutdown fiasco, many of those people began to recognize the damage that was being done to their party, or at least they began to acknowledge publicly what they likely already knew. Now, with Palin and her fans in the Tea Party criticizing one of the most conservative members of the House Leadership for actually doing his job, the truth is finally revealed to such an extent that nobody can deny. These people are not contributing anything useful to politics or the nation, and it's about time somebody said it.