Most Americans See Trump As Divisive
A new poll shows, unsurprisingly, that the vast majority of Americans see Donald Trump as a divider rather than a uniter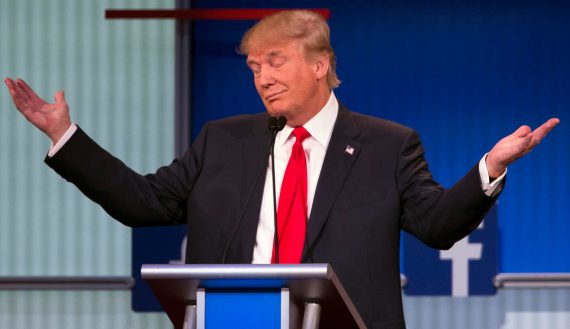 A new poll from ABC News and The Washington Post finds that a majority of Americans see the President as being divisive:
President Trump's weekend commentary on protests in the NFL was unsurprising in some respects. It's certainly unusual for a president to weigh in repeatedly on what's happening in professional sports, but we've come to expect the unusual from Trump. It was also unsurprising that Trump injected himself into a fraught political subject, standing firmly in opposition to those players who choose to kneel during the national anthem as an expression of their concern about racial divides in the country. Trump's language was unequivocal in a way that he hasn't been in response to other protests — such as those in Charlottesville last month.

Washington Post-ABC polling released Sunday suggests that, even before Trump inserted himself into the NFL protests, most Americans viewed him as a president who was doing more to divide the country than to unite it. About two-thirds of Americans felt that Trump, despite his insistent rhetoric that the country needs to unite, was, in fact, driving Americans apart. About 3 in 10 said Trump had helped unite the country.

We asked this same question shortly after the election, with dramatically different results. At that point, a plurality of Americans thought Trump was likely to do more to divide than to unite the country — but attitudes were about split.

We asked this same question shortly after the election, with dramatically different results. At that point, a plurality of Americans thought Trump was likely to do more to divide than to unite the country — but attitudes were about split.

Neither George W. Bush nor Barack Obama ever had so many Americans view them as being so divisive. Bush's worst marks on the question came in June 2005 in Post-ABC polling, when 55 percent of the country viewed him as doing more to divide than to unite. Obama's worst numbers came in September 2014, when 55 percent viewed him as divisive. This was shortly after the protests in Ferguson, Mo., a period during which tensions over race relations were spiking.
Here are the charts showing the results of the poll:

Also, as noted, the number of Americans who believe Trump is divisive has increased markedly since the election: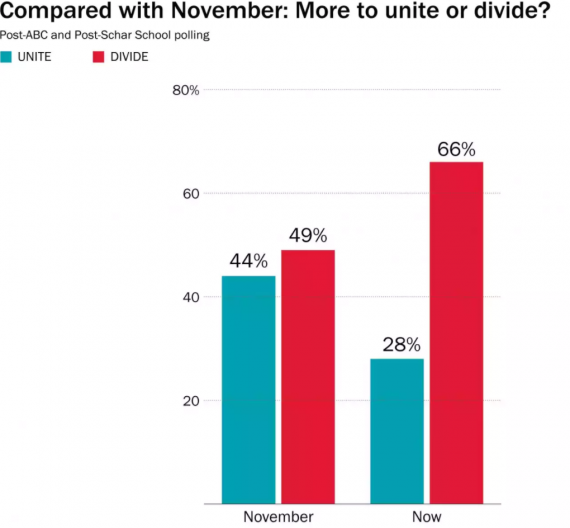 And, finally, as noted, nearly every demographic group agrees that Trump is divisive: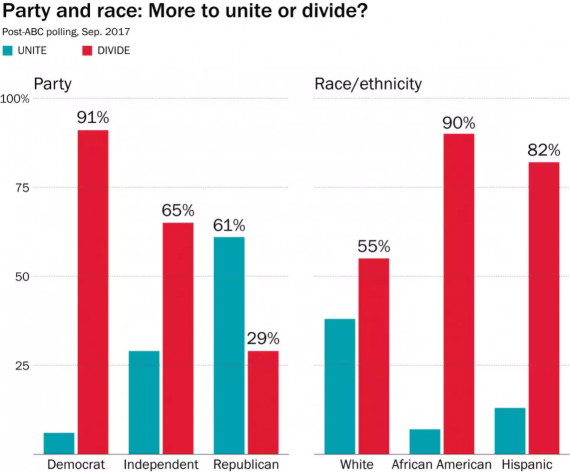 As noted, this poll was conducted before Trump's comments over the weekend regarding the National Anthem protests in the National Football League, which he continued in a second series of tweets yesterday evening and this morning. To a large degree, no doubt, they are reflective of his comments both in the immediate aftermath of the Charlottesville violence last month, in the days that followed, and as recently as just a week or so ago, in which he claimed that 'both sides' were responsible for violence and that the pro-Confederate rally that sparked the violence was attended by "very fine people.' Those comments, of course, were not only overwhelmingly condemned by even some people close to Trump such as Cabinet members such as Gary Cohn, Rex Tillerson, and James Mattis and the Joint Chiefs of Staff, but also by a majority of Americans according to polling that took place in the immediate aftermath of the President's remarks. In that sense, I suppose you could say with some irony that the President has managed to unite people around the idea that he has been the most divisive President to sit in the White House since the end of World War Two at least, and most likely going back much, much further than that.
None of this should come as a surprise, of course. From the moment that he entered the race, Trump has built his entire political reputation and the movement that led to the election on the idea of dividing America. Principally, of course, this has been upon racial and ethnic lines, as can be seen regarding the rhetoric he has used against immigrants, women, the disabled, Muslims, foreigners in general, the media, and anyone who disagrees with him. He has turned his crowds of supporters into raving lunatics by using campaign rally speeches to throw red meat on the most divisive issues facing the nation, and he has done so not only knowingly but with a rather obvious sense of glee at the chaos that he is causing. If anything, one could say that this is Trump's governing plan, to get the nation so worked about divisive issues such as race, patriotism, and protests that nobody is paying attention to his actual political agenda.
In some sense, of course, these poll results are reflective of the political divisiveness that has been apparent in this country for at least the past twenty years, but which began to manifest itself in particularly distasteful ways during the Presidency of Barack Obama. Both during the campaign and after he took office, the right side of the political spectrum took positions regarding Obama that went beyond mere opposition to outright hostility. In some cases, this manifested itself in things such as questioning whether or not Obama was even American, engaging in exceedingly overblown attacks on his wife for promoting things such as healthy eating by children, and what often became not so thinly veiled appeals to racism and prejudice. While that didn't represent a majority of those opposed to the President, it was allowed to fester right alongside legitimate policy disagreements and was fed by the constant attack from utterly hostile sources such as Fox News Channel, Breitbart, Drudge, conservative talk radio, and many, but not all, segments of the conservative blogosphere. To be sure, there are similar people on the left, and they have existed in both political camps since time immemorial. It wasn't until the Obama years, though, that it seemed as though the political opposition was taken over by the worst aspects of that opposition, and now those same people have their champion in the Oval Office. This suggests that the political divide in this country is going to get worse over the next four to eight years even as we face challenges on a number of domestic and international fronts that can clearly only be handled if we are far more united than we are today.