Obama Aides Discussed Booting Biden From Ticket, Book Claims
The news that Obama aides discussed a change to the 2012 ticket is part of the latest Halperin/Heilemann campaign history.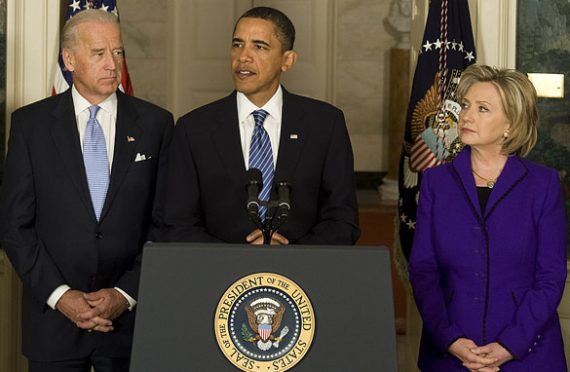 Mark Halperin and John Heilemann are out with the sequel to their 2008 campaign history "Game Change" with a new book called "Double Down," and today The New York Times reports on what is likely to be the first of many "revelations" from the book, namely that at some point prior to the 2012 election aides to President Obama discussed the idea of replacing Vice President Biden with Hillary Clinton as President Clinton's running mate:
President Obama's top aides secretly considered replacing Vice President Joseph R. Biden Jr. with Hillary Rodham Clinton on the 2012 ticket, undertaking extensive focus-group sessions and polling in late 2011 when Mr. Obama's re-election outlook appeared uncertain.

The aides concluded that despite Mrs. Clinton's popularity, the move would not offer a significant enough political boost to Mr. Obama to justify such a radical move, according to a newly published account of the 2012 race.

The idea of replacing Mr. Biden with Mrs. Clinton had long been rumored, but the journalists Mark Halperin and John Heilemann, in their new book, "Double Down," provide a detailed description of the effort inside the senior circle of Obama advisers. It was pushed by the chief of staff at the time, William M. Daley, despite the close personal rapport Mr. Daley had developed with Mr. Biden, a fellow Irish Catholic and veteran of Washington politics.

"When the research came back near the end of the year, it suggested that adding Clinton to the ticket wouldn't materially improve Obama's odds," the authors write in their sequel to "Game Change," which chronicled the 2008 campaign. "Biden had dodged a bullet he never saw coming — and never would know anything about, if the Obamans could keep a secret."

In a phone interview on Thursday, Mr. Daley acknowledged that he had wanted to research what the move would have meant for Mr. Obama, whose popularity, in the fall of 2011, was at its lowest in his presidency to date. He called it simply "due diligence."

"I was vocal about looking into a whole bunch of things, and this was one of them," he said.

"You have to remember, at that point the president was in awful shape, so we were like, 'Holy Christ, what do we do?' "

While last year's grind of an election lacked the drama of the 2008 race, there was no lack of backstage maneuvering and fighting, providing grist for the authors' reconstruction of Mr. Obama's race against Mitt Romney and the at-times-unpredictable Republican primary.

Mr. Obama is seen as being detached from much of the tedious but necessary grunt work of politics and as wanting to be a more unapologetically liberal president.

Mr. Biden, who may run for president in 2016, is viewed warily by Mr. Obama's circle not only for being a gaffe-prone "Uncle Joe," but also for, in their minds, being overly consumed with his own political future.
The idea of Vice-President Biden being replaced on the ticket is something that political pundits had been kicking around for years, of course. Based on the posts here at OTB, the earliest such speculation came in June 2010 when The Washington Post's Sally Quinn raised the possibility in her column. Bob Woodward also raised the possibility himself later that year. In late 2011, former Clinton era Labor Secretary Robert Reich put the idea out there, followed only a few weeks later by New York Times columnist Bill Keller.  Bill Kristol chimed in with a similar idea from the conservative side of the aisle early in 2012, and many conservatives advanced the absurd idea that Obama needed to dumb Biden at a point when there were only 22 days left before the Democratic nomination. There was even speculation about the President replacing Biden with Andrew Cuomo, and from the always silly Pat Caddell and Doug Schoen, the idea that he should consider not running at all, or that Democrats should have tried to draft Hillary to run against him.  This isn't the speculation of pundits, though, this is a report that the President's own advisers thought about the idea of replacing Biden on the ticket. In the end, though, it doesn't nearly amount to the kind of revelation that the Times story makes it out to be.
As the Times report notes, at the time this discussion apparently took place the President was at a low point in his Presidency. His job approval numbers were down, and several polls in late 2011 and early 2012 were showing that the 2012 race would be quite competitive indeed if, as expected, the Republicans nominate former Massachusetts Governor Mitt Romney. In that kind of situation, it makes sense for Presidential aides to think through any number of scenarios that could possibly help a candidate who appears like he might be in trouble. Indeed, this wouldn't be the first time that a sitting President or his aides contemplating replacing an older Vice-President with someone who could potentially shake up the ticket. There were similar discussions as the 2004 Presidential election approached about Vice-President Cheney. Additionally, there have been some reports that President Eisenhower considered replacing Richard Nixon in the run-up to the 1956 election and that President George H.W. Bush and/or his aides tossed around the same idea regarding Dan Quayle in 1992. In the end, none of these men were replaced, of course, and neither was Biden. And that's not surprising at all.
As I discussed during the many times that the "replace Biden" meme came up prior to 2012, the replacing a Vice-President on a ticket isn't necessarily a smart move. In some sense, it could actually harm a ticket more than hurt it if its seen as a sign that the campaign is dumping an unpopular running mate in an effort to revitalize a sagging ticket, or it could be seen as a sign of disloyalty or desperation. That's one reason why it's generally become fairly rare in American politics. Franklin Roosevelt changed Vice-President's twice, of course, once in 1940 when he replaced John Nance Garner with Henry Wallace, in no small part because Garner had become unhappy serving in an Administration that was far different from his more conservative views, and then he replaced Wallace with Harry Truman in 1944 largely thanks to the persuasion of Democratic Party leaders who wanted to push Wallace aside. Before that, a change in running mates had only occurred three before, when Abraham Lincoln replaced fellow Republican Hannibal Hamiln of Maine with pro-Union Democrat Andrew Johnson in 1864, in 1804 when Thomas Jefferson replaced Aaron Burr with George Clinton, and in 1976 when Gerald Ford replaced Nelson Rockefeller with Bob Dole. While it was not surprising that Obama's aides might discuss the possibility of replacing Obama with Clinton, the likelihood that it would happen absent some health reason or decision by Biden to retire was clearly really quite remote.
John Sides also points out that it's not even clear that such a move would have had any discernible political benefit:
Just as the vice-presidency is famously "not worth a bucket of warm piss" to the actual vice-president, the vice-presidential nominee is worth not much more to the ticket.  In our book on the 2012 election, The Gamble, Lynn Vavreck and I talk about this with reference to Paul Ryan.  To be sure, we didn't think the Ryan pick was so strategically great.  He was alreadysomewhat polarizing, relative to other vice-presidential contenders, and he really wasn't necessary to mobilize the Republican base.  But ultimately, vice-presidential picks don't matter that much.  We write:

Vice-presidential picks have had at most a small influence on modern presidential elections. They have not provided a consistent boost to the ticket in pre-election polling—and Ryan's pick did not give Romney one. They also have provided, at best, a very modest boost to the ticket on Election Day, both overall and in their home states. Political science studies have confirmed this over the years. The question was not whether Ryan himself would matter but how his selection might have affected broader aspects of messaging and strategy — both Romney's and Obama's — and thereby shifted the dynamics of the race.

And ultimately Ryan didn't do that either, since Romney stuck to basically the same economic message throughout the campaign.

Of course, you are thinking about Sarah Palin.  Maybe — maybe — she cost McCain votes.  But even then, the economic and political fundamentals were so strongly in Obama's favor that McCain was very likely to lose regardless.
The same analysis applies to 2012, of course. The factors that ultimately led to the President's reelection were not going to change based on who his running mate was, which is why the discussion about replacing Biden on the ticket were, most likely, very short.
Note: This post was updated from its original version to add historical references to the Eisenhower, Ford, and Bush 41 Administrations.