Republican Voters Don't Care About Russian Interference In American Elections
Three new polls show that Republicans basically agree with the leader of their party when it comes to the issue of Russian interference in American elections.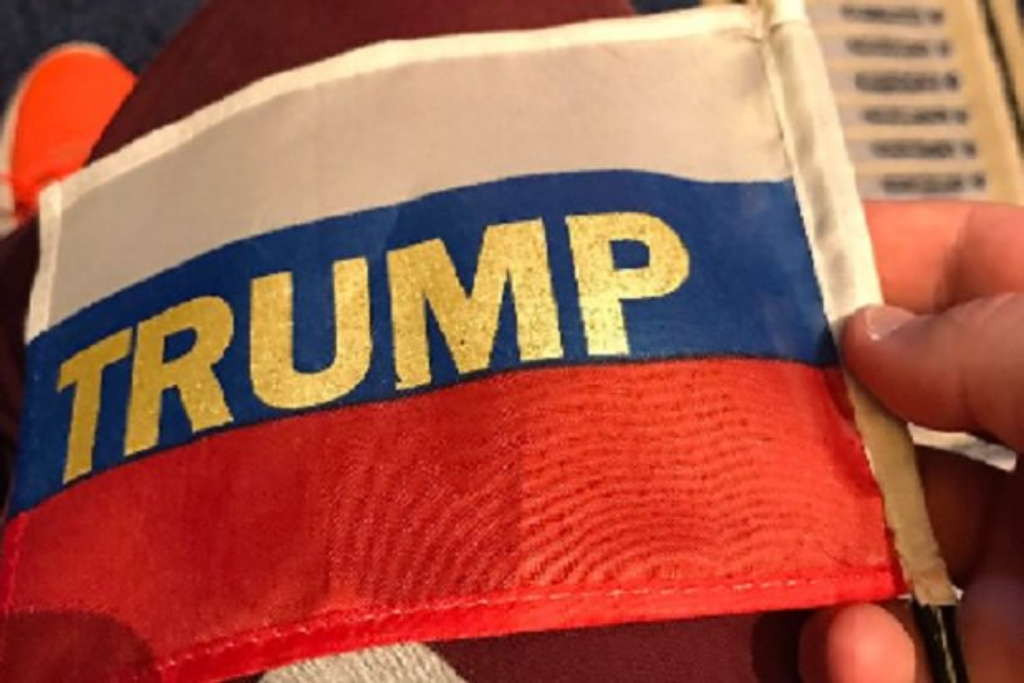 A trio of new polls show that most Americans disapprove of the President's handling of America's relationship with Russia in the wake of Monday's Helsinki Summit between Trump and Russian President Vladimir Putin, but those same polls show that most Republicans feel the exact opposite.
First up, a new Reuters/Ipsos poll finds a huge number of Americans disapprove of the President's handling of the relationship with Russia:
(Reuters) – More than half of Americans disapprove of the way U.S. President Donald Trump is handling relations with Russia, according to a Reuters/Ipsos poll conducted after his controversial summit and joint news conference with Russian President Vladimir Putin.

However, Trump's performance at the Helsinki summit, where Trump refused to blame the Russian leader for meddling in the 2016 U.S. election and cast doubt on the findings of U.S. intelligence agencies, did not seem to have an impact on his overall approval rating.

Forty-two percent of registered voters said they approved of Trump's performance in office in the latest opinion poll, compared with a daily average of between 40 and 44 percent so far in July.

The poll found that 55 percent of registered voters disapproved while 37 percent approved of his handling of relations with Russia.

Among Republicans, 71 percent approved of his handling of Russia compared to 14 percent of Democrats.

(…)

A majority of registered voters, 59 percent, agree with the conclusions of U.S. intelligence agencies that Russia attempted to influence the U.S. election, the Reuters/Ipsos poll found. But only 32 percent of Republicans think that is true compared to 84 percent of Democrats.

The Reuters/Ipsos poll also revealed a distinct split among Republican and Democratic voters over whether Russia should be considered an adversary of the United States.

Overall, 38 percent of registered voters agreed that Russia is an enemy of the United States. About the same percent considered Russia "a competitor" while 8 percent said it was "a friend."

However, half the Democrats said it was an enemy while only about one in three Republicans considered it so.

Forty percent of Democrats described Russia as an imminent threat while only 14 percent of Republicans agreed.

Overall, 27 percent of registered voters considered Russia an imminent threat. Only North Korea got a higher response on that question, 31 percent.
A CBS News survey found similar numbers:
Only a third of Americans (32 percent) approve of the way Donald Trump handled his summit in Helsinki with Russian President Vladimir Putin, a CBS News poll shows. Sixty-eight percent of Republicans approve.

Most Americans (70 percent) believe U.S. intelligence assessments that Russia interfered in the elections, though Republicans are more skeptical. Just half say they believe U.S. intelligence, while nine in ten Democrats do.

More Americans see President Trump as too friendly toward Russia than they did last year. This is largely due to an increase in the number of Democrats and independents who say so. More than three-in-four Republicans think the President has the right balance.

Thirty-nine percent of Americans report feeling less confident after the summit about Mr. Trump standing up for U.S. interests, though much of that comes from Democrats; Republicans say they are more confident or unchanged.

Republicans hold relatively more positive views of Russia than Democrats do, as has been the case since Donald Trump was elected. More Republicans call Russia at least friendly or an ally to the U.S. compared to Americans overall.

Looking ahead, a majority of Americans overall (61 percent) express at least some concern about Russia interfering in the 2018 elections, though Republicans express far lower levels of concern, while most Democrats are very concerned.
Finally, there's a new Axios/Survey Monkey poll that emphasizes the stark partisan differences, as demonstrated in this chart:

While it may seem as though this conservative blindness regarding Russia is a new phenomenon, it actually has roots that go back several years and has much to do with cultural issues and opposition to President in Obama as it does with President Trump and his rather obvious bromance with Vladimir Putin. As far back as 2013, for example, I wrote about the fact that conservatives here in the United States had developed a seemingly odd admiration for the Russian President. In that respect, the fascination and attraction were coming from the cultural conservative wing of the Republican Party and conservative movement from persons such as Pat Buchanan and Rod Dreher. As I noted later on in 2014, this conservative enthusiasm for Putin had bled over into other parts of the conservative movement and appeared to be rooted both in cultural issues such as the extent to which Putin has sought cast himself as a protector of Christians in the Middle East and Russia's crackdown on gays and lesbians that was most prominent in the controversial legislation adopted shortly before the 2014 Winter Olympics in Sochi and also in what can only be called contempt for Barack Obama, who the right saw as "weak" compared to the "strong" leader of Russia. All of this made the GOP fertile ground for President Trump, who made no secret of his admiration for the President of Russia.
The most striking thing from all three of these polls, of course, is the extent to which Republicans are out of step with the rest of the country on both the issue of Russian interference in past elections and the probability that such interference will take place in this future. In what can only be called a marked departure from the skepticism about Russia and Russian intentions that we saw as recently as six years ago during the 2012 election cycle when Republicans accused President Obama of being naive when it came to handling relations with Russia, and then again in 2014 when they attacked the President for an allegedly weak response to Russian annexation of Crimea and intervention in the ongoing conflict in eastern Ukraine, the Republican Party, or whatever it has turned into, has become a overnight a party of Russophiles who are more concerned with attacking Democrats and American law enforcement agencies than they are with the overwhelming evidence supporting the claim that Russia is engaged in an active and ongoing effort to disrupt American politics.
To a large degree, of course, it seems clear that the main reason for this is that Republicans are merely adopting the rhetoric and the views of the leader of their party. Donald Trump has made no secret of the fact that he does not believe the reports of his own intelligence agency heads that Russia interfered in the 2016 election and that they intend on attempting to do so again in 2018 and 2020 if they're able to get away with it. His White House has done nothing to prepare the nation for the possibility of such interference in the coming midterm elections. And, most importantly, he failed to confront the Russian President, whom he has long expressed open admiration for in the past, regarding that interference when he had the chance to do at face-to-face meetings both last year at the G-20 Summit and just this year at their summit meeting on Monday. Each time he's been given the opportunity to confront Putin directly over this issue, the President has backed away and instead continued to make his claims that the entire Russia investigation is "Fake News" and a "witch hunt." Given the extent to which the Republican Party has become a Trumpidian cult of personality, it's not at all surprising that the party as a whole would come to mimic his remarks even as many of them allegedly say off the record how horrible what he's doing might be. Talking off the record or only anonymously isn't enough, though, and it certainly isn't going to stop this President from behaving the way that he has for the past eighteen months.