Republicans Give Up On Repealing Obamacare
After spending much of 2017 trying to do it, Republicans are giving up on any effort to repeal and replace the Affordable Care Act before the midterms.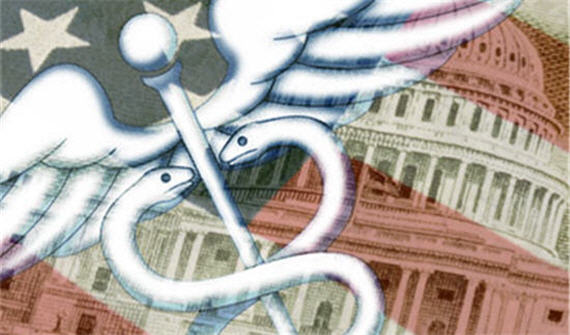 As we head into another election year, Republicans appear to be officially giving up on any effort to 'repeal and replace' the Affordable Care Act:
WHITE SULPHUR SPRINGS, W.Va. — Republicans are giving up on their years-long dream of repealing Obamacare.

Though the GOP still controls both chambers of Congress and maintains the ability to jam through a repeal-and-replace bill via a simple majority, there are no discussions of doing so here at House and Senate Republicans' joint retreat at The Greenbrier resort. Republicans doubt they can even pass a budget providing for the powerful party-line "reconciliation" procedure used to pass tax reform last year, much less take on the politically perilous task of rewriting health care laws in an election year.

"I don't think leadership wants to," said Sen. Bill Cassidy (R-La.), who worked with South Carolina Sen. Lindsey Graham (R-S.C.) on a last-ditch repeal effort last fall. "In the sense of Graham-Cassidy, a partisan exercise? Doesn't look like it."

Republicans' decision to abstain from another attempt at gutting Barack Obama's health law — at least this year — goes back on a pledge the party has made to voters since 2010. And it underscores how Republicans overpromised in their ability to reform the nation's health care and never fully recognized how divided the party is over key Obamacare planks like protecting pre-existing conditions and preserving the law's Medicaid expansion.

And now the GOP is facing reality. Senate Republicans would struggle to pass a bill slashing at Obamacare under the best circumstances this year. They lost a Senate seat in Alabama in December and are down another vote as Sen. John McCain (R-Ariz.) undergoes cancer treatment. GOP leaders would rather put the debacle of last year's failed attempt behind them.

"It would be a heavy lift. I think everybody knows," said Sen. John Thune (R-S.D.), the No. 3 GOP leader. "We sort of tested the limits of what we can do in the Senate last year. And we're one vote down from where we were then."

Republicans very well may lose the House or Senate this fall, which would officially stick a fork in their efforts to move a partisan agenda item like Obamacare repeal while President Donald Trump is in office. But there appears to be no urgency to capitalize on unified Republican control: None of the lawmakers interviewed for this story believe that Congress will pass a budget this year that would allow Republicans to use reconciliation to evade the Senate's supermajority requirements.

And rather than make a major play to the frustrated conservative base on health care, Senate Majority Leader Mitch McConnell (R-Ky.) has charted a bipartisan approach in his comments when asked about the matter.

"I don't think we're going to get a budget. And without a budget I don't think we can do reconciliation," said Sen. Shelley Moore Capito (R-W.Va.). "When you hear the leader speak, he's speaking about bipartisanship. So I think that's the direction we're going to go in this year."

The news is not being taken well in some corners of the party. Rep. Mark Meadows (R-N.C.), who leads the conservative House Freedom Caucus, winced when reminded of the party's failure to repeal Obamacare and the lack of formal discussion on undermining the law at the retreat.

Yet he was hopeful that Republicans can pick up Senate seats in November and try again with a bigger Senate majority.

"Do I see a full repeal of Obamacare happening on a reconciliation vehicle this year? No. And to suggest otherwise would be to ignore 51 votes in the Senate," Meadows said. "If we keep the majority in the House and they get a larger majority in the Senate then you might look at a reconciliation vehicle after November."

(…)

In the meantime, some members of both parties are pushing bills to help stabilize the insurance markets, hoping to bring down premiums after Trump eliminated key payments to health insurers. But even that effort has flagged in recent weeks as conservatives have fought any effort seen as propping up Obamacare, most notably the stabilization bill written by Sens. Lamar Alexander (R-Tenn.) and Patty Murray (D-Wash.).

"It's on the backburner too," Capito said. Altering Obamacare is "still being looked at. But not with the intensity it was."
This would seem to be the end of a saga that made up a significant part of the agenda on Capitol Hill for much of last year, as well as an end to the Republican Party's efforts to repeal and replace the Affordable Care Act until at least the next session of Congress assuming they don't lose control of the House or Senate in November. It began when the House of Representatives, after some difficulties in March of last year,  passed the American Health Care Act with barely a vote to spare. At that point, the battle shifted to the Senate, which spent three months trying to pass a bill with even just 51 votes (or 50 votes plus the Vice-President's tie-breaking vote.) From the start it was clear that the House bill had no chance of passing in the Senate, so Senate Republicans put forward their alternative, the Better Care Reconciliation Act. As with the AHCA, the BCRA was drafted behind closed doors without either committee hearings or public debate, and of course no input from Democrats. Almost immediately, the BCRA ran into roadblocks. First, Mitch McConnell's plan to vote on the bill before the July 4th recess collapsed when the Congressional Budget Office released a devasting score for the bill. After that happened, the BCRA quickly lost support and was pulled from the floor before voting began. After the recess, Senate Republicans put forward a revised plan that also received a bad CBO score and quickly came under fire. When it became obvious that this bill would also fail to get even the fifty votes required to pass the bill, McConnell proposed yet another plan that would repeal the Affordable Care Act without actually replacing it with anything, but that plan ended up falling apart after only eighteen hours. Undaunted, the Senate still refused to give up and decided to go forward even though it was unclear which direction they were heading. Ultimately, the Senate ended up voting on something they called "Skinny repeal," which repealed only parts of the PPACA such as the individual and employer mandates and some other regulations. Bizarrely, though, even Senators who voted for that bill said they never intended for it to become law. Instead, they said it would be the basis to force a conference committee with the House in an effort to put together a bill that could get through both bodies. That effort, though, came to an end when McCain, who had just been diagnosed with cancer, returned to the Senate to deliver a late-night thumbs down that sealed the bill's fate. Finally, after first declaring that there would be no more efforts to pass a health care bill, Senate Republicans made one last effort with a bill proposed by Senators Lindsey Graham and Bill Cassidy, but that too failed to pass even under that bodies relaxed reconciliation rules which avoid the need for a sixty-vote majority in order to invoke cloture and pass a bill.
Part of the reason for the apparent surrender on health care is related to the ongoing budget process and the mess being created over that issue. As of now, Congress has yet to pass a budget for Fiscal Year 2018 and it's being reported that Congress may not bother to even pass a Budget Resolution for Fiscal Year 2019. This last item means that any spending bill for that Fiscal Year would have to come in the form of an omnibus bill of some kind that would likely not be voted on until the Lame Duck session after the November elections. Before that, we'll likely be operating on a Continuing Resolution.for the first part of the Fiscal Year, especially since Congress will be eager to get out of town as quickly as possible after September 30th to go back to their districts and campaign for the final stretch of the midterm elections. Failing to pass a Budget Resolution also means that the Senate would be unable to make use of the reconciliation process to make another attempt at a health care bill and that they'd need to get sixty votes to invoke cloture on any 'repeal and replace' bill. Since that would require the support of at least nine Democrats, assuming there are no Republican defections, to vote with them to invoke cloture. Since that is clearly not going to happen, any effort to pursue a change to the health care laws would be doomed.
The interesting question going forward, of course, is what impact all of this will have politically in the midterm elections. Republicans will no doubt fall back on the same anti-Obamacare rhetoric that seemingly worked for them in 2010 and 2014, but it's not clear how effective that will be this time around since the big stories of the midterms are likely to be Trump and the state of the economy. Of more immediate importance to Republicans, though, is how their base is going to react to the fact that they failed to fully repeal the PPACA despite having control of the House, Senate, and White House for the first time in a decade. The fact that they failed hasn't exactly gone over well with the GOP base, and this could play a role in upcoming primaries against Republicans in the House and Senate, and the fact that they're basically giving up on the effort is likely to go over just as badly. This isn't something they can blame on Democrats no matter how hard they try, this is all a Republican failure and the base isn't likely to forget that.