Republicans Underestimating Hillary Clinton?
Republicans seem to be thinking that Hillary Clinton will be an easier General Election candidate than the evidence suggests she is likely to be.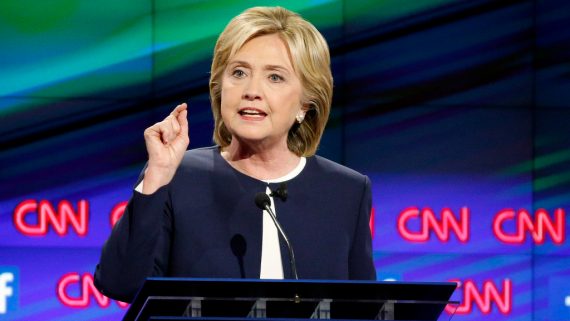 Bloomberg's Mark Halperin is out with a piece making an argument that has been made elsewhere before, but seems to bear some real significance given the events of the last two weeks, namely that Republicans seem to be largely in denial about the fact that Hillary Clinton is, despite her summer of problems, still highly likely to become the 45th President of the United States:
A virulent strain of Clinton Derangement Syndrome, which scientists and Republicans thought had been wiped out at the end of the last century, is now afflicting millions of conservative Americans. Some Republicans so detest Hillary Clinton they are badly underestimating how likely she is, at this point in the campaign, to be America's 45thpresident. Their denial is just as strong now as it was a month ago, before Clinton began a run of political victories that have enhanced her prospects, all while the roller derby/demolition derby that is the Republican nomination contest has continued to harm the GOP's chances of winning back the White House.

To be sure, nothing ever happens in a linear or tidy fashion with the Clintons; she is certain to add more chapters to the Perils of Hillary saga before Election Day 2016. Bernie Sanders could still upend her in Iowa, New Hampshire, or both, which could throw the nomination battle into unadulterated bedlam. Even if Clinton is nominated, a strong Republican candidate could absolutely defeat her next November, with victory as simple as the party putting forth a nominee who is more likeable to voters and better on television. Indeed, many elite and grassroots Republicans believe Clinton's personality, which they can't stand, will keep her out of the Oval Office no matter what.
As Halperin notes, Clinton has had quite a good October and there are few signs that her good fortune is going to change. A universally well-received performance at the first Democratic debate, in which she deftly handled Vermont Senator Bernie Sanders and played a large role in the departure from the race of both Jim Webb and Lincoln Chafee, was preceded by a measurable up-tick in the polls that suggests that the summer doldrums that her campaign had suffered were coming to an end. Going into that debate, the main question hanging over the Democratic race was whether Clinton would be able to answer the doubts that had arisen about her during the summer and had led to months of speculation about the intentions of Vice-President Biden. Only a blind partisan would be unable to admit that she overcame those doubts quite well and demonstrated just how formidable candidate she is going to be, and the Vice-President certainly got the message since it was a week later than he was announcing that he was not running for President, a move that can only help Clinton in the end. Two days after Biden's announcement, Clinton faced her next big test on Thursday before the House Select Committee investigating the Benghazi attack in which she once again deftly pushed back on the questions Republican members were asking to the point where the Chairman of the Committee how admits it was probably a mistake to question her in a public hearing to being with.  Yes, it's possible that the successes of September and October could ultimately prove to be as fleeting as the doldrums of the summer, but the fact that the race is now kicking into high gear and that Clinton's campaign seems to be doing the same suggests that this won't be the case and the Clinton is well-positioned to quickly wrap up the Democratic nomination early next year and move on to concentrating on a General Election campaign while Republicans continue to fight amongst each other, a fight that could continue well into April before it's resolved.
Greg Sargent is skeptical about Halperin's suggestion of how Republicans view Clinton and the coming 2016 fight:
I find it hard to imagine that the smarter GOP strategists really believe all this. But if this is the prevailing Republican theory of the 2016 election, there is precedent for it. In 2012, it often seemed as if Romney campaign officials' assessments of the election were shaped by a tendency to believe their own superficial, GOP-base-friendly talking points about Obama. The Romney campaign convinced itself that there was no way Obama could possibly get reelected amid such high unemployment. The Romney camp convinced itself that there was no way the 2012 electorate could possibly be as diverse as it had been in 2008. Obama's election was best explained as a fluke — his cult of personality had captivated nonwhite and young voters, but that would prove as fleeting as a high-school crush. There was no way swing voters in 2012 could possibly see the Obama presidency as anything other than an irredeemable catastrophe, since Republicans knew, just knew, that's what it had been. Something similar might be happening now.
Based on the available evidence, it's difficult to see how Halperin's assessment of the GOP view of Clinton is really all that far off the mark. For one thing, it seems to be well on display among most of the Republican candidates for President as well as their supporters. To listen to these candidates, beating Clinton in 2016 is really only a matter of bringing up issues like Benghazi and the email scandal and her alleged failures as Secretary of State and everything else will fall into place. This sounds very much like not only what Republicans were saying about Barack Obama in 2008 and 2012, but also what they were saying about Bill Clinton in 1992 and 1996, and we all know how those elections turned out. If Republicans really do think that they are going to be able to beat Clinton by concentrating on alleged scandals and other such matters then they are likely to be very disappointed when Election Night 2016 rolls around.
As Sargent goes on to note, the outcome of the 2016 election is, at this point, probably very much a 50-50 affair. There are plenty of reasons to believe that Clinton will be well-positioned heading into a General Election campaign next year, but there are also plenty of reasons to believe she could run into headwinds. On the negative side of the ledger, there lies the fact that Clinton's fate will depend to no small degree on what the public thinks about the Obama Presidency as we get closer to the 2016 election and what they think about the course the country is on. At the moment, the President's job approval numbers are enjoying something of an upward bounce even though they remain negative, but those numbers have fluctuated so much over the course of his Presidency that Clinton cannot count on them staying where they are over the course of the next year. Of more direct concern for Clinton is the "right direction/wrong track" poll which shows the public believing the nation is on the wrong track by more than a 2-to-1 margin. If that continues, then a campaign that would largely be based on convincing the country to continue the legacy of the Obama Administration may have some trouble getting across to voters in swing states.  Finally, there is the fact that Clinton will be trying to buck history to some extent given the fact that it has been rather rare in American history for an incumbent party to hold on to the White House after a two-term Presidency, especially since the ratification of the 22nd Amendment. George H.W. Bush managed to do it in 1988, although he only lasted one term, but before that it had only occurred when William Howard Taft succeeded Theodore Roosevelt in 1908, when Ulysses S. Grant succeeded Andrew Johnson, who had completed Abraham Lincoln's second term, in 1868, and during the twenty-eight year period that began with the election of Thomas Jefferson in 1800 during which the Democratic-Republican Party essentially had a monopoly on the White House. Neither Richard Nixon nor Al Gore could do it in 1960 or 2000, although they both came close, and no Republican could have done it after eight years of George W. Bush in 2008. Clinton will have to find a way to do it in 2016.
On the positive side of the ledger, though, Clinton has several distinct advantages that make underestimating her a mistake on the part of Republicans. Primarily, of course, there is the seeming Democratic advantage in the Electoral College that seems to make it far easier for a Democratic nominee to put together the 270 Electoral Votes needed for victory than it would be for Republicans to do so. The fact that, thanks to Donald Trump and a general anti-immigrant ethos inside the Republican Party, it seems unlikely that Latino voters would be any more inclined to vote Republican in 2016 than they were in 2012 makes the Republican path to 270 even more difficult. Additionally, the longer that the Republican fight goes on, and the longer the Donald Trump's of the world are seen as the face of the Republican Party, the more the party as a whole is likely to become tainted by extreme rhetoric and offensive positions regardless of who the nominee ends up being. In that type of environment, and assuming that Clinton avoids major gaffes going forward and that the economy or the state of the world don't spiral out of control, Halperin's contention that Clinton is likely to be the next President seems to me to be a pretty good guess at this point. Republicans could still have a chance to beat her, of course, but to do that they're going to have to do more than serve up a rehash of the Clinton Derangement Syndrome and scandal-mongering of the 1990s, because it's pretty clear that voters aren't going to go for that.