The GOP's Increasingly Weird Delegate Math
It's looking increasingly unlikely that anyone will have the race for the nomination wrapped up any time soon.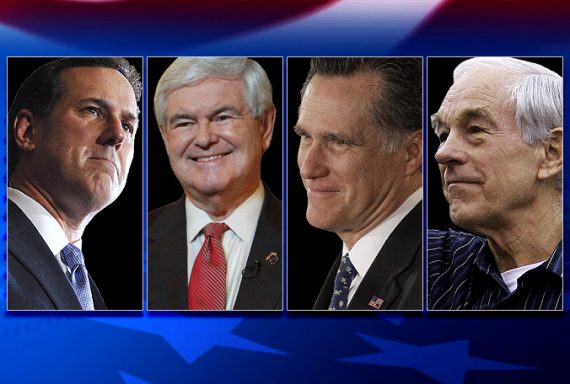 We're at the point now where pretty much all the conventional wisdom about the race for the Republican nomination can be thrown out the window. When January started, for example, it looked like Mitt Romney would win, perhaps even easily, three out of the four contests and put himself on an easy glide path to victory. That didn't happen, of course. What looked like a narrow victory in Iowa turned out to be a loss, and South Carolina turned into an embarrassing loss. In the end, Romney had scored victories in Florida and New Hampshire, but neither one of them were enough to knock any of the serious challengers to Romney out of the race. So, instead of standing victorious above the field, the end of January saw Romney in much the same position he was when the month started.
February, in the meantime, was supposed to have been smooth sailing for Romney. It started out that way, with an expected victory in Nevada, but it didn't stop Rick Santorum and Newt Gingrich from nipping at his heels. After Nevada, though, things started going really bad for Romney. He lost three non-binding contests on the same night, at the very least an embarrassment and at the worst and indication of where the momentum in the race was heading. This week, even after Romney managed to pull off victories in Maine (which may not stand) and the CPAC Straw Poll, things continued to go the wrong way. Santorum is now leading Romney in polling in Michigan, Ohio, and nationally, and we're already seeing signs of panic from the GOP Establishment.
And it's no wonder they're panicking, the once clear path to the nomination for Mitt Romney no longer seems to exist, and the longer this fight goes on the more likely it is that we could be dealing with a race that remains unresolved until the very end:
Play around with the CNN delegate calculator and you can see that even if Romney were to win every contest going forward with 100 percent of the delegates (that's called kickin' it North Korea-style) he still wouldn't reach 1,144 until April 3. Under a similar extreme scenario, it would take Rick Santorum until April 23. Here's the real kicker: If Romney and Santorum were to split the delegates going forward and each were to carry five of the 10 all-or-nothing contests, neither candidate would win enough delegates to clinch the nomination.

Add to that mix the fact that Ron Paul's got very little reason to not go all the way to Tampa collecting delegates along the way—and Newt Gingrich has sworn less convincingly to do the same—and the math gets even more daunting for Team Mitt.

They have one ace up their sleeve—Utah. It's currently scheduled last in the primary calendar, on June 26, with 40 delegates; winner-take-all in a state that is famously Mormon-dominated. It could serve as a backstop for Mitt, bringing him over the top at the last possible moment.

But if no candidate hits 1,144 by the end of the process, buy some tickets and head to Tampa, because this is going to be one wild and weird party convention. Remember, all delegates are released after the first ballot. The Ron Paul-ites have been fantasizing about this scenario, and Sarah Palin has started to talk in circles about how she just might be available to 'help' in such an eventuality.

America hasn't seen a true brokered convention since 1952, when Illinois Gov. Adlai Stevenson emerged with the Democratic nomination despite Tennessee Sen. Estes Kefauver winning more delegates. One upside: in the age of social media, we'd have more access to what goes on in smoke-filled backrooms than ever before.

Some people's fantasies are other people's nightmares. There are conservatives earnestly hoping that a more perfect candidate will emerge from the August heat of Tampa. Democrats are watching the cage-match primary tactics with something like unrestrained glee. But it all must feel like a cruel joke to Mitt Romney. He is among the most disciplined and organized of men, and the creeping knowledge that the math might not add up in the end is enough to make him wake up in cold sweats.
There's another factor to keep in mind when looking at the delegate math. With the exception of Nevada, all of the caucus states to date (and nearly all of the ones that will follow) have been non-binding when it comes to delegate allocation. In states like Iowa, Colorado, and Minnesota delegates to the convention in Tampa won't be selected until the state party holds its convention. In Colorado that isn't till April, in Minnesota it's in May, and in Iowa it's in June just before the final primaries. There's no rule that says that any of these party conventions have to abide by the non-binding straw poll that took place at the caucuses. If no candidate has a majority of delegates at that point, you can expect each of these state party conventions to be subjected to heavily lobbying by the campaigns that still active, which at this point may just be all four of them.
The irony of all of this, of course, is that the primary calendar that was put in place for 2012 was originally designed to help candidates like Romney. Rather than a race like 2008, where a few early wins by a candidate like John McCain made it hard for a candidate that appealed to conservatives, like Romney, the GOP set up a calendar that would make it difficult for any candidate to wrap up the nomination early by making nearly all the early contests one in which the delegates are awarded proportionally. Had this kind of calendar been in place in 2008, it's at least conceivable that Romney would have had a reason not to drop out of the race after only a handful of contests and that the Republicans would have had been fighting their race side-by-side with the Democrats long into April, if not longer.
As it turns out, though, what may have helped Mitt Romney in 2008 is hurting him in 2012. The GOP's new delegate allocation rules, combined with the rise of SuperPACs, make it far less likely that candidate who is trailing in the polls is going to drop out. They also make it harder for a candidate like Romney to exploit their monetary and organizational advantages in the same manner that they would have been able to in the past.  As a result, there's more time for opponents like Santorum to chip away at Romney, and more reasons for Republican voters to find something wrong about the supposed frontrunner. And that's why Romney is struggling, and why we're once again hearing increasing talk of a brokered convention.
I still tend to think that the brokered convention is little more than a pundit's fantasy, and the idea that the GOP would end up nominating someone who is not currently running is just fundamentally silly. Nonetheless, the delegate math that John Avlon runs through in the excerpt above is hard to dispute, and this election is starting to resemble the 1976 race between Gerald Ford and Ronald Reagan every day. In that race, neither candidate ended up having enough delegates to win the nomination outright. It was only after Reagan made a miscalculation by announcing that he would select a moderate Republican, Pennsylvania Senator Richard Schweiker, as his running mate that Ford was able to garner enough delegates to win on the first ballot.
As Avlon notes above, it's easy to see how a similar scenario could unfold this year. If Romney manages to lose Michigan, or even only wins it by a narrow margin, and then ends up splitting Super Tuesday with Santorum and Gingrich, then the prospect that nobody will have the nomination wrapped up until the final primary becomes increasingly likely, as does the possibility that none of these candidates will walk into Tampa with the 1,141 delegates they need to win the nomination. At that point, the horsetrading and the backroom deals will begin. Would Romney make a deal with Ron Paul to get his delegates? Would Santorum try to do the same with Gingrich? It would be chaos, but it would be fascinating to watch.