Trump's Electoral College Problem
Based on his job approval numbers, President Trump could face an uphill battle in 2020.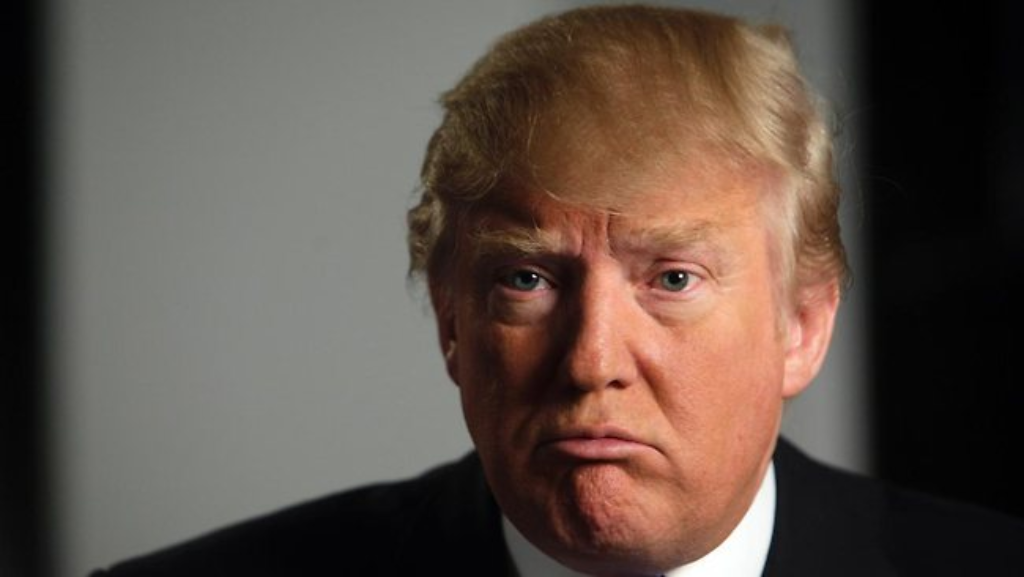 A new Gallup poll shows that President Trump's job approval is above 50% in only 17 states totaling just 102 Electoral Votes:
WASHINGTON, D.C. — President Donald Trump's job approval rating varied widely across the U.S. states in 2018, with 17 states giving him ratings of 50% or higher, and 16 states giving him ratings below 40%. The states most approving of Trump were generally in the South and Mountain West areas of the country, while he fared most poorly in New England and on the West Coast.

In 2017, Trump had approval of 50% or higher in 12 states — five fewer than in 2018 — and approval below 40% in 17 states — one more than in 2018. Those shifts reflect the modest improvement this past year in his approval ratings nationally, from 38% in 2017 to 40% in 2018.

The five states that moved to 50% or higher job approval last year were Missouri, Kansas, South Carolina, Mississippi and Utah.

Results are based on combined data from the 2018 Gallup tracking poll, encompassing interviews with more than 73,000 U.S. adults, including 500 or more in 38 states and 1,000 or more in 27 states. Each state sample has been weighted to match the demographic characteristics of that state's population to ensure it is representative of the state's residents. Full data for all 50 states are shown at the end of the article.

Although much can change between now and Election Day 2020, a job approval rating of 50% or higher would presumably put Trump in good position to win a state in the presidential election. The 17 states with 50%+ approval ratings account for a combined total of 102 electoral votes. In contrast, the states in which Trump has an approval rating below 40% account for 201 electoral votes.

In order to get to the 270 electoral votes needed to win the presidency, Trump would have to win all but one or two of the states in which his 2018 approval rating was between 41% and 49%. Some of the more challenging states to win from among this group, based on that approval rating, would be Texas (41%); Pennsylvania, Wisconsin and Michigan (all at 42%); and Arizona and Florida (43%). Trump won all of those states in 2016, and thus it is certainly possible that he can do so again. But he clearly has a lot of ground to make up in those states to get close enough to 50% that he can finish with more electoral votes nationwide than the Democratic candidate.
CNN's Chris Cillizza looks at these numbers and sees trouble for Trump, as does The Washington Post's Philip Bump, who also notes signs of potential problems in Texas of all places. They're both right. The states in which Trump's job approval stands above 50% constitute 102 Electoral Votes and are depicted on the map below in dark green, with the second darkest shade of green being those states where his job approval stands between 40% and 49%, these states constitute 229 Electoral Votes and consist of states that Trump is likely to win notwithstanding his current job approval such as Texas, Nebraska, Indiana, and Louisiana. Giving Trump these states gives Trump another 54 Electoral Votes. It also includes two states — Virginia, Oregon, and Nevada — comprising 26 Electoral Votes which will most likely stay blue. On the lowest end are the 18 states in light green where Trump's job approval is below 40%. These are mostly solid blue states and constitute 207 Electoral Votes. This leaves roughly nine states where Trump's job approval is between 40% and 49% that are possible battleground states in 2020, including Nevada, Arizona, Wisconsin, Michigan, Ohio, Pennsylvania, North Carolina, Georgia, and Florida which comprise 147 Electoral Votes.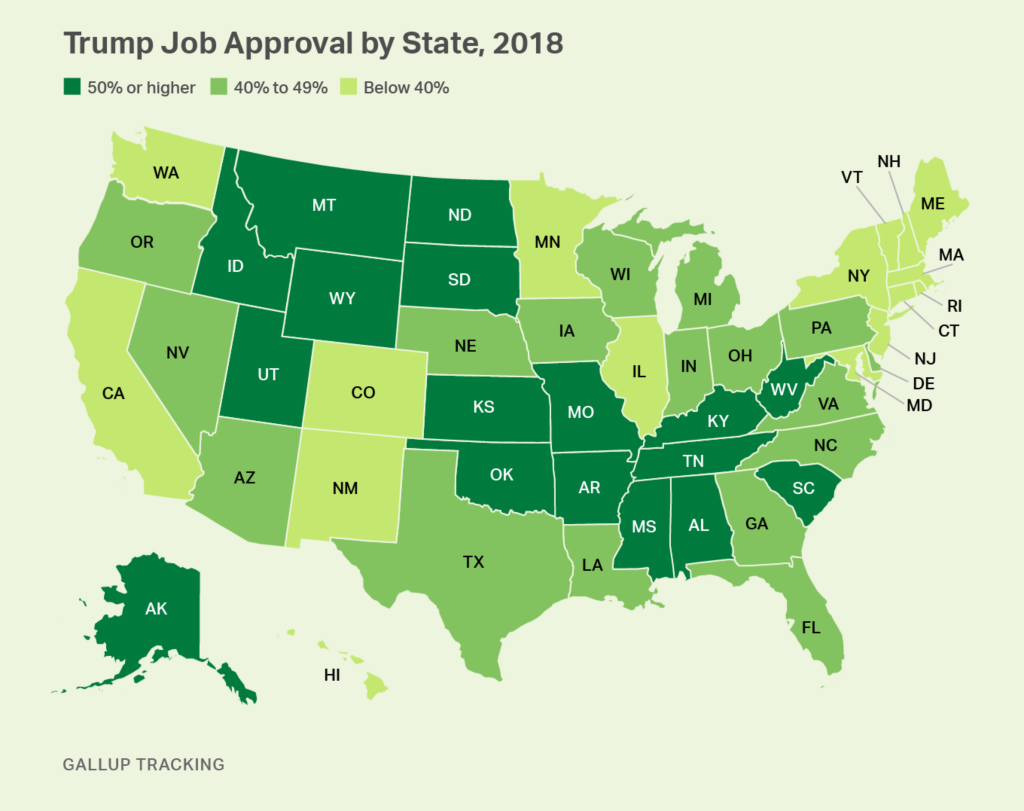 The most important of these battleground states, obviously, will be the midwestern states where Trump was able to pull off wins that had evaded Republicans in the 2008 and 2012 elections, and in some cases long before that. This includes Iowa, Wisconsin, Ohio, Pennsylvania, and Michigan. Taken by themselves, these states comprise 70 Electoral Votes, Other states that are likely to be battlegrounds include Arizona. Georgia, North Carolina, and Florida. President Trump also won all of these states in 2016, but the fact that his job approval stands below 50% in each of them is an indication that he could have his work cut out for him if he's going to win them again in 2020.
Obviously, it's far too early to make any forecasts based on this data, and it's certainly possible that the President's job approval numbers could change between now and the time closer to the election. In the end, though, the 2020 election is going to be a referendum on the Trump Presidency, as is always the case when a President is running for re-election. That's why Trump's job approval in these states matters, and why it matters that his nationwide job approval, as measured by RealClearPolitics and FiveThirtyEight, stands at historic lows for a sitting President, and this is despite the fact that the economy is in generally good shape and the state of the world is generally quiet. If that changes, then Trump is going to find himself in trouble no matter how much he tries to demonize the opposition.
Obviously, it's far too early in the 2020 cycle to make anything resembling a reliable prediction about the outcome of the election. There are so many factors that could impact what happens on November 3rd, 2020, including the state of the economy, the Russia investigation and other investigations involving the Trump Administration, and foreign policy crises that could develop between now and them, that making judgments about then based on poll numbers now is really nothing more than guesswork combined in many cases with wishful thinking. That being said, these numbers ought to concern the President, his campaign, and his party. Contrary to what the President likes to think, his win in 2020 was nowhere close to a landslide. He lost the Popular Vote, one of only five Presidents to have done so and nonetheless won the Presidency, and his Electoral College win was among the bottom 15 in American history, ranking just above John F. Kennedy's narrow win over Richard Nixon in 1960. But for 77,741 votes in three states in the Midwest, he would not be President today. Given that, even incremental change in the Presidents popularity and job approval could have a big impact on the outcome of an election. As is always the case, we'll see how it turns out in just over 20 months.