Vigilante Politics
We're likely to see more instances like the Capitol Riot and the Kyle Rittenhouse shootings.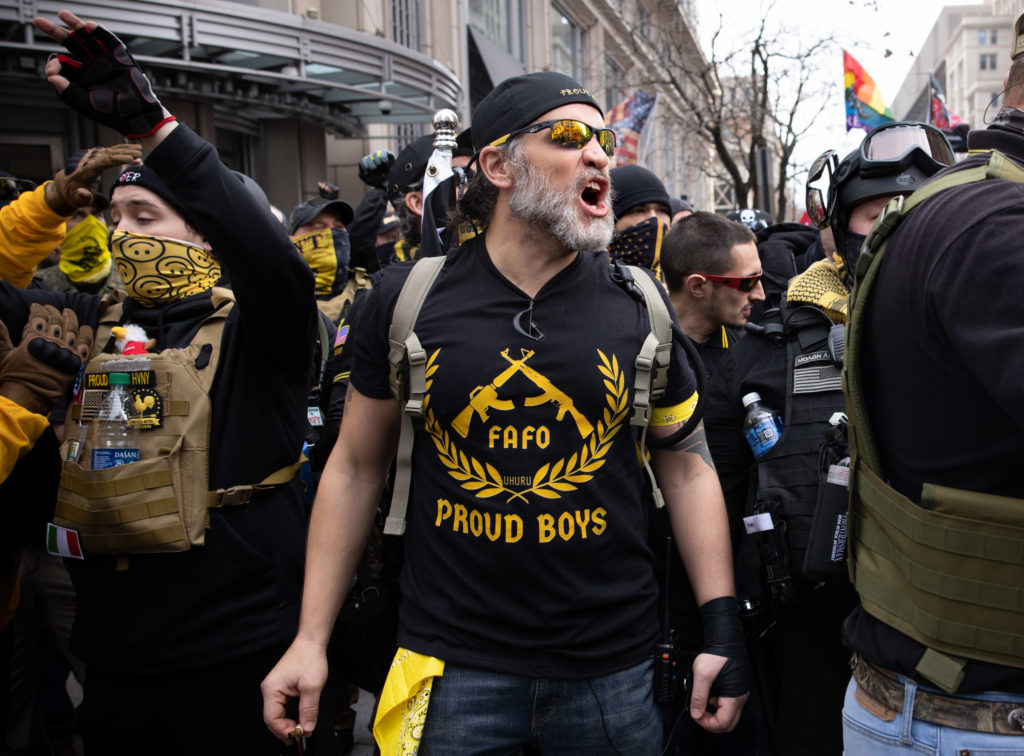 Sam Tanenhaus has a long feature in the Washington Post Outlook section titled "Jan. 6 wasn't an insurrection. It was vigilantism. And more is coming." I call the piece to your attention not to continue the pointless semantic debate on what to call the Capitol rioting but rather his analysis of what motivated the movement and, more importantly, what it portends for the future.
nternal assaults on American government usually come with the promise of greater freedom. "The tree of liberty must be refreshed from time to time with the blood of patriots and tyrants," Thomas Jefferson wrote. He was referring to Shays's Rebellion, an uprising of 4,000 Massachusetts citizens in protest of taxes imposed by the state's governor to liquidate Revolutionary War debt. Seventy-five years later, the president of the Confederacy, Jefferson Davis, explaining another rebellion, said the South had no choice but to "take up arms to vindicate the political rights, the freedom, equality, and State sovereignty which were the heritage purchased by the blood of our revolutionary sires."

To its participants and their emboldened intellectual allies, the Jan. 6 attack on the U.S. Capitol was another such "battle cry of freedom" — a patriotic exercise against tyranny. President Biden and House Speaker Nancy Pelosi might deplore this as an "assault on our democracy," but "what they mean by 'our democracy' is their oligarchy," the author and journalist Roger Kimball said in a September speech at Hillsdale College. The protest against them may have become unruly, but it was by no means an insurrection.

He may be right, though for reasons different from the one he gave. Militant protest, as Garry Wills wrote in "A Necessary Evil," his history of "American distrust of government," comes in different forms. At one end of the spectrum are insurrectionists, who "take arms against the government because it is too repressive." At the opposite end are vigilantes, who "take arms to do the government's work because the authorities are not repressive enough." They become "vigilant," Wills writes, in times when they believe "the government is too slow, indifferent, or lax."

[…]

In their minds, the storming of the Capitol on Jan. 6 was meant not to subvert democratic "traditions," "procedures" and "norms" — the terms we hear so often — but rather to restore them through whatever means were necessary to stop a "stolen" election, "rigged" by the true enemies of "our democracy": the election officials and vote counters, the judges in courts across the land, even Trump's own attorney general, William Barr. So, too, the chilling words "Hang Mike Pence" were shouted in protest of the vice president's refusal to "do the right thing," as Trump recently said — which in this case meant decertifying the election won by Joe Biden.

This was the vigilante's cry that the government has been hijacked to thwart the will of Trump and his supporters. Though they're in the minority, there are many millions, nevertheless, for whom the government's failure to do enough to look after their interests has made it the enemy.

For them, the battle cry of freedom has become, as it was for Jefferson Davis, a demand for repression. And only vigilantism, storming the citadel, will do the job.
I very much think this is right. It would have been a very bad thing, indeed, if those who assaulted the Capitol that day to stop the counting of the Electoral College votes did so believing that Joe Biden won the most votes but thought Trump better represented their interests and values. But it's actually a scarier thing that they honestly believed the election was somehow stolen and that it was their duty to defend the Republic.
There are those who believe John Kennedy stole the 1960 election, George W. Bush stole the 2000 and 2004 elections, and that Barack Obama was an alien ineligible to run in 2008 and 2012. And, while few thought Donald Trump stole the 2016 election, thousands were so enraged with his minority victory and his open misogyny and racism that they marched in the streets ahead of his inauguration proclaiming themselves a Resistance. Rather crucially, however, there was essentially no violence associated with any of these beliefs.
While I don't believe, as some do, that we're on the brink of another civil war, we're in the midst of something more like 1860 than 1960 or 2000. Huge numbers of people simply question the legitimacy of the system.
As Tanenhaus' essay makes clear, the main danger is from the Right, which seems keen to use violence to settle the issue. But many on the Left, including the moderate left, not unreasonably question the sustainability of a system that's stacked against them on multiple levels. The Electoral College has given us two instances in a span of five elections where the President who got fewer votes won the election. The House and the Senate both vastly over-represent rural interests and the Senate compounds that by requiring a 60 percent supermajority to pass significant legislation. And, to add icing on the cake, the Supreme Court has six Republican appointees to three Democratic ones.
Beyond that, Tanenhaus argues that it's beyond disputes over who controls the central government. And, here, the issue is all but one-sided:
In the months since Jan. 6, the appetite for vigilantism has been growing on the right — for instance, among those who celebrated the acquitted teenage shooter Kyle Rittenhouse, who in true vigilante form arrived on the scene in Kenosha, Wis., after driving 20 miles from his home in Illinois the day before to "help" authorities not doing enough to impose order during civil unrest there over a police shooting. After his acquittal, GOP lawmakers competed to honor Rittenhouse, making offers of internships. The most outspoken vigilante in the House of Representatives, Marjorie Taylor Greene (R-Ga.), introduced a bill that would award Rittenhouse the Congressional Gold Medal.

This last captures the sinister tone of vigilantism in our current moment.

A striking example is Texas's new antiabortion law, which, as Justice Sonia Sotomayor and others have warned, could lead to the rise of "citizen bounty hunters" who are invited to collect a check for turning in abortion providers or anyone helping a woman receive abortion services. Existing laws are, again, too lax and don't do enough. It is up to citizens to fill the breach.

Vigilantes have become a threatening presence during the coronavirus pandemic as well. Anti-vaxxers and anti-maskers have tried to police their neighbors — sometimes violently — over their acceptance of mandates. In August, an Alabama man who calls himself the Vaccine Police led a group to a Missouri Walmart, where they berated pharmacy workers administering the coronavirus vaccine. "If they do not stand down immediately, then they could be executed," he said, for "crimes against humanity." In the same spirit, Tucker Carlson has exhorted his viewers to "call the police immediately" and "contact child protective services" if they see children wearing masks while playing.
Adding Carlson to the list actually diminishes the seriousness of all this. We've had a decade-plus of people carrying assault rifles to protests. While it's mostly phony-tough cosplay, there is clearly some significant number of folks out there ready to start shooting the libs rather than just owning them.
However anomalous vigilantism may seem, it has a long pedigree. Among the most frightening images on Jan. 6 were those drawn from the American past — the Confederate flag, the makeshift gallows set up outside the Capitol. Today most of us recoil from the idea of the lynch mob. We forget that for much of our history it was deemed an honorable form of justice, the code of the frontier and the segregated South. One of the most erudite legislators of the 20th century, Sen. Richard Russell of Georgia, a devoted reader of the classics, helped defeat an anti-lynching bill in the 1930s by pleading to his Senate colleagues that banning the practice would "destroy the White civilization of the South" and with it, perhaps, "the entire civilization of the United States."

The virtue of vigilantism was a theme of the Yale political scientist Willmoore Kendall, "the philosopher extraordinaire of the lynch mob," as the political theorist Murray Rothbard called him. A formative influence on conservatives in the 1950s and '60s (as well as the subject of two forthcoming biographies), Kendall wrote, in one memorable formulation, "One begins to suspect that the true American tradition is less that of our Fourth of July orations and our constitutional law textbooks, with their cluck-clucking over the so-called preferred freedoms, than, quite simply, that of riding somebody out of town on a rail."

Kendall himself was continually at war with his Yale colleagues and delighted in provoking them.

The same appears true of today's pro-Trump intellectuals. For them Trump is less a model leader than a "blunt instrument," in Trump ally Stephen Bannon's words, a useful cudgel in wars being waged in milieus — college campuses, newsrooms, social media platforms — where conservative writers and advocates feel outnumbered and disrespected by "woke" activists.
Violence has been a tool in advancing domestic agendas for longer than we've been a Republic, going back at least as far back as the Sons of Liberty (who I've long argued were a bonafide terrorist group, even though they're lionized in schoolboy civics tales of our founding). And, while we tend to think of it mostly as a tool of the Right, we've seen it employed successfully by everyone from labor organizers to civil rights protestors to environmental and antiwar activists. As recently as last summer's mostly-peaceful protests against police violence, accompanying mayhem was justified using Martin Luther King's "A riot is the language of the unheard."
But, while "both sides" do it, the current danger is almost entirely from the Right.
Whatever these writers think about Trump, most seem to agree that the far graver threat to the republic, or "regime," comes from "the left" — a catchall term that now includes old-time Democrats like Biden. To the vigilante intellectual, no less than to the vigilante rioter, the upholders of the doddering system must go.

This was the argument in a much-discussed essay written not long after Jan. 6 by Glenn Ellmers, a senior fellow of the Claremont Institute, the foremost pro-Trump think tank.

"Most people living in the United States today — certainly more than half — are not Americans in any meaningful sense of the term," Ellmers wrote. Because of their mischief, "our norms are now hopelessly corrupt and need to be destroyed." All true patriots must come together in their shared purpose. "It's all hands on deck."
While I must confess to being unfamiliar with Ellmers and having lumped Claremont in with so many other banal think tanks, his ideas are hardly novel. There has long been a sense, almost exclusively on the Right, that there is a Real America that doesn't include places like New York City and Los Angeles. And, as the values of urban and rural America continue to diverge, that sentiment is growing.
A couple months back, in response to arguments, including from me, that, while America is as polarized politically and culturally in a way that we haven't been since the Civil War, a repeat of that tragedy is unlikely because state borders and regionalism is no longer the chief dividing line but rural-urban, Dave Schuler had the depressing reaction that this doesn't so much preclude war but change its character:
I would like to suggest that people are thinking about the prospects for civil war entirely wrong. Bowing to the need for more visual expression, let's consider a couple of movies. The climactic scene of The Patriot, a Mel Gibson movie about the American Revolution, the scrappy rebels form a battle line opposite the redcoats and, through a series of clever tricks, outmaneuver them. There are similar scenes in The Red Badge of Courage and practically every other movie set in the American Civil War ever made.

A civil war won't be like that. It will be more like Mad Max or maybe Blackhawk Down. Mad Max depicts a world in which civil order has simply collapsed. No real reason is given for it. Nuclear war? Fuel shortage? Just for the heck of it? It doesn't really matter. Chaotic gangs kill, loot, and terrorize. Whom do they attack? Anyone in their path.

Not dramatic in the sense of pitched battles. And it's already going in. The disorder in Portland continues with both left and right arguing in favor of it. Here in Chicago we've got broad daylight shootings in the middle of downtown. It's not just that order has broken down but that the will to preserve order has been eroded.

As to the practicality issue emphasized by James, have people never heard of "ethnic cleansing"? It's a phenomenon that isn't just conducted at the national level. It goes on block by block with neighbors turning on neighbors. Thinking it can't happen here because most states are in fact Purple States is being overly optimistic. Start thinking breakdown in order rather than maneuver warfare. Mad Max rather than The Patriot.
Now, I still don't think this is a likely outcome. At least, not en masse. But I do think we're likely to see more Kyle Rittenhouses out there patroling the streets looking for evil-doers to shoot.