Ben Carson Cuts Staff, Salaries, One Month After Raising $22 Million
Ben Carson cut his campaign staff drastically just a month after raising more than $22 million. Another sign of a dead campaign.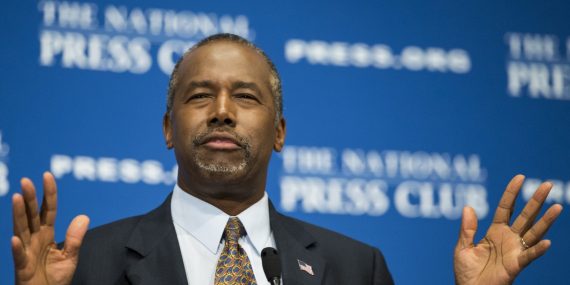 Retired pediatric neurosurgeon Ben Carson has cut his already bare bones staff in the wake of a disappointing fourth place finish in the Iowa Caucuses:
CONCORD, N.H. — Ben Carson, the famed neurosurgeon whose bid for the Republican presidential nomination has struggled to keep pace with rivals, will cut more than 50 staff positions Thursday as part of an overhaul and downsizing of his campaign.

Salaries are being significantly reduced. Carson's traveling entourage will shrink to only a handful of advisers. And instead of flying on private jets, Carson may soon return to commercial flights.

The employees being released — about half of Carson's campaign — mostly work in field operations and at his headquarters in Northern Virginia.

Campaign officials, who confirmed the moves after The Washington Post obtained an internal memo about the layoffs, stressed that key aides in upcoming GOP primary contests will remain in place and that Carson is determined to stay in the 2016 race.

But they acknowledged that Carson's funds have diminished as he has fallen from the top tier, forcing him to make sweeping changes to a campaign that had swelled into a bustling operation of about 125 people.

Carson's senior staff, which was restructured in late December after several advisers resigned, will not change, the campaign said. Retired Army Maj. Gen. Robert F. Dees, Republican consultant Ed Brookover, and communications advisers Jason Osborne and Deana Bass will stay, among others.

Longtime Carson confidant Armstrong Williams said the drastic shake-up has been under consideration for weeks but was postponed until after Monday's Iowa caucuses, where Carson finished in fourth place with 9.3 percent of the vote.

"Dr. Carson is going to get his campaign lean — really lean," Williams said in an interview. "One issue for a while has been too much infrastructure, and he has decided to fully address it so that he can sustain his campaign until the convention."
This isn't the first staff shakeup for Carson. At the end of 2015, he lost several top aides in what clearly seemed to be a dispute between those aides and Carson's personal advisers over the future direction of the campaign after an extended period of decline in fortunes. For a time, things were actually looking pretty good for Carson and his campaign. His debate performances were getting fair good reviews, and he was rising in the polls both nationally and in states like Iowa to the point where he was the primary challenger to Donald Trump in national polling and in Iowa. Then, the bottom started to fall out as Carson was subjected to actual scrutiny. In both debates and television appearances, Carson bean to demonstrate ignorance about the operating of government as well as the details of important domestic public policy issues. Additionally, Carson displayed what can only be called an odd relationship with the truth, including many of the details of his personal biography.  Under pressure, Carson resorted to attacking the media even though it was obvious that he was being treated just like any other candidate in his position would be treated. In the wake of the attacks in San Bernardino and Paris, though, what proved fatal to Carson was his demonstrated ineptness when it comes to foreign policy Starting in the November debate on Fox News Channel, Carson displayed what can only be called utter incoherence on basic foreign policy matters, something that has even been confirmed by those brought in to advise him on the issue. Inevitably, Carson's poll numbers began to decline to the point where he is now basically irrelevant to the race itself except, perhaps, to the extent that he continues to garner enough support in the polls that his endorsement of another candidate could make a difference.
The fact that this announcement is coming at the virtually the same time that we learned that Carson's campaign raised more than $22.6 million in the fourth quarter of 2015 is quite interesting though. There have already been plenty of reports that Carson's report has one of the highest burn rates of any campaign on either side of the aisle, and the fact that the campaign's financial situation is so bad after such a successful fundraising quarter makes one wonder exactly where all that money has gone in such a short period of time. This isn't proof of anything nefarious, of course, but it does at least suggest financial mismangment on an epic scale. Additionally, the fact that this is happening right before the New Hampshire Primary would seem to belie any claims on Carson's part that he is going to continue campaigning aggressively. As it is, he has not been on the campaign trail since the Iowa Caucuses and spent this morning in Washington, D.C. for the National Prayer Breakfast. After that, he reportedly plans to head to North and South Carolina. Whether he'll even show up in New Hampshire before Saturday's debate is an open question. In any case, it's been apparent for weeks now that Carson's campaign is basically over. The official declaration of death is only a matter of time. >