Early Polling Finds Public Lukewarm On Kavanaugh Nomination
Initial polling on Brett Kavanaugh's nomination to the Supreme Court find the public more divided than they have been for other recent SCOTUS picks, but that's unlikely to impact the fate of his nomination.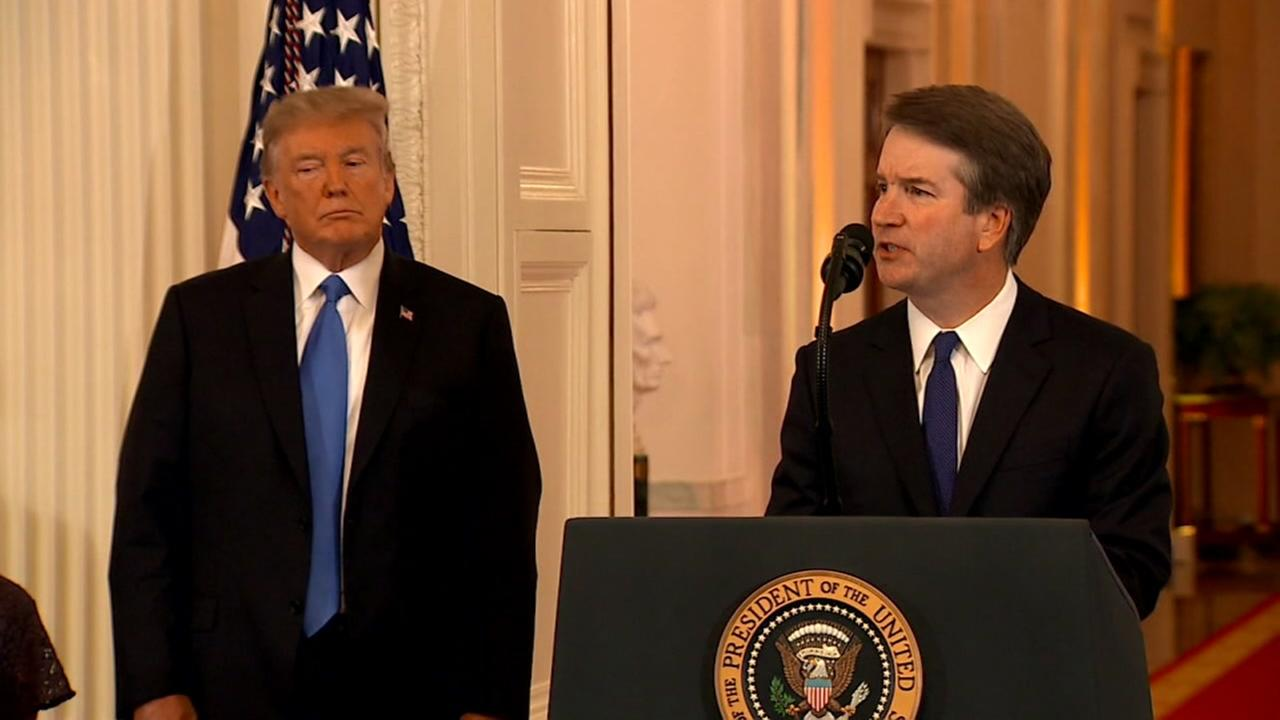 Given all of the developments out of the NATO Summit, President Trump's visit to the United Kingdom, and, of course, the summit with Vladimir Putin and Trump's subsequent attempt to walk back post-summit comments where he threw his own intelligence agencies under the bus and sided with the Russian leader, it may be easy to forget that it's been just over a week since President Trump named Judge Brett Kavanaugh as his nominee to the Supreme Court. That nomination continues to move forward, of course, and it appears that confirmation hearings are likely to begin at some point after the Senate returns from its abbreviated summer recess in mid-August. In the meantime, both sides are gearing up for what is shaping up to be a big political battle that has as much to do with the midterm elections as it does with the actual fate of Kavanaugh's confirmation.
The pollsters haven't forgotten about Kavanaugh though, and we're starting to get the first round of polling regarding the President's selection, but it's hard to get too excited about the results one way or the other:
Voters are sharply divided along party lines when it comes to President Donald Trump's Supreme Court pick Brett Kavanaugh, according to a new POLITICO/Morning Consult poll.

Nearly three-quarters of Republicans — 71 percent — say the Senate should confirm Kavanaugh. On the other side of the aisle, only 17 percent of Democrats think lawmakers should give him the nod. The poll, conducted July 13-14, surveyed 1,991 registered voters.

Americans are more divided over Kavanaugh than any other Supreme Court pick in recent history, which comes on the heels of last year's battle to appoint Justice Neil Gorsuch. Fifty percent of Democrats surveyed said the Senate should not confirm the federal appeals court judge, while just 7 percent of Republicans said the same.

(…)

In terms of what should inform lawmakers' decision-making on the Kavanaugh nomination, almost half of Americans said they want their senators to vote based on his qualifications for the job. Thirty-two percent of voters say lawmakers should instead vote on "their own political and social stances."

But the fight over Kavanaugh's nomination is just heating up. GOP lawmakers say they aim to hold a confirmation hearing by early fall, before the midterm elections. Senators who oppose Kavanaugh's appointment are digging in their heels and drawing parallels to when Majority Leader Sen. Mitch McConnell blocked former President Barack Obama's Supreme Court pick Merrick Garland from a hearing because it was a presidential election year.

Only 18 percent of Democrats think the Senate should hold a confirmation hearing before the midterm election in November, while 69 percent of Republicans say the Senate should vote before November.
A new Pew Research poll finds similar numbers:
More Americans oppose the confirmation of Judge Brett Kavanaugh to the Supreme Court than that of any other nominee in recent history, according to a poll from the nonpartisan Pew Research Center.

Thesurvey, taken a week after President Donald Trump nominated Kavanaugh, found Americans deeply divided along partisan lines. While 41 percent of adults surveyed supported Kavanaugh's confirmation, 36 percent opposed it, the highest unfavorability ranking in data going back to 2005, when President George W. Bush picked John Roberts for chief justice.

Democrats' worry about the court's direction is higher today than it was in November 2005, when Bush nominated Samuel Alito to replace Sandra Day O'Connor. At the time, 38 percent of Democrats worried that Alito would shift the court too far right, compared with 53 percent of Democrats reacting to Kavanaugh today. The poll, conducted July 11-15 by telephone with 1,007 people nationwide, has a margin of sampling error of plus or minus 3.7 percentage points.

The data underscore the tough fight that Kavanaugh, who has served on the U.S. Circuit Court of Appeals for the District of Columbia since 2006, faces in the Senate, where Majority Leader Mitch McConnell (R-Ky.) has said he wants the nominee confirmed by the beginning of the court's next term, Oct. 1. Kavanaugh's fate could hinge on the votes of four Democrats in conservative states, three of whom are up for reelection this year.
Finally, a new Gallup poll finds support for Kavanaugh below that of other recent Supreme Court nominees:
By 41% to 37%, Americans want the Senate to vote for, rather than against, the confirmation of federal judge Brett Kavanaugh to the Supreme Court. This four-percentage-point margin is slimmer than any Gallup has measured in its initial read on 10 prior nominees since 1987. On average, the margin in favor of confirming the nominee in these polls has been 23 points, 49% to 26%.\

The results are based on a July 10-15 Gallup poll, conducted in the days immediately after President Donald Trump's announcement that Kavanaugh was his choice to replace retiring justice Anthony Kennedy.

Gallup has measured initial support for all recent nominees dating back to 1991, with the exception of Stephen Breyer. Gallup also measured support for Robert Bork in 1987. Most of these measures came in the first few days after the nomination announcement was made, though the first reading on Bork came nearly two months after President Ronald Reagan nominated him.

Before Kavanaugh, the closest divisions of public opinion were six points (31% in favor, 25% opposed) for Bork in 1987 and eight points (44% to 36%) for Harriet Miers in 2005.

Gallup's initial measures of public support for Clarence Thomas, Ruth Bader Ginsburg and John Roberts showed each of these favored by more than 30-point margins, well above the historical average of 23 points.
This chart shows the history of Gallup's initial polling on previous Supreme Court nominees dating back to the Bork nomination in 1986: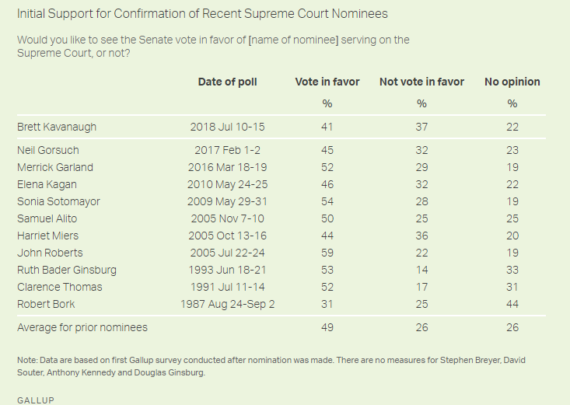 As the chart shows, the "vote in favor" number for Kavanaugh are lower than they have been for any nominee since Robert Bork's nomination, and that appears to be largely due to the strong partisan divisions that have developed regarding Kavanaugh even at this early stage. Among Democrats, 67% of respondents say that they are opposed to Kavanaugh's nomination while 14% are in favor and 19% have no opinion. Among Republicans, the numbers are not surprisingly reversed, with 76% favoring the nomination, 9% opposed, and 15% having no opinion. Finally, among Independents the numbers are equally divided with 38% supporting the nomination, 35% opposing it, and 25% having no opinion. These numbers are about the same as those among Independents in the wake of the ill-fated nomination of Harriet Miers and just a bit higher than what the poll found in the immediate wake of the nomination of Robert Bork in 1986.
These three polls follow on the heels of two polls that were conducted in the immediate aftermath of Kavanaugh's selection.
The first, conducted by YouGov for The Huffington Post, finds that Americans are essentially evenly split among three separate choices regarding the nomination, with about one-third approving of the selection, one-third saying that they are opposed to it, and the final third saying they aren't sure or don't have sufficient information to have an opinion. The poll also finds Americans similarly divided on what they'd like Senators to do regarding the nomination. According to the poll, 33% of respondents say they want their Senators to vote in favor of the nomination, 31% want them to vote against him, and 36% saying that they are unsure or don't have sufficient information. With regard to the timing of the nomination process, a majority of respondents favor acting on the nomination before the midterms, however after being reminded of the Merrick Garland controversy respondents said by an eight-point margin that Democrats would be justified in treating Kavanaugh in a similar manner, although there is very little that Democrats can actually do to stop the nomination from going forward.
The second poll last week came from Fox News Channel and found that respondents favored Kavanaugh's nomination by a six-point margin, which is larger than the other polls that have been conducted so far. Perhaps significantly, this is significantly below the twelve-point margin that a similar early poll conducted by Fox in the wake of the President's selection of Justice Neil Gorsuch last year. The Fox poll also found that, by an eight point margin, respondents believed that the Senate should consider the nomination before the November midterms and before the start of the Supreme Court's term on October 1st. Not surprisingly, the Fox poll finds 57% of those who approve of Kavanaugh's nomination say it's due to the fact that they believe he would made a good Justice, while 38% say that it is due to the fact that the trust President Trump to make a good decision. Among those who disapprove, the disapproval seems to be rooted mostly in distrust of the President, with 56% saying that they oppose the nomination because they don't trust the President and 34% saying that they oppose Kavanaugh because of issues with him in particular, a response that doesn't really make much sense given that it's unlikely that these respondents actually know much about Kavanaugh personally or about the substance of the decisions he has handed down in his ten years on the U.S. Court of Appeals for the District of Columbia. Indeed, as Allahpundit put it last week, it's unlikely that most Americans could pick Kavanaugh out of a police lineup must less give us even a bare bones summary of his record as a Judge.
To a large degree, one suspects that all five of these polls are reflecting either partisanship or what the respondents saw in the immediate aftermath of the nomination, much of which constituted mere bare bones summaries of Kavanaugh's judicial history that was quickly drowned out by news from overseas and by coverage of the rescue of the Thai soccer team from an underwater cave that received much coverage from all three cable news outlets. Given that, the main reason that Kavanaugh is polling worse than Gorsuch at the moment has little to do with him and everything to do with both who he is replacing and who nominated him, In the first case, Gorsuch was a conservative Judge replacing a conservative Justice and it was clear that his nomination and confirmation would have little direct impact on the direction of the Court. Kavanaugh, on the other hand, is being selected to replace Justice Anthony Kennedy, who has been at the center of some of the most high-profile cases the Supreme Court has heard in the past decade. Inevitably, his confirmation will mean that the Court will move at least somewhat to the right from where it is now.  This could have a huge impact on the future of cases such as Roe v. Wade, which polling has shown to continue to have widespread public support, as well as other high-profile issues. Additionally, the fact that the President's job approval number remains at or near historic lows is likely having an impact on public perception of the person he has selected for the Supreme Court.
Notwithstanding these lukewarm numbers, the Kavanaugh nomination still appears to be on a course toward confirmation. As I noted last week, Democrats in the Senate lack both a coherent message against Kavanaugh and a coherent strategy for stopping or even significantly delaying his confirmation before the end of September. The elimination of the filibuster for Supreme Court nominees, which of course merely followed in the footsteps of Harry Reid's decision to end the filibuster for Judges below the Supreme Court and Executive Branch employees, means that Republicans will be able to sail the nomination through and get Kavanaugh confirmed even without any Democratic support as long as they stay united. Additionally,we've already seen signs that red-state Democrats such as Joe Manchin, Heidi Heitkamp, and Joe Donnelly, who all voted in favor of the Gorsuch nomination last year, may end up being inclined to support Kavanaugh in the end. Given that, these poll numbers are unlikely to have much impact on the outcome of the vote in the Senate absent some revelation about Kavanaugh that derails his nomination completely, which seems unlikely at this point.