George Will Leaving GOP Over Donald Trump
George Will isn't just refusing to vote for Donald Trump, he's leaving the GOP entirely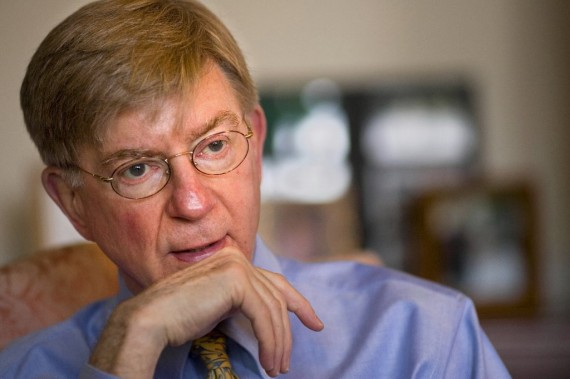 The triumph of Donald Trump in the Presidential race has led a whole host of Republicans lining up to oppose him over the past several weeks, with the list growing to include sitting Governors such as John Kasich and Larry Hogan and long-standing Republican advisers and insiders from the past such as Richard Armitage, Hank Paulson, and Brent Scowcroft. As I noted earlier this month, the exodus was growing so rapidly that it seemed to be becoming something of a stampede. Now, that exodus is being joined by one of the most prominent conservative pundits and analysts of the past thirty years, who says he's not only announcing his opposition to Donald Trump, he's leaving the Republican Party:
George F. Will, a conservative columnist and prominent Republican pundit for the past 40 years, said he has left the Republican Party because Donald J. Trump is the party's presumptive presidential nominee.

Mr. Will revealed his decision on Friday in an interview with PJ Media. He said he had switched his party registration to unaffiliated this month, adding that Republicans should "grit their teeth" during a Hillary Clinton presidency and then hope to beat her in 2020.

"This is not my party," Mr. Will said in a speech on Friday at the Federalist Society before the PJ Media interview.

Mr. Will has criticized Mr. Trump throughout his presidential run.

"Only he knows what he is hiding by being the first presidential nominee in two generations not to release his tax returns," Mr. Will wrote in his Washington Post column on Wednesday. "It is reasonable to assume that the returns would refute many of his assertions about his net worth, his charitableness and his supposed business wizardry. They might also reveal some awkwardly small tax payments."
Will doesn't say who he might vote for in the fall, although he did give passing mention in his talk to the Libertarian Party ticket consisting of former Republican Governors Gary Johnson and William Weld, which has gained much attention in recent weeks from many on the right given the angst over Trump and the fact that many of the Republicans who have broken with Trump do not fit the bill as people who would be inclined to vote for Clinton. Based on his previous writings, though, it seems as though he'd probably be more comfortable with Johnson than Clinton given that his conservatism has seemed to move in a more libertarian direction in recent years. Leaving that decision aside, though, the fact that Will is not only joining the "Never Trump" crowd but taking the extra step of leaving the GOP itself by changing his party registration, which means among other things that he would now be unable to vote in party primaries in his home state of Maryland, is what's truly surprising. Will is a life long Republican who has publicly supported even some of the more controversial nominees the GOP has selected, although he has become more critical in recent years in the wake of the triumph of the Tea Party and the rise of candidates Sarah Palin, Christine O'Donnell, and Ted Cruz. Will has also been highly critical of Trump throughout the course of this campaign as well as long before, so it's not surprising that he says he cannot support him. Leaving the GOP altogether is a different story, though, and it comes as enough of a surprise that it seems likely that Will intended it to stand as something of an emphasis on how serious he is about his argument against Trump.
Will's reaction to Trump is, of course, entirely understandable. This is a candidate who has made outrageous comments about a Federal Judge, attacks on Hillary Clinton that accomplish nothing except regurgitating the arguments of the 90s, or who continues to stand behind his Muslim immigration ban, and who has insinuated that President Obama secretly sympathizes with ISIS and Islamic terrorists, Donald Trump is proving himself to be as controversial as ever. Before that, he was making disparaging comments about Mexicans and Muslims, mocking disabled people, attacking women like Megyn Kelly andCarly Fiorina in the most crass and demeaning manner, encouraging his supporters to engage in violence against supporters, and demonstrating utter disdain for the Rule of Law and Freedom of the Press. Say what you might about George Will, but it's fairly clear that this is not the Republican Party that he represented, so declining to support Trump and leave the GOP is a perfectly reasonable course of action.
In the end, it seems unlikely that Will's decision will have a significant impact on Republican support for Trump going forward, though. For one thing, the subset of people who might be inclined to take Will's opinion into account in their own evaluation of Trump are likely already leaning toward a similar position on their own if they haven't done so already. People in other segments of the Republican Party are less likely to be influenced by Will's words, though, because to many in that group, people like George Will are members of the so-called 'establishment' who are to be defeated rather than listened to. Those people have long been unreachable by reason and logic, though, so it's unlikely they're going to even listen to people like Will. They ought to, though, because Will is correct in diagnosing a serious problem with the Republican Party. Trumpism isn't just a matter of one man who has managed gain control of the Republican Party, it's about an effort to turn the GOP into the kind of populist, nativist party that seldom does well on a national scale in the United States. If that's what Republicans want, then I suppose they're getting what they deserve in that regard. As Will puts it, it's up to others who care about the GOP to hope the damage of 2016 is as minimal as possible and that they're able to help rebuild a damaged party when it's all over.