Is Donald Trump Thinking Of Dumping Mike Pence?
Is Donald Trump thinking about dumping Mike Pence in 2020? Probably not, but that's not going to stop the speculation.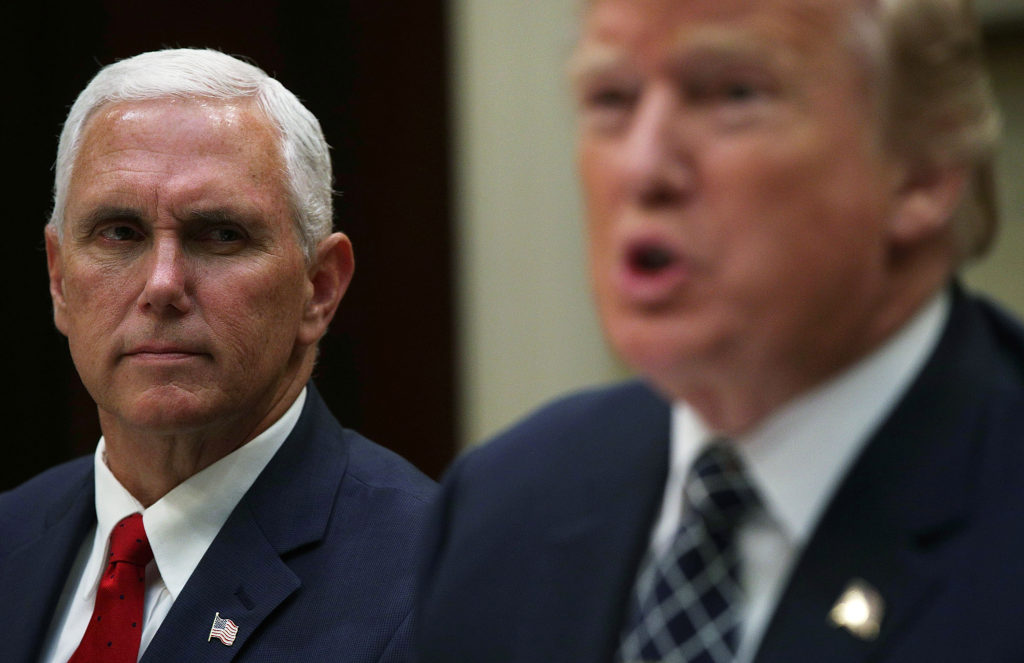 The New York Times is reporting that President Trump is apparently questioning the loyalty of the most obsequious member of his Administration:
President Trump's post-midterm election news conference at the White House last week took a surprising turn when a reporter asked about locking down his 2020 ticket.

"Mike, will you be my running mate?" Mr. Trump asked Vice President Pence, who stood up, raised his hand, and nodded.

"Will you? Thank you. O.K., good," the president said. "That was unexpected, but I feel very fine."

But in private Mr. Trump is apparently not feeling so fine. In recent weeks, with his electoral prospects two years from now much on his mind, Mr. Trump has focused on the person who has most publicly tethered his fortunes to him. In one conversation after another he has asked aides and advisers a pointed question: Is Mike Pence loyal?

Mr. Trump has repeated the question so many times that he has alarmed some of his advisers. The president has not openly suggested dropping Mr. Pence from the ticket and picking another running mate, but the advisers say those kinds of questions usually indicate that he has grown irritated with someone.

The answers Mr. Trump gets to his question have varied, depending on whom he asks.

Within the White House, most people he has talked to have assured the president that Mr. Pence has been a committed soldier, engaging in activities that Mr. Trump has eschewed, such as traveling to Hawaii to receive the remains of veterans of the Korean War, or visiting parts of the globe that Mr. Trump has avoided.

But some Trump advisers, primarily outside the White House, have suggested to him that while Mr. Pence remains loyal, he may have used up his utility. These advisers argue that Mr. Trump has forged his own relationship with evangelical voters, and that what he might benefit from more is a running mate who could help him with female voters, who disapprove of him in large numbers.

Others close to the president believe that asking about Mr. Pence's loyalty is a proxy for asking about whether the vice president's chief of staff, Nick Ayers, is trustworthy. Mr. Trump has been considering making Mr. Ayers the White House chief of staff to replace John F. Kelly, the retired Marine general — a decision several White House officials say has been with the encouragement of his adult children. But the president has put off making a decision for now.

The conversations were described in interviews with nearly a dozen White House aides and others close to Mr. Trump. But Hogan Gidley, the deputy press secretary, disputed that Mr. Trump had any misgivings, saying, "The president absolutely supports the vice president and thinks he's doing an incredible job helping to carry out the mission and policies of this administration."

Mr. Trump has never completely forgotten that during the 2016 campaign Mr. Pence issued a disapproving statement the day after the infamous "Access Hollywood" tape was made public, on which the president was heard making comments boasting about grabbing women's genitals.

But Mr. Trump has kept close counsel about whether he is seriously considering making a change to the ticket, or simply poll-testing advisers as the campaign begins. And few advisers believe he would really go through with it.
Trump responded to all of this on Twitter:
….I can't imagine any President having a better or closer relationship with their Vice President then the two of us. Just more FAKE NEWS, the Enemy of the People!

— Donald J. Trump (@realDonaldTrump) November 17, 2018
Admittedly, it's not unusual for there to be at least some discussion inside a White House about replacing a Vice-President in advance of a re-election bid. Prior to the 2012 election, there was at least some discussion among pundits that advisers to President Obama had at least talked about the idea of replacing Vice-President Biden for the 2012 election. Inevitably, the name that most commonly came up as a potential replacement for Biden was Hillary Clinton, something I wrote about here, here, here, here, here, and here. However, it was also reported that President Obama himself quickly shut that speculation down and made clear that Biden would remain on the ticket, and as his Vice-President, as long as Biden still wanted the job. There were also some reports about similar speculation regarding Vice-President Cheney prior to the 2004 election, but again nothing came of what may have been nothing more than idle Washington gossip based on little more than the fact that Cheney and Biden were older than their respective Presidents who were brought on to the ticket to provide a gravitas that, arguably, was no longer necessary. In addition to the possibility that the questions about Pence could, in reality, be a proxy for questions about whether or not Nick Ayers would make a good replacement for John Kelly, that is likely all this is about.
What's notable about this report, which appeared yesterday in The New York Times, is that it comes just a few days after conservative writer Matt K. Lewis wrote in The Daily Beast replace Pence with soon-to-be-former Ambassador to the United Nations Nikki Haley that Trump should ahead of the 2020 election:
I am not saying this move would be prudent. What I am saying is that there's a non-zero chance Trump will replace Mike Pence on the ticket in 2020. Aside from ostensibly giving a new demographic bloc a reason to turn out and vote, the move would generate much-needed excitement. Just think of how much Trump would enjoy "interviewing" potential replacements—and then rolling out his idea at the 2020 Republican National Convention (the equivalent of The Show in baseball).

Of course, just like most of Trump's strategies, deception is vital. For this plan to work, Mike Pence would have to go along with it. (There is no reason he should want to go along with this plan, but when has he ever stood up to Trump?) Pence would need a reason to bow out, so that Trump (ever conscious of his image) doesn't look weak or desperate. Trump wouldn't want to imply that he needs a McCain-Palin-esque game changer to win reelection.

(…)

ho should be Trump's new apprentice?

Assuming Democrats nominate Brown, how about Ohio's Governor-elect Mike DeWine? Brown positions Democrats to win Ohio. DeWine neuters that. Since LBJ delivered Texas to Jack Kennedy in 1960, the notion that a running mate can guarantee a state has been dubious. However, if it can be done, DeWine (a former U.S. House member, U.S. senator, lieutenant governor, and state attorney general) might be up for the job.

A better move, in my opinion, would be Nikki Haley.

A former governor of South Carolina and ambassador to the United Nations, Haley is certainly qualified. What is more, she would reassure Reagan conservatives (who would be excited to see her as the 2024 heir apparent) and could simultaneously appeal to suburban soccer moms. In this era of identity politics, Trump might relish the idea that he ultimately elevated the first woman (an Indian-American, to boot) to the vice presidency.

In light of the midterm election results, Trump should want to make some sort of strategic change.
As I said, speculation about a President changing Vice-Presidents midstream is not unusual, and we'll probably see more pieces like the Times article and the column that Lewis wrote as we get closer and closer to the 2020 election. At the same time, though, it's worth noting that, while such speculation is not rare, actually acting on it is quite historically rare. The last time as sitting Vice-President was changed prior to an election was before the 1976 election when President Ford announced that his running mate would be Kansas Senator Bob Dole rather than Vice-President Nelson Rockefeller. In that case, though, the change was due as much to the fact that Rockefeller was the one who offered to withdraw when it became apparent that Ford was facing a significant intra-party challenger from the right in the form of Ronald Reagan.
Prior to that, the last change to a running mate had occurred in 1944 when Vice-President Henry Wallace was replaced as Franklin Roosevelt's running mate in 1944, although in that case, we have learned that the change was made largely at the request of Democratic Party insiders concerned by the fact that FDR's failing health could mean Wallace becoming President. Previously, of course, Wallace had replaced John Nance Garner, who had served as Roosevelt's Vice-President for his first two terms in office. Prior to FDR, the only previous examples of a change in running mate occurred under Presidents Grant (when Vice-President Schuyler Colfax was replaced by Vice-President Henry Wilson), President Lincoln (when Hannibal Hamlin was replaced by Andrew Johnson in 1864), and Thomas Jefferson (when Aaron Burr was replaced by George Clinton). This list, of course, does not include the handful of occasions prior to the ratification of the 25th Amendment when a Vice-President died in office or resigned as John C. Calhoun had under President Jackson. In other words, while not unprecedented, the replacement of a Vice-President is exceedingly rare in the modern era. If Trump took this step, regardless of who he selected to replace Pence, it would likely be seen as a sign of weakness and desperation.
Rather then speculate about why Trump would replace Pence and who that replacement might be, it occurs to me that the better way of looking at this is to ask what, exactly, the benefit would be of replacing the Vice-President halfway through an Administration, Unlike the Biden and Cheney situations, there's no question about age here given the fact that Pence is younger than Trump and would still be fairly young in 2024 to serve as an heir apparent if he chose to run for President. Additionally, unlike someone like Dan Quayle, there's no real question that Pence has been any kind of an albatross for the Administration such that replacing him would be considered politically necessary. Finally, notwithstanding the fact that Trump does have his own relationship with the evangelical voters that Pence arguably attracts to the ticket, it's still arguably the case that dumping him midstream would be seen by many as a sign of weakness on the part of a President who is already in a weak position and who is likely to remain there the closer we get to the 2020 election.