Two Parties, Not Two Countries
We've just had an election, not psychoanalysis.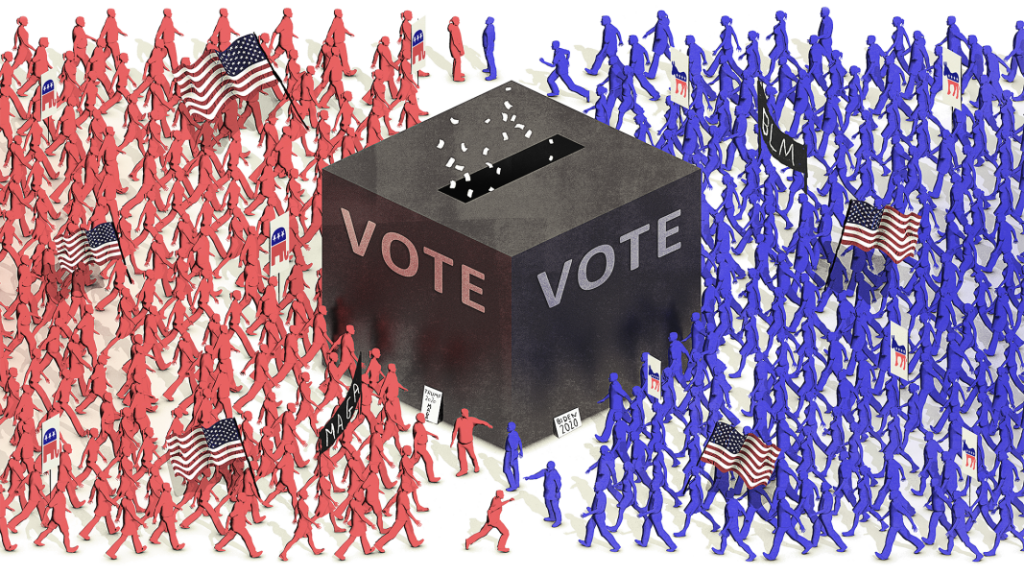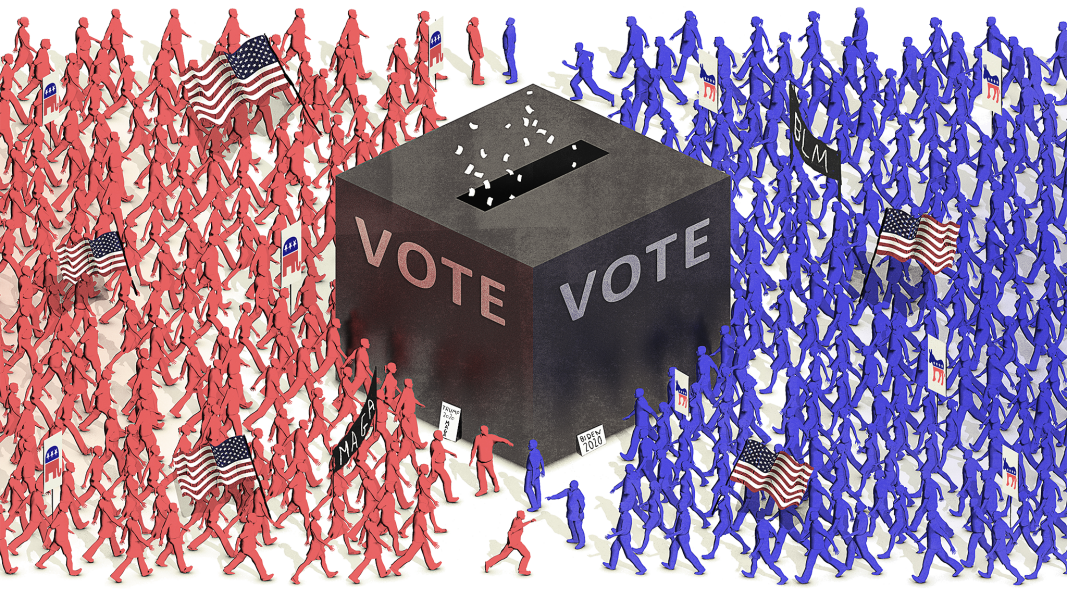 America's pundits are failing to heed their own pre-election warnings and are blaming the American people for our not being a hundred percent sure Donald Trump was defeated. Despite knowing for weeks that a massive number of mail-in votes combined with efforts from Republican-controlled state legislatures to make them hard to count would slow the result—and skew the early count toward the Republicans—they're writing columns based on the early results.
POLITICO's Michael Kruse weighs in with "Trump's losing. He also won again."
The much-anticipated, practically existential 2020 election, after all, did not produce the repudiation of Trump and his coarse personal style and politics of division that (slightly more than) half the country craved. The rips in the national fabric he's spent the last five years showing and sowing are only more stark.
I, too, was hoping for a more obvious repudiation. While I think we're going to see a rather massive Biden popular vote margin, we didn't get the Electoral College landslide I was predicting. But it's absurd to argue that most Trump voters were enthusiastic about his coarse style. They had two and only two options. There wasn't a Decent Conservative option; it was Trump or the most liberal Democratic platform in generations.
The Atlantic's George Packer ("Face the Bitter Truth: We are two countries, and neither of them is going to be conquered or disappear anytime soon.")
We don't yet know the outcome of the election, but its meaning is already clear. We are two countries, and neither of them is going to be conquered or disappear anytime soon. The outcome of the 2016 election was not a historical fluke or result of foreign subversion, but a pretty accurate reflection of the American electorate. The much-discussed Democratic majority that's been emerging since the turn of the millennium is still in a state of emergence and probably will keep on emerging for years to come. The will of the majority is indeed blocked by undemocratic rules and unscrupulous politicians, but it's a bare majority without enough numbers to govern. When America finally becomes the promised land dominated by tech-savvy Millennials, its political values will be far from certain.
It's certainly true that there's not a national consensus backing the Democratic Party's agenda. Hell, there's not a consensus among Democrats as to what their agenda should be. There are 330 million of us and we're diverse.
But Packer ought know better than to treat a series of winner-take-all elections with diffuse but binary choices as a test of the national mood. Even the bluest states, Massachusetts and California, are only two-thirds Democratic. Even our reddest states, Wyoming and West Virginia, are a quarter Democratic. Indeed, even at the county level, we're shades of purple, not deep blue and dark red.
Tens of millions of Americans love MAGA more than they love democracy. After four years of lawbreaking and norm-busting, there can be no illusions about President Donald Trump. His first term culminated in an open effort to sabotage the legitimacy of the election and prevent Americans from voting. His rallies in the final week of the campaign were red-drenched festivals of mass hate, autocratic self-absorption, and boredom, without a glimmer of a better future on offer—and they might have put Trump over the top in Florida and elsewhere. Even as "freedom-loving people" came out in unprecedented millions to vote, their readiness to throw away their republican institutions along with their dignity and grasp of facts suggests that many Americans have lost the basic qualities that the Founders believed essential to self-government. There is no obvious way to reverse this decline, which shows signs of infecting elements of the other side as well.
The percentage of the Republican electorate that attends rallies is infinitesimal. And it's just bizarre to argue that people turning out by the tens of millions to vote in elections that are very much real are doing so out of some love of autocracy or desire to subvert democracy.
But the composition of Trump's followers, with a large minority of Latino voters and a nontrivial number of Black voters, makes their motivations more various and complicated than the single, somehow reassuring cause that progressives settled on after 2016: racism. There turn out to be many different reasons different kinds of people want to fling themselves at the feet of a con man. The votes show that progressives' habit of seeing Americans as molecules dissolved in vast and undifferentiated ethnic and racial solutions without individual agency is both analytically misleading and politically self-defeating, doing actual harm to the cause of equality.
The voters are given two, decidedly imperfect, choices. Despite all of the justified talk about a Cult of Personality surrounding Trump, the overwhelming number of Trump voters aren't cultists. They just see Trump as better than Biden on the issues they care about most. Or they're just voting the way they've always voted.
There's a lot more but you get the drift.
Also at the Atlantic, Naval War College professor, NeverTrumper, and Lincoln Project contributor Tom Nichols argues "A Large Portion of the Electorate Chose the Sociopath: America will have to contend with that fact."
. . . America is now a different country. Nearly half of the voters have seen Trump in all of his splendor—his infantile tirades, his disastrous and lethal policies, his contempt for democracy in all its forms—and they decided that they wanted more of it. His voters can no longer hide behind excuses about the corruption of Hillary Clinton or their willingness to take a chance on an unproven political novice. They cannot feign ignorance about how Trump would rule. They know, and they have embraced him.
Again, most didn't "embrace" him; they voted for him. For political junkies, that may seem a distinction without difference. But the vast majority of normal people don't obsess over the daily actions of their political leaders. Most vote the way they always have, which is just like Daddy did.
Sadly, the voters who said in 2016 that they chose Trump because they thought he was "just like them" turned out to be right. Now, by picking him again, those voters are showing that they are just like him: angry, spoiled, racially resentful, aggrieved, and willing to die rather than ever admit that they were wrong.
Oh, c'mon. Sure, there's a lot of anger, grievance, and resentment in the electorate. Unlike many of the current fights, that's genuinely true for both sides. And, rather clearly, Atlantic columnists.
Still, Biden is likely to win half a dozen states Trump won in 2016. Trump's holding on to most of those states; there was no real prospect of him picking up a seat Clinton won. Given how massive turnout was for both sides, somebody rather clearly changed their minds. Millions of people, probably.
To be clear, I never expected a Biden landslide in a country as polarized as the United States. I was a wet blanket even among my Never Trump comrades, holding out only the modest hope that Biden would recapture the states Clinton lost in 2016, and possibly flip Arizona. But I expected the margins in all of those states—and especially in Biden's birth state of Pennsylvania—to be higher. I suspected that Biden had no real chance in places such as Texas or Georgia or even North Carolina, all states in the Trumpist grip.
So, it's looking like Biden indeed flipped Arizona and recaptured the BLue Wall states Clinton lost. And may pick up a place so much like Georgia as to be, well, Georgia. And even Trumpist North Carolina is still too close to call, although likely to stay in the Trump column.
Nor was I among the progressives who believed America would repudiate Trump's policies. For one thing, I am a conservative—and I know my former tribe. Trump voters don't care about policy. They didn't care about it in 2016, and they don't care about it now. The party of national security, fiscal austerity, and personal responsibility supports a president who is in the pocket of the Russians, has exploded the national deficit, and refuses to take responsibility for anything. I had hoped, at the least, that people who once insisted on the importance of presidential character would vote for basic decency after living under the most indecent president in American history.
There's too much to unpack in that paragraph. But, gee whiz. Partisans stay with their guy, excusing their flaws. Republicans supported Richard Nixon until the bitter end. Ditto Democrats and Bill Clinton. And, look, the deficit exploded under Ronald Reagan and George W. Bush; Tom and I cared but we didn't vote for Walter Mondale and John Kerry. That's not how it works.
It's clear now that far too many of Trump's voters don't care about policy, decency, or saving our democracy. They care about power. Although Trump appears to have received a small uptick in votes from Black men and Latinos, the overwhelming share of his supporters are white. The politics of cultural resentment, the obsessions of white anxiety, are so intense that his voters are determined not only to preserve minority rule but to leave a dangerous sociopath in the Oval Office. Even the candidacy of a man who was both a political centrist and a decent human being could not overcome this sullen commitment to authoritarianism.
This reads like the ex-smoker who becomes an anti-smoking zealot. Yes, there's a lot of "white anxiety" and "cultural resentment." But most Trump supporters have no idea that our democracy needs saving; why we just had the biggest electoral turnout in a century and voted out tons of incumbents, including quite likely the sitting President. All his wailing and tweeting aside, he'll leave office on schedule at noon on January 20, assuming he doesn't take his ball and go home before then.
And, look, it would have been easier for me to vote for Joe Biden in 2016 than it was for Hillary Clinton. He is indeed a decent human being—an extraordinarily good one in a lot of ways—and a centrist. But his party is much more polarized than it was four years earlier. Black Lives Matter and Defund the Police and Green New Deal are important parts of that coalition and there's legitimate fear than a way-past-his-prime Biden won't be able to contain it. And, remember, it looked ahead of time that those people would control the Senate, too.
Tom and I are Never Trumpers for the reasons he points to but, in many ways, we're both better cultural fits for the Democratic Party than the populist party the GOP has become. We're not just college-educated, we're college professors. We're still relatively conservative politically but we're not climate change denialists or railing against the wearing of masks. But, again, we'd likely still be aboard the train if we didn't find Trump himself so personally abhorrent. In a world of binary choices, few are likely to be happy—let alone intellectuals and policy wonks who obsess over this stuff in a way normal people don't.
My greatest fear, aside from an eventual Trump victory over the coming days, is that no matter the outcome, both parties will rush to draw the wrong lesson from this close election. The Republicans will conclude that just a bit more overt racism (but less tweeting about it) will carry the day the next time. They will see the exit polls that called for a "strong national leader," and they will replace the childish and whiny Trump with someone who projects even more authoritarian determination. They will latch on to the charge that democracy is a rigged game, and they will openly despise its rules even more than Trump has.
So, here's the thing: there is no "they." Or at least, no "they" who reads exit polls and controls the process like a puppet show. Hell, I wish there were. We wouldn't have Trump.
Instead, we have a bizarre primary system in which self-selected candidates present themselves to the most rabid parts of the party electorate in a byzantine series of contests where the least-representative Americans winnow the field.
Historically, the process has worked out, such that the most rabid ideologues canceled each other out and relative moderates rose to the top. A lot of the candidates—Bob Dole, John McCain, Mitt Romney—were rather bland and uninspiring but they were decent, competent men. In 2016, it gave us a reality show talk host.
While the party elites may or may not draw any lessons from the mixed signals of 2020—I suspect, for example, that they'll continue to do their best to recruit women candidates—it's really not up to them who wins the 2024 nomination.
The Democrats, for their part, might look at this near-death experience, and, as they sometimes have in the past, conclude that moving left, including more talk of socialism and more social-justice activism is just the tonic they'll need to shore up their coalition. Some Democrats tend to believe that almost every election confirms the need to lurch to the left, when in fact the 2020 election should be a reminder that Trump would have beaten anyone left of Biden.
So, first, Biden is likely to win a rather large popular vote majority and Democrats are likely to pick up a couple of Senate seats. (We'll see what happens with the likely double runoff in Georgia.) I don't see how that's a "near-death experience" in what we knew was a polarized electorate.
But, yes, I expect the Democrats to move left in 2024. Biden is going to be in his 80s. He's the party's past as well as its immediate future.
If the vote plays out as it seems it will at this point, Biden will become our 46th president. But Americans can take very little pride in the overall vote and what it reveals about nearly half of our electorate.

American voters, including those who didn't show up or who voted third-party in 2016, are now like drunks who have been bailed out of jail in the morning, full of relief as their lawyers explain that the police aren't pressing charges. If Biden wins, we will have a second chance to keep our democracy intact. Some of us will have a moment of clarity. Most of us will just want to go home, throw up, change our clothes, and hope for the best.

But many millions, eyes dimming and livers failing, are still reaching for the bottle.
Honestly, I think most of them are just going to get dressed on go to work, living their lives, as they do every day. The notion that we're defined as a people by who makes it to the top of our bizarre political process is silly. We're the same people we were Tuesday morning.
UPDATE: I originally misinterpreted Kruse's lament for what didn't happen as a direct, rather than indirect, indictment of Trump voters and have re-written the sentence.