White House Aide Jokes About McCain Dying
When it comes to the Trump White House, the fish rots from the head down.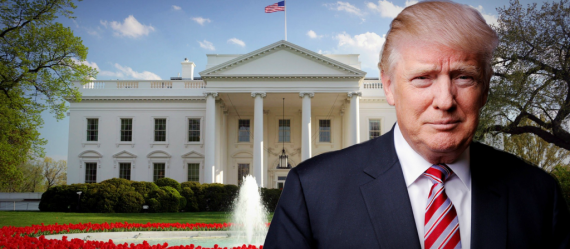 As if to double down on the repulsive comments made on Fox Business Network by retired Air Force Lt. Gen. Thomas McInerney that James Joyner wrote about earlier today, a White House aide reportedly dismissed Senator John McCain's opposition to Gina Haspel's nomination to be C.I.A. Director by joking about the fact that he'll be dead soon:
White House aide Kelly Sadler responded to Sen. John McCain's opposition to President Donald Trump's pick for CIA director by saying Thursday morning that "he's dying anyway," a White House official told CNN.

The official said Sadler, who is in charge of surrogate communications, meant it as a joke, "but it fell flat."

McCain announced last year that he had been diagnosed with brain cancer, and he issued a statement Wednesday calling on his fellow senators to oppose Gina Haspel, Trump's nominee for CIA director, whose ties to the use of interrogation methods widely considered torture have drawn significant criticism.

Asked about Sadler's comment, a White House official said, "We respect Senator McCain's service to our nation, and he and his family are in our prayers during this difficult time."

Sadler called the senator's daughter Meghan McCain on Thursday to apologize for the remark, a source close to the situation told CNN, although it's unclear what her response was.

The Hill first reported on Sadler's remark.

McCain called Haspel a "patriot" in his statement in Wednesday but referenced her record and testimony before the Senate Intelligence Committee to implore the Senate to vote down her nomination.

Ms. Haspel's role in overseeing the use of torture by Americans is disturbing," McCain's statement read. "Her refusal to acknowledge torture's immorality is disqualifying. I believe the Senate should exercise its duty of advice and consent and reject this nomination."

Haspel said in a statement Thursday evening that she has the "utmost respect" for McCain.

"I have the utmost respect for Senator McCain, and I appreciate the thoughtfulness with which he has approached this nomination process."

South Carolina Republican Sen. Lindsey Graham, a close friend of John McCain, said of the White House aide's comment, "Ms. Sadler, may I remind you that John McCain has a lot of friends in the United States Senate on both sides of the aisle. Nobody is laughing in the Senate."

Sadler's remark about the Arizona Republican echoed Trump's remark at the outset of his campaign for president, when he mocked McCain's time as a prisoner of war by saying, "I like people that weren't captured."
McCain's wife had a message of her own for Sadler via Twitter:
@kellysadler45 May I remind you my husband has a family, 7 children and 5 grandchildren.

— Cindy McCain (@cindymccain) May 10, 2018
The roots of all of this lie, of course, in McCain's opposition to Haspel's nomination, which is rooted in his long-standing opposition to the use of torture by the C.I.A. during the period after the September 11th attacks and his own experiences as a Prisoner of War during the Vietnam War. Just days after Haspel's nomination was announced, McCain expressed doubts about her nomination and earlier this week issued a statement urging the Senate to reject her nomination. It all comes at a time when McCain is back home in Arizona recovering from both chemotherapy and radiation treatments related to the brain cancer he announced he was diagnosed with last year and from apparently unrelated intestinal surgery. While there have not been any recent updates on McCain's condition, the Senator has said in the past that his prognosis is poor, and it's worth noting that the form of cancer that he is dealing with has a high mortality rate, especially in patients of his advanced age.
More recently, McCain has been the subject of a long profile in The New York Times. It has also been reported that McCain was visited by his longtime friend former Vice-President Joe Biden recently and was also visited by another longtime Senate friend, former Senator Joe Lieberman. During that visit, it's been reported that McCain told Biden that he's concerned about the future direction of the country and urged his friend to stay involved in politics, possibly a reference to a potential Presidential run on Biden's part in 2020. Also, McCain's daughter Meghan visited him in Arizona again last weekend, although one suspects that she has been traveling there quite frequently anyway. Finally, it's worth noting that McCain had said last year that he hoped to return to Washington in January. That didn't happen, obviously, and at this point, it's unclear when, or if, McCain will be able to resume his Senatorial duties.
Obviously, Sadler's remarks are inexcusable and the fact that she has apparently reached out to Cindy McCain to apologize doesn't excuse her "joke" or the fact that, according to some reports, several people in the West Wing meeting in question laughed at her bizarre and offensive attempt at humor. In another White House, of course, it's unlikely that we'd see something like this, but this is yet another example about how Trump's leadership by example has impacted his whole Administration. With respect to McCain individually, Trump has often been especially horrible. Just weeks after he declared his candidacy, for example, Trump mocked the notion that McCain was a hero by saying that he likes heroes who weren't captured. Given the controversy that had erupted when Trump first flirted with the idea of running for President regarding Trump's avoidance of the draft during the same Vietnam War that McCain served in, the comment was particularly galling and was the first of many times during the course of the campaign that Trump would be condemned by many mainstream Republicans for something he said. The animosity only intensified when Trump became President and McCain became one of the few Senators willing to speak out against the President and he has often been a thorn in Trump's side on legislative matters over the course of the past fifteen months. The most memorable example of that, of course, was late in the summer last year when McCain returned to the Senate after his initial cancer diagnosis to famously deliver a "thumbs down" that led to the defeat of the effort to 'repeal and replace' the Affordable Care Act. More recently, McCain has reportedly told friends and colleagues that he feels more liberated to speak out against the leader of his party, and this liberation is no doubt enhanced by the report that McCain has said that he will not run for re-election in 2022 even if he does manage to win his battle with cancer.
In addition to all of that, there's also Trump's long history of attacking people in general including Mexicans, Muslims, disabled Americans, and women such as Megyn Kelly and Carly Fiorina. In addition to all of that, there's been the Access Hollywood tape, the credible accusations of sexual harassment and assault by more than a dozen women, and Trump's comments in the wake of the racist rally in Charlottesville last July.  All of this has, quite obviously, set a tone in the White House that has tarnished even the most supposedly honorable people working under the President. For example, when the President came under fire for his appallingly tone deaf remarks to the wife of one of the soldiers killed in Niger last year, Chief of Staff John Kelly, a retired Marine General with a previously honorable reputation, took upon himself the task of appearing in the White House Briefing Room to defend the President and attack a Florida Congresswoman with an attack that later turned out to be utterly false. To put it bluntly, this President has basically what can only be called a reverse Midas Effect, everything he touches turns to crap. Ms. Sadler is just the latest pathetic example of that.