The Rise Of The Trumpidian GOP Candidates
Whether Don Blankenship wins or loses in West Virginia, his success is yet another example of how Donald Trump has changed the GOP for the worse.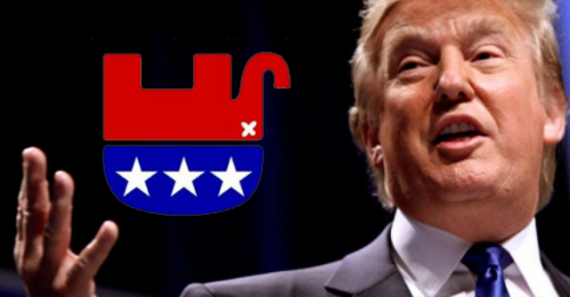 By this time tomorrow, we should know who won the Republican primary in West Virginia to face off against Senator Joe Manchin in November. As I noted yesterday, national Republicans are worried that Don Blakenship, a fringe candidate who has been making a name for himself by attacking the family of Senate Majority Leader Mitch McConnell on explicitly racist grounds, could end up pulling out a win in a race where he's facing off against Congressman Evan Jenkins and Attorney General Patrick Morrisey. Yesterday, President Trump urged West Virginia to reject Blakenship but declined to endorse either of the two candidates challenging him, setting up the prospect that he could pull off a win thanks to a divided vote against him. Blakenship responded to Trump by saying the President was misinformed and claiming that he was "Trumpier than Trump" and touting internal polling showing him gaining significantly on both his rivals over the past week.
All of this has led many Republicans to worry about what a Blankenship win might mean for other primaries and for the General Election in November. Dana Milbank, though, is pointing out in The Washington Post that his candidacy shows that, win or lose, Trump's win in November 2016 was not an anomaly:
Whether or not the president stops Blankenship, the West Virginia GOP primary confirms that this sort of vulgar demagoguery is becoming routine. Trump's election was no aberration. Rather, he exploited deep problems in American politics that had been building for years — and others, following his example, will exploit those same problems after he's gone.

Before Trump, there was Sarah Palin, the tea party movement, Sen. Ted Cruz (R-Tex.), the Republican Study Committee, the Freedom Caucus. The Republican Party tried to harness the rage of the nativist right but ultimately couldn't contain it. House speakers John A. Boehner (R-Ohio) and Paul D. Ryan (R-Wis.) failed, as will whoever leads the party next. Now we have Blankenship, Roy Moore, Joe Arpaio and a proliferation of name-calling misfits and even felons on Republican ballots. They are monsters created by the GOP, or rather the power vacuum the GOP has become.

Political scientists have observed that American politics has deteriorated into an unstable combination of weak parties and strong partisanship — dry brush for the likes of Trump and Blankenship to ignite. The 2002 McCain-Feingold campaign-finance reform restricted party fundraising, and the Citizens United Supreme Court ruling in 2010 essentially destroyed parties by giving everybody else freedom to spend unlimited sums to buy politicians. The moderating influence of parties was replaced by the radicalizing influence of dark money.

Related to this, partisanship in Washington escalated, aggravated by partisan redistricting that puts almost all House members in safe seats where the only threat comes from primaries. Primary voters tend to favor extreme candidates — who, once in Congress, turn politics into warfare.

(…)

Democrats suffer from the weak party/strong partisanship phenomenon too, as seen in the Sen. Bernie Sanders (I-Vt.) campaign's squabbles with the Democratic National Committee and the recent efforts by some Sanders followers to taint any candidate supported by the party. But the problem is most severe among Republicans, and it's no small irony that the man who arguably did the most to create the current system is now under attack by it. McConnell, who championed unlimited dark money, cheered Citizens United and dramatically accelerated the partisan revenge cycle on the Senate floor, is now the victim of extremists his own actions created.

McConnell-affiliated groups have spent in the seven digits for TV ads opposing Blankenship in West Virginia. But Blankenship, free to spend as much as he desires, has far outspent his opponents, reportedly buying $640,000 of TV time in the past week alone. And he's appealing to voters' worst instincts. "I don't see this insinuation by the press that there's something racist about saying 'China person,' " Blankenship said during a debate hosted by Fox News. "Some people are Korean persons and some of them are African persons. There's not any slander there." He suggested McConnell's family ties could disqualify him from voting on China policy.

Trump didn't condemn such filth; he merely said Blankenship "can't win" and cited the example of Moore — who Trump unsuccessfully opposed in the Alabama GOP primary.
We've seen candidates like Don Blakenship before, of course. In 2010, Republicans firmly in the grips of the Tea Party movement ended up nominating candidates like Christine O'Donnell and Sharron Angle who had no real chance of winning the General Election against their respective opponents, and who likely would not have won their primaries in an earlier era. The 2012 Presidential campaign saw moments when obviously unqualified candidates such as Michele Bachmann and Herman Cain were at the top of the polls, although ultimately unable to overcome the advantages that Mitt Romney had in that race. The so-called GOP "establishment" managed to push back against those instincts in 2014 and nominate candidates for the Senate that, although still conservative, did not have the baggage that candidates who lost winnable races in 2010 and 2012 carried.
All that changed in 2016, though.
When Donald Trump entered the Presidential race in June 2015, it didn't take long for him to skyrocket to the top of the polls and to stay there notwithstanding efforts by other candidates to knock him off his perch. Trump continued at the top of field even as the campaign went on and he attacked one group after another, including Mexicans and Muslims, mocking disabled people, women such as Megyn Kelly and Carly Fiorina. Trump also encouraged his supporters to engage in violence against counter-demonstrators and demonstrated utter disdain for the Rule of Law and Freedom of the Press. Coming in a different era and from a different candidate, rhetoric such as this would have been the end of a candidate's campaign, but in Trump's case it just seemed to energize his base and, over time, even his harshest Republican critics dutifully lined up behind him and, in the process, put their party and the prospect of victory ahead of their country.
Trump continued these themes of division and conflict during his first year in office, most notedly in the wake of violence that came with the alt-right protests in Charlottesville, Virginia after which he blamed 'both sides' for the violence and declined to condemn the groups who organized and participate in the rally such as the Ku Klux Klan or the broader so-called alt-right movement whose supporters made up the vast majority of the participants. The outrage over these comments was sufficiently broad, even from fellow Republicans in Washington, that the White House was compelled to have Trump deliver a follow-up comment the following Monday that was more measured and emphatic than what he had said before. Whatever damage had been repaired by that statement, though, was short-lived since less than twenty-four hours later when Trump repeated his 'both sides' argument in a press conference and repeated them again -a month later. More recently, he attacked the mostly African-American N.F.L. players who declined the to stand for the National Anthem, calling them "sons of bitches," and derided immigration from "shithole countries" such as Haiti as well as, seemingly, the entire continent of Africa. Eventually he returned to his old habit of giving nicknames to his political enemies by referring to Congressman Adam Schiff, the ranking Democrat on the House Intelligence Committee, as "Little Adam," and of course made his comment about Democrats who didn't stand for his State of the Union address as "un-American and "treasonous,"
Even if Blankenship loses tonight, the fact that he has come as far as he has is significant. Just like Trump himself, in another era a candidate who said the things he has would be polling in the single digits even in a state as conservatives as West Virginia. Instead, he appears to have an excellent chance of pulling out a win that, in the end, will likely prove to be quixotic in November. Nonetheless behind his success and that of other candidates who have found success this year in mimicking and pledging fealty to Trump lies something far more telling about the impact that Donald Trump is having on the Republican Party. We can see the same phenomenon in the fact that those few politicians on Capitol Hill who have been critical of Trump, such as Senators Jeff Flake and Bob Corker, either aren't running for re-election this year or have decided to retire. Another frequent Trump critic, Senator John McCain, is obviously at a point in his life where he doesn't care about the political consequences of picking fights with the President. Beyond these men, though, pretty much every Republican in Congress, and a significant part of the conservative pundit class has lined up behind the President and remained silent in the wake of whatever outrageous comments he might make on a daily basis, whether it be personal attacks on critics or attacks on freedom of the press, the rule of law, or nations that have, until now, been loyal American allies. As I've said before, the modern Republican Party is basically now made up of Trump supporters who are beyond reason, sycophants who are cozying up to Trump because they think it will advance their careers, sellouts who had sold themselves to a man with no principles, and cowards who know what they're seeing is wrong but are too afraid to speak out against it. The result is that the GOP is moving further and further into the Trumpidian populist category in a way that will have a lasting impact on the GOP long after Trump is gone. Don Blakenship is but the latest example of that and, whether he wins tonight or not,  the forces that helped make him possible will continue to shape the GOP at least through the 2020 elections and, if Trump is reelected, far beyond that. Hopefully, the American public will stand up against these forces. After what happened in 2016, though, I'm not very optimistic in that regard.